Is Baidu's China reign over?
Not so fast. While the search competition is increasing, so is mobile ad spending.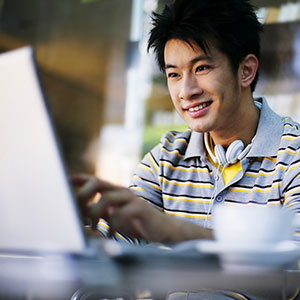 Baidu's
(
BIDU
) stock, which has fallen to $110 from a high of $130 earlier in the year, has a fair share of bears claiming that the company's dominance in the Chinese search market is over. However, in contrast with these views, we think Baidu's fundamentals are strong. 
Specifically, we think that Baidu's search market share will remain high despite an increase in competition, the company will be able to capitalize on the growth in mobile ad spending, and it will be able to increase diversification of its revenue streams due to services like Ting and iQiyi.
Search market share will remain high
While increasing competition in the Chinese search market is a concern for investors, we think that the Baidu will grow its market share slightly over our forecast period. We think that Baidu's focus on search quality will leave it superior to competition, especially since building high quality search algorithms is something that can be difficult for a new entrant.

Additionally, since regulatory barriers in China favor local players, the company is relatively immune from international threats. Even if local players take some of Baidu's potential market share over our forecast period, and Baidu's market share remains flat, our price estimate would fall marginally. You can assess the impact of a change in Baidu's market share on the company's value by using our tool below.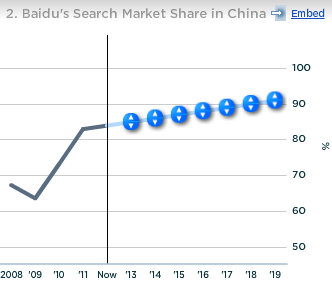 Mobile opportunity will be lucrative
At present, only about 40% of the Chinese population accesses the Internet through mobile phones, and less than 15% of China's residents have a 3G connection. Low 3G penetration combined with the high economic growth expected in the Chinese market, makes us believe that the proportion of Chinese residents using smartphones and 3G connections will increase. This is likely to cause an increase proportion of the number of mobile to PC web page views, which in Asia grew to 20% in 2011 from 8% in 2010.

As a greater percentage of users access the Internet via a mobile phone, Baidu will be presented with an opportunity to make money via mobile advertisements. While Baidu is struggling to monetize its mobile traffic, which grew 100% year-over-year in the third quarter, we expect Baidu to make gains in mobile advertising in the next couple of years.
According to research firm eMarketer, Chinese mobile ad spending was a meager $100 million in 2011, and is expected to grow seven times by 2016 to approximately $780 million. Since we think that Baidu will be able to attract new users to its based on brand name and keep them meaningfully engaged via a solid mobile platform, we expect the company to be able to meaningfully capitalize on the increase in mobile ad spending.
Display ads get boost with new products
Baidu's management has been attempting to diversify the company's revenue streams to ensure that it is not overly reliant on search revenues. We think that that management has built a solid product base which will help them achieve this objective.

For example, Baidu's music service Ting is likely to see growth in its user base due to Google's exit from the Chinese online music market. Additionally, Baidu's YouTube-like service, iQiyi, is growing rapidly, posting monthly unique visitor growth of 62% quarter-over-quarter​ to 407 million. We think that the success of these two products can drive display ad revenues and make the division a much bigger contributor to Baidu's overall value.
Risk factors: Increasing competition
While we think Baidu will be able to maintain its search market share, we also think that it is overly reliant on its search division. If Qihoo (QIHU), or any other competitors gain market share in the Chinese market, Baidu's revenues could see substantial falls. Investors will need to closely watch how competition impacts Baidu over the longer term and look for any strategic initiatives that management releases about combating the effects.

We currently have a $125 price estimate for Baidu, which is approximately 10% above the current market price.
DATA PROVIDERS
Copyright © 2014 Microsoft. All rights reserved.
Fundamental company data and historical chart data provided by Morningstar Inc. Real-time index quotes and delayed quotes supplied by Morningstar Inc. Quotes delayed by up to 15 minutes, except where indicated otherwise. Fund summary, fund performance and dividend data provided by Morningstar Inc. Analyst recommendations provided by Zacks Investment Research. StockScouter data provided by Verus Analytics. IPO data provided by Hoover's Inc. Index membership data provided by Morningstar Inc.
MARKET UPDATE
NAME
LAST
CHANGE
% CHANGE
There's a problem getting this information right now. Please try again later.
NAME
LAST
CHANGE
% CHANGE
There's a problem getting this information right now. Please try again later.
Market index data delayed by 15 minutes
[BRIEFING.COM] The stock market finished the Tuesday session on the defensive after spending the entire day in a steady retreat. The S&P 500 (-0.6%) posted its third consecutive decline, while the small-cap Russell 2000 (-0.9%) slipped behind the broader market during afternoon action.

Equity indices were pressured from the start following some overnight developments that weighed on sentiment. The market tried to overcome the early weakness, but could not stage a sustained rebound, ... More
More Market News
Currencies
NAME
LAST
CHANGE
% CHANGE
There's a problem getting this information right now. Please try again later.