In defense of Apple's Tim Cook
Apple's chief executive is building a team capable of sustaining success over the long term. So why root for him to be fired?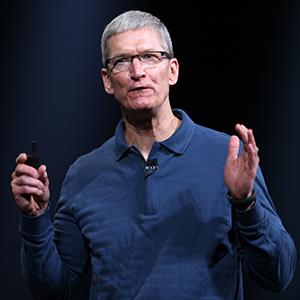 By Dana Blankenhorn, TheStreet
Running a big company is not like running a baseball team.
We're used to calling on the managers or general managers of our favorite teams to be fired willy-nilly, and they often are, in all sports. Even though we know that long-term success comes from keeping faith with someone through the hard times, we still do it.
So why don't we have patience with Apple (AAPL) CEO Tim Cook? Obviously, it's because a lot of people have lost a lot of money over the last six months, making short-term bets on the long-term proposition that is Apple Inc.
Whose fault is that? Is it Cook's? Or is it ours? 
On the eve of Apple's latest earnings release, we're hearing the same Monday morning quarterbacking you get after your baseball team loses. Our Rocco Pendola has compiled some of the latest. What Wall Street wants now, as Wired notes, is some quick action to boost the stock price, which when you take the cash out is now cheaper than Ford Motor (F).
But the fact is, managing any big company for the short term is like thinking a single player or coach will win you a championship. It's done by teams. Casey Stengel didn't win any pennants managing the Boston Braves. Winners are also teams whose leaders are looking at the long term, not the short term.
What you want in a business 
I'm privileged to be a fan of the Atlanta Braves baseball team. They have won one title, in 1995. But they are always in the hunt. They're always very good. They make money. They're an organization. And that's what you want out of a business, as opposed to a sports team. You want an organization. 

That's what Tim Cook is trying to build, an organization. Out of the top-down entrepreneurial genius that Steve Jobs left him, Cook is trying to build an organization that can win consistently.
By many measures he is doing just that.
Buy when everyone is selling
If you buy Apple stock today, you will make a profit in five years. When everyone is selling something, that's when you should be buying. But this has nothing to do with whether Apple is a well-managed company, managed for the long term.
Fact is, Apple is being managed for the long term. Tim Cook isn't going anywhere. Maybe he won't win you many championships as a manager, but he's going to be in the hunt every year, and that's what you want when you're betting your retirement or your kids' college education on someone. I'm not firing the Braves' manager because they lost three in Pittsburgh over the weekend. I'm not firing Cook, either.
At current prices, Apple is a stock you can stick in your portfolio, with some confidence that five or 10 years from now you will have made money on it. In a technology market with all the stability of a baseball season, that's a winning play.
At the time of publication, the author owned shares of Apple.
More from TheStreet.com
DATA PROVIDERS
Copyright © 2014 Microsoft. All rights reserved.
Fundamental company data and historical chart data provided by Morningstar Inc. Real-time index quotes and delayed quotes supplied by Morningstar Inc. Quotes delayed by up to 15 minutes, except where indicated otherwise. Fund summary, fund performance and dividend data provided by Morningstar Inc. Analyst recommendations provided by Zacks Investment Research. StockScouter data provided by Verus Analytics. IPO data provided by Hoover's Inc. Index membership data provided by Morningstar Inc.
MARKET UPDATE
NAME
LAST
CHANGE
% CHANGE
There's a problem getting this information right now. Please try again later.
NAME
LAST
CHANGE
% CHANGE
There's a problem getting this information right now. Please try again later.
Market index data delayed by 15 minutes
[BRIEFING.COM] The stock market finished an upbeat week on a mixed note. The S&P 500 shed less than a point, ending the week higher by 1.3%, while the Dow Jones Industrial Average (+0.1%) cemented a 1.7% advance for the week. High-beta names underperformed, which weighed on the Nasdaq Composite (-0.3%) and the Russell 2000 (-1.3%).

Equity indices displayed strength in the early going with the S&P 500 tagging the 2,019 level during the opening 30 minutes of the action. However, ... More
More Market News
Currencies
NAME
LAST
CHANGE
% CHANGE
There's a problem getting this information right now. Please try again later.