Nook gets a new partner, but will it survive?
Pearson, the British publisher, joins Microsoft as an investor in Barnes & Noble's Nook business. But Nook is struggling with big losses, and its holiday season was a disappointment.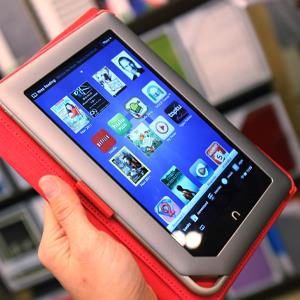 The good news for
Barnes & Noble
(
BKS
) is that it has attracted another big investor to its Nook business.
The bad news is the business has not performed well during the holiday season, and the future isn't clear. So, the stock, which had risen to as high as $15.74, a 9.7% gain, right after Friday's open, fell back to close up 4.3% to $14.97.
Barnes & Noble announced Friday that
Pearson PLC
(
PSO
), the big British education-book publisher and owner of the Financial Times newspaper, is investing $89.5 million in cash to buy 5% of Nook Media. That's the company Barnes & Noble formed to own Nook and related activities. Pearson also has right to buy another 5% in Nook.
The deal values the Nook Media business at $1.789 billion. Barnes & Noble will own 78.2% of the company.
Microsoft
(
MSFT
), which invested $300 million in Nook in April, will own 16.8% of the business. (Microsoft is the publisher of MSN Money.)
Pearson's interest is to make its college textbooks and related books more accessible to students and faculty. So the deal makes sense from that point of view.The problem with the Nook business is that it is struggling against
Amazon
's (
AMZN
) Kindle family of e-readers and tablets and the big kahuna,
Apple
(
AAPL
), with its iPad and iPad Mini tablets.
Nook offers two Nook HD tablets and two Nook e-readers. The tablets offer access to Barnes & Noble's online book-and-music store and related services. But the problem appears to be that Amazon's Kindle Fire and Apple's iPad tablets are far outselling pure e-readers.
At the same, Barnes & Noble's online book business is holding its own. Amazon has a 60% share of the online market to Barnes & Noble's 25%. The iPad has only a 10% share..
The holidays apparently were not kind to Barnes & Noble. After announcing in November that Nook unit sales doubled over the Black Friday weekend, with business especially brisk at
Wal-Mart
(
WMT
) stores and at
Target
(
TGT
), the holiday shopping season was a disappointment.
The company will announce its December sales on Jan. 3, but it said Friday that "its holiday sales results will be below expectations and that the Nook business will not meet the Company's prior projection for fiscal year 2013."
As big a problem as simply generating sales is that the Nook is not profitable.
The Nook business generated $353.3 million in sales in the first two quarters of its 2013 fiscal year, which ended on Oct. 27. That was up 2.6% from a year earlier. And it also posted an operating loss of $120.3 million in the two quarters, 6.4% higher than a year earlier.
Worse, the operating loss is 1.6 times larger than the combined operating profits of Barnes & Noble's bookstore and its college textbook businesses.
The future is cloudy. Tablets let a user to do much more. Obviously, that's why Amazon and Nook developed tablets.
As a result, however, as
Barry Graubert of Content Matters wrote Friday on his blog
, "As single-function gadgets are subsumed by smartphones and tablets. . . the life expectancy of the standalone e-reader market will be short."
More on
Money Now
Are you sure you want to delete this comment?
DATA PROVIDERS
Copyright © 2014 Microsoft. All rights reserved.
Fundamental company data and historical chart data provided by Morningstar Inc. Real-time index quotes and delayed quotes supplied by Morningstar Inc. Quotes delayed by up to 15 minutes, except where indicated otherwise. Fund summary, fund performance and dividend data provided by Morningstar Inc. Analyst recommendations provided by Zacks Investment Research. StockScouter data provided by Verus Analytics. IPO data provided by Hoover's Inc. Index membership data provided by Morningstar Inc.
MARKET UPDATE
NAME
LAST
CHANGE
% CHANGE
There's a problem getting this information right now. Please try again later.
NAME
LAST
CHANGE
% CHANGE
There's a problem getting this information right now. Please try again later.
Market index data delayed by 15 minutes
[BRIEFING.COM] The stock market began the new week on a cautious note. The S&P 500 lost 0.3%, but managed to erase more than half of its opening decline. Thanks to the rebound, the benchmark index reclaimed its 50-day moving average (1976.78) after slipping below that level in the morning.

Equities slumped at the open amid a couple global developments that dampened the overall risk appetite. Continued student protests in Hong Kong and a potential response from China weighed on the ... More
More Market News
Currencies
NAME
LAST
CHANGE
% CHANGE
There's a problem getting this information right now. Please try again later.