Oil prices surge after militants seize Iraqi cities
Anxiety is increasing over the possibility of disrupted production. We're in the gas-guzzling summer season, too.
By Cassie Werber,
The Wall Street Journal
Oil prices shot higher Thursday, after the seizure of two Iraqi cities by militants shook market confidence in the reliability of the country's crude exports.

The price of a barrel of Brent crude reached $112.29 on London's Intercontinental Exchange, just 10 cents below the 2014 high. U.S. WTI crude, traded on the New York Mercantile Exchange, rose above $106 a barrel for the first time since September 2013.
Although very little of Iraq's crude exports are yet affected by the attacks on Mosul and Tikrit, prices soared on concern that violence could spread south to where the vast majority of the country's production is concentrated.
"It's purely a fear-factor hitting right now," said Torbjorn Kjus, oil analyst at DNB Markets in Norway. "Right now it's $2 up, and it could easily go up more than that based on developments" such as a move of violence southward, he said.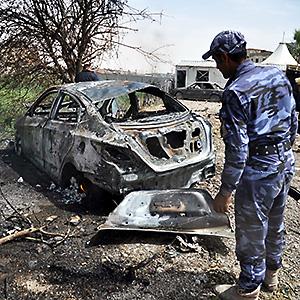 Iraq's Oil Minister Abdul Kareem Luaiby, speaking at a meeting of the Organization of the Petroleum Exporting Countries in Vienna on Wednesday, described Iraq's southern oil-producing sites that include the export terminal at Basra as "very, very safe."
Commerzbank analysts said Mr. Luaiby's statement "appears almost farcical" as the government in Baghdad increasingly appears to be losing control over wide areas of the country.
Iraq had its most productive postwar month in February, pumping 3.6 million barrels of oil every day. Now production is around 3.3 million-3.5 million barrels a day, according to analysts.
Exports from northern Iraq have been halted for months because of damage to the pipeline that runs to the Turkish port of Ceyhan, cutting off some 250,000 barrels a day.
The nascent flow of oil from Iraqi Kurdistan hasn't yet been affected, but volumes are small and subject to objections by Baghdad, which sees them as a breach of sovereignty.
—Sarah Kent and Emre Peker contributed to this article.
More from The Wall Street Journal
DATA PROVIDERS
Copyright © 2014 Microsoft. All rights reserved.
Fundamental company data and historical chart data provided by Morningstar Inc. Real-time index quotes and delayed quotes supplied by Morningstar Inc. Quotes delayed by up to 15 minutes, except where indicated otherwise. Fund summary, fund performance and dividend data provided by Morningstar Inc. Analyst recommendations provided by Zacks Investment Research. StockScouter data provided by Verus Analytics. IPO data provided by Hoover's Inc. Index membership data provided by Morningstar Inc.
MARKET UPDATE
NAME
LAST
CHANGE
% CHANGE
There's a problem getting this information right now. Please try again later.
NAME
LAST
CHANGE
% CHANGE
There's a problem getting this information right now. Please try again later.
Market index data delayed by 15 minutes
[BRIEFING.COM] Equity indices closed out the month of August on a modestly higher note. The Russell 2000 (+0.6%) and Nasdaq Composite (+0.5%) finished ahead of the S&P 500 (+0.3%), which extended its August gain to 3.8%. Blue chips lagged with the Dow Jones Industrial Average (+0.1%) spending the bulk of the session in the red.

The final week of August represented one of the quietest stretches for the stock market so far this year. The first four sessions of the week produced the ... More
More Market News
Currencies
NAME
LAST
CHANGE
% CHANGE
There's a problem getting this information right now. Please try again later.