Inflation is a matter of when, not if
Wage growth isn't the only driver here. Other pressures could lead to higher prices in the near term.
By Alex Rosenberg,
CNBC
At this point, most experts agree that inflation is set to rise. The question is when. And a clue could come this week, when the Bureau of Labor Statistics releases the latest readings for both the Consumer Price Index and the Producer Prices Index for Final Demand.

"I'm looking at these numbers with great interest," said Jim Iuorio of TJM Institutional Services. "If you look back at the last set of unemployment data we got, the wage growth was somewhat stagnant. And then we saw a labor number that contradicted that.
"So I think it's time to become keenly interested in inflation. I'm not saying it's time to become very concerned with inflation. We could know that later in the week, though."
A falling unemployment rate is generally expected to lead to a rise in wages, as companies have to pay more to their workers due to the tighter supply, and this is expected to lead to widespread inflation. But so far, that simply hasn't happened. Average hourly earnings have only risen by 4 percent over the past two years, even as the unemployment rate has fallen from 8.2 percent to 6.3. Incidentally, Standard & Poor's 500 Index ($INX) earnings have risen more than 9 percent from Q1 2012 to Q1 2014, according to FactSet.
For Deutsche Bank senior US economist Carl Riccadonna, part of the issue is that we haven't yet seen the impact of the labor market's growth.
"We know we crossed above trend growth toward the end of last year. And inflation tends to lag by about six quarters, so toward the end of the year we will see inflation pressures start to tick up. But that will really represent a lagged response to the recent growth acceleration, rather than the fact that we're just getting to a certain level unemployment," Riccadonna said.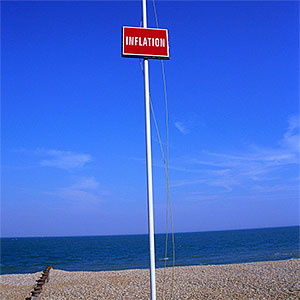 "Still, by that time, we'll probably be closer to 5.5 percent on the unemployment rate, and that will lead to meaningful inflation pressures as well."
While Riccadonna is not overly concerned about inflation, he has little doubt that it's on the horizon.
"We're going into a period when there are going to be persistent upward inflation pressures. Not next week, and probably not even in the first half of this year. But we'll see increasing wage-driven inflation pressures as we go deeper into the back half of this year."
Of course, wage growth isn't the only driver of inflation. And some say other pressures could lead to higher prices in the nearer-term.
"Rents are rising a lot, and with 35 percent of the population renting -- the highest since 1995 -- rents are very important," said Peter Boockvar, chief market analyst at the Lindsey Group. "Throw in commodity prices, and you have the potential for inflation numbers to start surprising to the upside."
Economists aren't expecting to hear too dramatic this week. A price rise of 0.3 percent is expected in April's CPI data, and a 0.2 percent rise in the PPI-FD, according to economists polled by Reuters.
And with the 10-year Treasury note yielding just 2.6 percent, it appears that fixed income investors are none too worried about the prospect of inflation, either.
But if the economy continues to grow, the labor market continues to tighten, and certain key pockets of the US economy start to put serious pressure on prices, the inflation outlook could end up changing dramatically between now and the end of the year.
More from CNBC
DATA PROVIDERS
Copyright © 2014 Microsoft. All rights reserved.
Fundamental company data and historical chart data provided by Morningstar Inc. Real-time index quotes and delayed quotes supplied by Morningstar Inc. Quotes delayed by up to 15 minutes, except where indicated otherwise. Fund summary, fund performance and dividend data provided by Morningstar Inc. Analyst recommendations provided by Zacks Investment Research. StockScouter data provided by Verus Analytics. IPO data provided by Hoover's Inc. Index membership data provided by Morningstar Inc.
MARKET UPDATE
NAME
LAST
CHANGE
% CHANGE
There's a problem getting this information right now. Please try again later.
NAME
LAST
CHANGE
% CHANGE
There's a problem getting this information right now. Please try again later.
Market index data delayed by 15 minutes
[BRIEFING.COM] Equity indices extended this week's losses with a broad-based retreat. The S&P 500 fell 0.6% to end the week lower by 1.1%, while the Russell 2000 (-1.1%) finished with a 0.9% decline since last Friday.

Staying true to the theme observed throughout the week, the energy sector (-1.5%) tumbled out of the gate, thus dragging the broader market down with it. Once again, dollar strength and crude oil weakness contributed to sector's underperformance, but the ... More
More Market News
Currencies
NAME
LAST
CHANGE
% CHANGE
There's a problem getting this information right now. Please try again later.