Whiskey investing tempts with intoxicating profits
Auction prices of prized Scotches have been soaring, with one rare bottle going for $630,000 earlier this year. Collectors' tip: When you find a good bottle, get one to drink, too.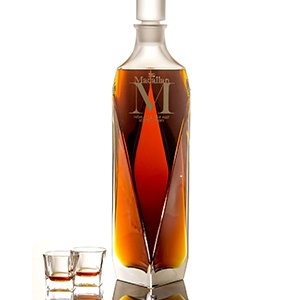 By Charles Passy for The Wall Street Journal
The topsy-turvy stock market of the past decade may have driven some investors to drink. But for Mahesh Patel, the drink itself is the investment.
Patel, an Atlanta-based real-estate

developer, is one of the world's leading buyers of investment-grade, single-malt Scotch. Over the past few decades, he has spent hundreds of thousands of dollars on hard-to-find bottles from leading distilleries -- typically, whiskeys that have been released in editions as limited as a dozen bottles.
Though Patel appreciates the opportunity to occasionally sample these prized whiskeys, he says his interest is as much financial since he believes there is real money to be made on Scotch, bourbon and the like -- provided you know what to buy. If something is rare or unique, "it has that value," says Patel, who hosts the Universal Whisky Experience, an annual gathering of collectors in Las Vegas.
Indeed, spirits and collectibles experts say we're in something of a bull market for whiskey.
(Post continues after video.)
A Scottish company that tracks the market, Whisky Highland (the spirit is spelled without an "e" in Scotland and some other parts of the world), says prices for the 1,000 most-prized releases of single-malt Scotches have risen around 175% since 2008, based on auction figures.
Another sign of the boom: In 2013, some 20,211 bottles were sold at auction, up from 5,431 in 2010, according to Whisky Highland. And in some cases, bidding has reached the kind of frenzy previously seen only at sales of the most famous artists.
Earlier this year, Sotheby's set a new benchmark for the most expensive whiskey sold at auction -- a rare six-liter bottle of Macallan, a famed single-malt Scotch producer, that went for $630,000.
Of course, the concept of "liquid" investments isn't entirely new. Serious sippers have long collected wines -- particularly Bordeaux -- even though that market has struggled of late. Nevertheless, it's worth noting that auction sales of wine overall still far eclipse those of investment-grade whiskey -- $337 million a year compared with $7.5 million, respectively, according to Wine Spectator magazine and Whisky Highland. (The whiskey figure accounts only for auctions in the U.K. but that's still where most of the major auctions take place.)
But whiskey is perhaps the hottest liquid investment of late. To some extent, experts say, this is a reflection of interest in whiskey overall. Sales of everyday whiskey -- the kind not sold at auction -- grew 10.1% in the U.S. last year, according to the Distilled Spirits Council of the United States. Single-malt Scotch posted an even more impressive 14.7% gain.
Shelf assurance
Storage issues play a part as well. Unlike wine collectors, who often have to build costly home cellars or pay for storage at specialty warehouses to ensure their bottles are preserved, collectors of whiskey have a relatively easy time of it. Whiskey generally is less affected by changes in temperature and light.
Whatever is driving the boom, many whiskey investors don't begin with riches in mind, says Andy Simpson, founder of Whisky Highland. They learn the lessons of increasing values and the secondary market the first time they try to replace a favorite rare bottle, only to find that it's no longer available for general sale. That prompts them to buy the sip from a collector, who might charge a considerable markup. As Simpson says, "One person's investment today will be another person's drink tomorrow."
Or will it? Some experts say too many distillers are rushing to find whatever older barrels they can in their warehouses and releasing product that isn't necessarily collectible. And putting the whiskey in special packaging -- say, a pricey crystal bottle -- doesn't make the actual liquid any more valuable.
Some collectors wonder if a whiskey bust isn't inevitable. However, there are experts who insist that investors in quality whiskey will be protected. Some suggest focusing on respected, popular Scotch distilleries -- such as Macallan, Dalmore, Bowmore, Ardbeg, Glenfiddich, Glenlivet and Port Ellen -- and on whiskeys that are truly limited in release.
Patel favors releases of 500 or fewer bottles. And he insists on quality, trusting his own
palate. "If you're going to buy it, it has to be brilliant, brilliant whiskey," he says.
Double vision
Which raises another point: What about buying for pure enjoyment? Many collectors buy two bottles of every whiskey they purchase -- one to drink, the other as an investment.
B.J. Reed, a vice chancellor at the University of Nebraska at Omaha who's been buying investment-grade whiskey for about two decades, likes always having a great bottle around to enjoy, even if he knows he could probably cash in his collection for a considerable sum. He has about 500 rare bottles in his collection and makes periodic trips to Scotland to buy more. (Beyond auction houses and specialty shops, distilleries are a great go-to source for collectors.)
Reed figures if he's not done drinking the good stuff by the time he passes away, his children can decide whether to sell his whiskey.
"Somebody is going to make money on it," he says, "but it's not going to be me."
More at The Wall Street Journal:
DATA PROVIDERS
Copyright © 2014 Microsoft. All rights reserved.
Fundamental company data and historical chart data provided by Morningstar Inc. Real-time index quotes and delayed quotes supplied by Morningstar Inc. Quotes delayed by up to 15 minutes, except where indicated otherwise. Fund summary, fund performance and dividend data provided by Morningstar Inc. Analyst recommendations provided by Zacks Investment Research. StockScouter data provided by Verus Analytics. IPO data provided by Hoover's Inc. Index membership data provided by Morningstar Inc.
MARKET UPDATE
NAME
LAST
CHANGE
% CHANGE
There's a problem getting this information right now. Please try again later.
NAME
LAST
CHANGE
% CHANGE
There's a problem getting this information right now. Please try again later.
Market index data delayed by 15 minutes
[BRIEFING.COM] The stock market finished an upbeat week on a mixed note. The S&P 500 shed less than a point, ending the week higher by 1.3%, while the Dow Jones Industrial Average (+0.1%) cemented a 1.7% advance for the week. High-beta names underperformed, which weighed on the Nasdaq Composite (-0.3%) and the Russell 2000 (-1.3%).

Equity indices displayed strength in the early going with the S&P 500 tagging the 2,019 level during the opening 30 minutes of the action. However, ... More
More Market News
Currencies
NAME
LAST
CHANGE
% CHANGE
There's a problem getting this information right now. Please try again later.