Deadly baby product recalled
After 5 fatalities and a long battle with federal safety authorities, the makers of Nap Nanny agree to pull the product.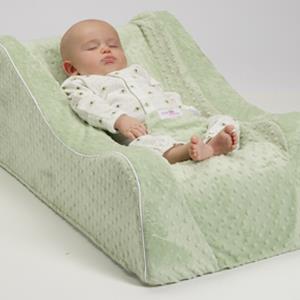 Six months after the federal government said it had
reached an impasse
with the manufacturer of the Nap Nanny infant recliner -- which had been blamed for five infant deaths -- the product was finally recalled, the
U.S. Consumer Product Safety Commission said today
.
In an unusual step,
the CPSC in December sued Baby Matters LLC of Berwyn, Pa.
, over its failure to acknowledge the product was dangerous and for refusing to announce a recall. Since 2009, Nap Nanny and Nap Nanny Chill have been connected to five deaths and 92 other incidents, the CPSC said.
The recall is a result of a settlement of that case, the CPSC said. Baby Matters, which marketed Nap Nanny as "The only portable infant recliner designed for sleep, play -- and peace of mind," is now out of business.
Anyone who has a Nap Nanny or Nap Nanny Chill infant recliner is urged to stop using it immediately. Because Baby Matters has shut down, the company cannot accept any returned products.
However, Amazon.com, Buy Buy Baby, Diapers.com, and Toys R Us/Babies R Us
in December all agreed
that they would recall the product. If you purchased a Nap Nanny recliner from one of those retailers, you should contact them about getting a refund.
If you purchased one of the recliners elsewhere, however, the CPSC asks that you dispose of it immediately to prevent any further use of the product.
Baby Matters sold some 165,000 of the infant recliners between 2009 and 2012 for about $130. The design was flawed, the CPSC said, with such problems as allowing the restraining harnesses to shift as the fabric cover moved. The result was that babies could either fall from the recliner or get suspended in the straps after falling out. Another design flaw in one model was using Velcro, which became less secure over time, to hold the straps in place, the CPSC alleged.
Leslie Gudel, Baby Matters' former owner and the inventor of Nap Nanny, in a statement still on the company website today (the settlement requires the site to be used to notify consumers about the recall), said it wasn't the product that was the problem but how the parents used it.
"The CPSC's complaint notes that five infants have died 'while using' the Nap Nanny. The loss of an infant is an unthinkable tragedy, and I am truly heartbroken for the families who have lost a child. But the fact that infants have died 'while using' the Nap Nanny improperly, such as when used in a crib where the child could suffocate on a crib bumper or a blanket, does not mean our product caused the child's death or is hazardous.
We at Nap Nanny went to great lengths to make the safest product possible. Nap Nanny has helped thousands of babies and their tired parents the last four years. No infant using the Nap Nanny properly has ever suffered an injury requiring medical attention. The Nap Nanny was designed and constructed for use only on the floor with the harness secured."
In the settlement, Baby Matters continued to dispute that the products were unsafe as alleged by government safety officials. The CPSC said the company agreed to the recall so the lawsuit would be dismissed.
The agency reminds consumers that "is illegal under federal law for any person to sell, offer for sale, manufacture, distribute in commerce, or import into the United States any model of the Nap Nanny or Chill recliner or the covers."

People WILL IGNORE INSTRUCTIONS.  And the "hook" part of the Velcro is the part that can wear out but is easily replaced by cutting it off and sewing on a new piece.  Or re-design using a buckle instead.  I don't see that a company is liable for people disobeying operating instructions, like a car manufacturer not being liable for YOU speeding.

"The CPSC's complaint notes that five infants have died 'while using' the Nap Nanny. The loss of an infant is an unthinkable tragedy" So it ok to go kill all these unborn babies with abortions, but as soon as a stupid parent does not use a product the right way because they do not care about thier child's safety, it becomes a "tragedy" Well i think 5 death in the span of 2009 - 2012 is a great number, compared to how many kids die on More established companies products, but i guess fisherprice and those types of companies can just buy their way out of anything.


I'm not saying I'm glad babies are dying, but you "people" kinda have it coming.  You all want to have a slew of kids and then do as much as possible to not have to take care of them.  If you are irresponsible enough to have a kid, at least be responsible enough to take care of it.  But no, you all have to go buy the next new thing so as to not have to deal with your screaming brats.  I think that we should also have to licenses parents, because most of them are going to raise a new generation of really crappy humans.
Are you sure you want to delete this comment?
DATA PROVIDERS
Copyright © 2014 Microsoft. All rights reserved.
Fundamental company data and historical chart data provided by Morningstar Inc. Real-time index quotes and delayed quotes supplied by Morningstar Inc. Quotes delayed by up to 15 minutes, except where indicated otherwise. Fund summary, fund performance and dividend data provided by Morningstar Inc. Analyst recommendations provided by Zacks Investment Research. StockScouter data provided by Verus Analytics. IPO data provided by Hoover's Inc. Index membership data provided by Morningstar Inc.
MORE BUSINESS TRAVEL TIPS FROM CITIBUSINESS® / AADVANTAGE®