Stocks fall on retail sales, China inflation
US spending growth lost momentum in January. Manufacturing activity increases in the New York region. FedEx cuts its quarterly profit forecast.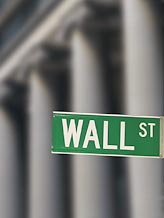 By Melinda Peer, TheStreet
Updated at 12:47 p.m. ET
Stocks were slipping Tuesday as concerns about rising inflation in China weighed heavily on basic materials and as weaker-than-expected​ retail sales growth in the U.S. pressured Wall Street.
At 12:47 p.m., the Dow Jones Industrial Average ($INDU) was down 35.2 points, or 0.3%, at 12,232. The S&P 500 ($INX) was down by 3 points, or 0.2%, at 1,329 and the Nasdaq ($COMPX) was falling 6.2 points, or 0.2%, to 2,810.
China's inflation rose 4.9% in January on a 10.3% jump in food costs. The increase was slightly higher than December's uptick of 4.6% and just below the 28-month high of 5.1% in November. The Chinese government has raised interest rates three times since October to rein in economic growth.
Basic materials stocks were showing the weakest performance. Crop nutrient companies CF Industries (CF), Mosaic (MOS) and Potash (POT) were each down by more than 3%, and Freeport-McMoRan Copper & Gold (FCX) was off by 2.2% at $54.91.
Shares of U.S. Steel (X), however, were up 4% at $62.78 after Goldman Sachs upgraded the stock to buy from neutral and said it expects shares to jump 24% in the next six months as U.S. Steel takes advantage of rising steel prices, according to a recent note.
Shares of AK Steel Holding (AKS) were trading 2.5% higher at $16.58 and Worthington Industries (WOR) saw its stock gain 0.4% to $19.63.
On the Dow, Exxon Mobil (XOM), Intel (INTC) and AT&T (T) were the Dow's biggest laggards while JPMorgan Chase (JPM), Travelers (TRV) and Verizon (VZ) were trading at the top.
There were 330 million shares trading on the New York Stock Exchange, 41% of which were rising while 55% were losing ground. On the Nasdaq, 882 million shares were changing hands.
The Commerce Department said January retail sales in the U.S. rose 0.3%, less than the 0.5% economists had expected and less than December's 0.5% increase. Excluding autos, sales jumped 0.3%, compared with a projected 0.6% uptick.  
"Expectations for January retail sales were loftier than actual results, perhaps due to strong results in recent months generating a bit too much optimism about the durability of the consumer," said Jim Baird, a chief investment strategist at Plante Moran Financial Advisors. "Winter storms may have also had a moderating effect on sales for the month, as shoppers were less enthusiastic about venturing out."
There were 246 million shares trading on the New York Stock Exchange, 36% of which were rising while 60% were losing ground. On the Nasdaq, 645 million shares were changing hands.
The Federal Reserve Bank of New York said manufacturing activity in the New York region increased in February. The Empire State manufacturing index rose to 15.43 from 11.92 in January. Economists had expected a reading of 15.5.
Export prices, excluding agriculture, climbed 0.9% in January after rising by 0.6% in December. Import prices, excluding oil, increased 0.8%, after growing 0.3% in December.
The Commerce Department said business inventories rose 0.8% December, compared with the increase of 0.6% that economists had been projecting. In November, inventories grew 0.4%.
The National Association of Home Builders housing market index remained unchanged at a reading of 16 in February. Wall Street had expected it to climb to 17, according to Briefing.com.
Deutsche Boerse and NYSE Euronext (NYX) announced a merger today. The Wall Street Journal said the 17-member board of the combined company will be drawn mostly from the German company. NYSE Euronext's stock was falling 3.1% at $38.21.
Sirius XM (SIRI) reported a fourth-quarter loss of 2 cents a share as operating services expenses rose and the satellite radio company paid off a large portion of its debt. Analysts had expected Sirius to break even. The stock was off by 5.1% at $1.74.
Shares of FedEx (FDX) were up 1.9% at $95.84 despite the company cutting its earnings forecast for the current quarter by 25 cents, citing severe weather and higher fuel prices. FedEx expects its fiscal third-quarter adjusted earnings to be 70 cents to 90 cents a share, down from its previous range of 95 cents to $1.15.
Barclays (BCS) shares were rising 6.3% to $21.22 after the British bank said its 2010 profit rose 36% on lower impairment charges.
At 4:30 p.m., the American Petroleum Institute will issue its weekly report on crude oil inventories. Analysts surveyed by Platts estimate that supplies increased by 2.8 million barrels during the week ended Feb. 11.
Crude oil for March delivery was losing 63 cents at $84.18 a barrel. The April gold contract, the most actively traded gold future, was rising by $8 at $1,373.10 an ounce.
The benchmark 10-year Treasury was down by 8/32, lifting the yield to 3.649%. The dollar was weakening against a basket of six currencies, with the dollar index down by 0.3%.
Hong Kong's Hang Seng fell 1%, while Japan's Nikkei added 0.2%. London's FTSE was shedding 0.05%, while the DAX in Frankfurt was ahead by 0.2%.
Related Articles
MARKET UPDATE
NAME
LAST
CHANGE
% CHANGE
There's a problem getting this information right now. Please try again later.
NAME
LAST
CHANGE
% CHANGE
There's a problem getting this information right now. Please try again later.
[BRIEFING.COM] The S&P 500 ended this week with a bang, roaring to a new all-time high on the back of stronger-than-expected economic data, influential leadership, and an ongoing appreciation for the Fed's monetary policy support.

The bullish bias was evident in premarket action as the S&P futures pointed to a higher start without the benefit of any definitive news catalyst. Stocks indeed benefited from a blast of buying interest at the opening bell on this ... More
More Market News
Currencies
NAME
LAST
CHANGE
% CHANGE
There's a problem getting this information right now. Please try again later.