Xbox, Kinect, Office boost Microsoft profit
The software giant's third-quarter earnings grow 31%, but investors are more concerned that consumer PC sales are sliding. With video on Microsoft's earnings.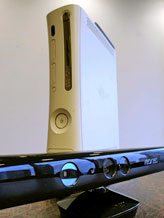 Updated: 11:25 a.m. ET, Friday

Microsoft (MSFT) made a lot of money in its fiscal third quarter, but investors seemed to yawn. After rising nicely ahead of the report, the shares drifted back in after-hours trading but sagged  4% to $25.63 in Friday morning trading.

The issue for investors appears to be that the core users of the company's flagship product, the Windows 7 operating system, are dwindling, at least among consumers as the market for tablet devices heats up. (Microsoft is the publisher of MSN Money.)

And worse, at least from the bragging rights point of view, Microsoft's profit was smaller than that of rival Apple (AAPL).

Not so fast, the company argued in its earnings release and on its conference call. Sales of Office 2010, Xbox and Kinect products are selling well. And sales to business customers are terrific and likely to stay that way. It's a debate that will go on for some time.

Below are six things to take away from the company's results:
Post continues after video on Microsoft's financial results:

How'd they do. Revenue grew 13.3% to $16.4 billion from $14.5 billion a year ago. Net income was up 30.6% to $5.23 billion, or 61 cents a share, from $4 billion, or 45 cents, a year ago. Analysts were expecting 56 cents a share in earnings and revenue of $16.2 billion. The catch: Earnings per share included a gain of 5 cents from settling an audit with the Internal Revenue Service. So, earnings were basically in line with estimates.

Windows sales were down 4.4% to $4.44 billion. Operating profit was off 10%. The issue was personal-computer sales. Windows provides the operating systems for most PCs. Domestic sales of PCs to consumers weren't so good. That's a function of netbook sales falling as much as 40% as the popularity of tablets took off and depressed sales in Japan. But PC sales in emerging markets were strong. So were sales to businesses, CFO Peter Klein said on the analyst call.

But Office and server and tools sales jumped. Office sales were up 21% from a year ago to $5.25 billion, with operating profit up 24.5%. That includes sales of Sharepoint, Exchange, Lync and other products besides Word and Excel. Server-software revenue jumped 10.7% to $4.1 billion, with profit up 11.7%. Together, those businesses represent about 57% of revenue.

The entertainment business is very strong. This is Xbox 360, Xbox Live, Kinect and the like. Revenue jumped 59.9% from a year ago to $1.94 billion. Profit was up 50% to $225 million. About 2.4 million Kinect sensors were sold in the quarter.

The online business is an issue. Revenue grew 14.5% to $648 million. Bing now has a 13.9% share of the search market. But the business lost $726 million. Bing, the company's search engine, is gaining market share, but Microsoft's arrangement with Yahoo is proving more costly than expected, and a goal is to boost revenue per search. That means integrating Bing and Yahoo efforts internationally may be delayed.

What wasn't said. The company has high hopes for its cloud services, known as Windows Azure, which is part of the servers and tools business. Growth appears to be strong. It also has high hopes for its Windows Phone, especially now that it has a relationship with Nokia (NOK). But the problem here is that Apple's iPhone and phones built on Google's (GOOG) Android platform have immense shares. And Klein offered no information on when a tablet device might be available.

Microsoft shares have had a decent April, up 5.2% at Thursday's closing price of $26.73. That compares with a 0.5% loss for Apple and an 8.3% loss for Google. But Microsoft is down 4.3% for the year, compared with a 9.4% loss for Google and a 7.5% gain for Apple.


Jimmy Carter Blasts U.S. for Withholding Food Aid to N. Korea
thats right jimmy reward them with food and fuel to build nukes; just like rewarding illegal's with everything their own government refuses to give them!!  where do the leftwing democratic socialist get their brains(if any) from??

Microsoft has conquered the enterprise ecosystem sector and the cash flow form those successes should provide plenty of resources to compete successfully into the mobile consumer sector with Nokia against Apple and Google but it will take 12-18 months to evolve.  LONG AAPL GE INTC MSFT NOVL TSM T XLF XLU

America's Third War: Is the U.S. Arming Mexican Cartels?
hmmmmmm, lets say that they are so the cartels can go crazy killing people and then the feds step in and state the guns are from ???? and then have the second amendment rewritten or thrown out or give them more amunition over the years to have it removed not over night but over time......
leftwing democratic socialists win
!!

 Apple's revenue was $24.7b with profit of $5.99b so the net profit was 24.3%. Microsoft's revenue was $16.4b with profit of $5.23b so their net profit margin was 31.9%. Apple made $700m more profit doing 50% more business. That's ridiculous. Why would Microsoft want to increase their revenue by 50% to make 13% more profit? Sorry, I thnk Microsoft needs to stick to software and leave the hardware to everyone else including Apple, Dell, HTC, Nokia, Samsung and the likes.  If Microsoft is successful with Nokia using WP7/WP8 and sells 50m smart phones in 2012 that would generate $1b in software revenue and $300m in profit. Apple would still 50% larger in revenue and have larger profit than Microsoft. 
 So what Microsoft would still be the largest and most profitable "software" company in the world but maybe their stock would reach $31 share.
Are you sure you want to delete this comment?
DATA PROVIDERS
Copyright © 2013 Microsoft. All rights reserved.
Fundamental company data and historical chart data provided by Morningstar Inc. Real-time index quotes and delayed quotes supplied by Morningstar Inc. Quotes delayed by up to 15 minutes, except where indicated otherwise. Fund summary, fund performance and dividend data provided by Morningstar Inc. Analyst recommendations provided by Zacks Investment Research. StockScouter data provided by Verus Analytics. IPO data provided by Hoover's Inc. Index membership data provided by Morningstar Inc.
MARKET UPDATE
NAME
LAST
CHANGE
% CHANGE
There's a problem getting this information right now. Please try again later.
NAME
LAST
CHANGE
% CHANGE
There's a problem getting this information right now. Please try again later.
Market index data delayed by 15 minutes
[BRIEFING.COM] The S&P 500 shed 0.1%, registering its fourth consecutive decline. Today's session proved to be a bit of a roller coaster ride for stocks as the S&P 500 opened in the red, rallied into positive territory, fell to fresh lows, and regained the bulk of its losses into the close.

For the second day in a row, the early weakness coincided with heavy selling in Europe. In addition, bonds and risk assets were pressured by a better-than-expected ADP Employment report, which ... More
More Market News
Currencies
NAME
LAST
CHANGE
% CHANGE
There's a problem getting this information right now. Please try again later.