Recession fears spook stocks
Service-sector activity slows, though US companies added more jobs than expected in July. Global markets plunge. Gold continues to soar.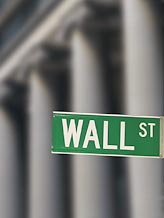 By Melinda Peer, TheStreet
Updated at 1:24 p.m.
Stocks pared earlier losses as oversold market conditions attracted some buyers, but uncertainty regarding the strength of the economic recovery persisted.  
The Dow Jones Industrial Average ($INDU) was down by 64.3 points, or 0.5%, at 11,802. The S&P 500 ($INX) was lower by 6 points, or 0.4%, at 1,247, and the Nasdaq ($COMPX) was falling by 2.8 points, or 0.1%, at 2,666.
Stocks sold off after activity across the services sector unexpectedly slumped, according to the Institute for Supply Management's non-manufacturing index. The index fell to 52.7, missing expectations for a reading of 53.7, after June's level of 53.3.
The non-manufacturing figure overshadowed news that companies added 114,000 jobs in July, according to Automatic Data Processing. The gains were slightly above the increase of 100,000 positions that economists had been expecting, according to Briefing.com. In June, the private sector added 145,000 payrolls, which was downwardly revised from initially reported additions of 157,000. 
The look at private-sector job growth comes ahead of Friday's July employment report from the government. The market projects 84,000 additional nonfarm payrolls in July after June's meager increase of 18,000 jobs.
"We had a pretty good bout of panic there for a few minutes when we slipped under yesterday's low, and now the dip-buyers are working on a 'snapback,'" said RealMoney contributor Rev Shark in a recent blog post. 
Related Articles
"We are well off the panic lows, and confidence is improving a little, but keep in mind that a lot of folks now are 'stuckholders,' and they are looking for exits if they can escape with minimal damage. That is what overhead resistance is all about, and we have plenty of it," he said.
Conglomerates and consumer staples were helping the rebound with 3M (MMM), Coca-Cola (KO), McDonald's (MCD) and General Electric (GE) topping the Dow.
Energy was the session's weakest sector. Chevron (CVX) was the Dow's biggest laggard alongside Caterpillar (CAT), Merck (MRK) and Pfizer (PFE).
Market breadth was decidedly negative with 70% of the 2.9 billion shares trading on the New York Stock Exchange falling while only 28% were rising. There were 1.3 billion stocks changing hands on the Nasdaq.
Investors remain skeptical about struggling European countries' abilities to pay down debts. On Wednesday, the cost of insuring against an Italian default hit a new high of 360 basis points. On Tuesday, yields on Italy's benchmark 10-year bonds touched euro-era highs of 6.1%. 
The FTSE in London plunged 2.3%, and the DAX in Frankfurt also lost 2.3%. Hong Kong's Hang Seng dropped 1.9%, and Japan's Nikkei fell 2.1%..
In other economic news, the Census Bureau's June factory orders report that showed June factory orders declined 0.8%, which was slightly better than the drop of 1% that the market had been anticipating. In May, factory orders rose 0.6%.
Safe-haven assets remained attractive to investors amid increasing concerns that sluggish growth could push the economy into a double-dip recession. Gold prices spiked, trading as high as $1675.90 an ounce. Gold for December delivery was last up by $24.60 at $1,669.10 an ounce.
The September crude oil contract was shedding $2.24 to trade at $91.55 a barrel. 
Yields on U.S. Treasuries were back on the decline Wednesday. The benchmark 10-year Treasury was rising 5/32, diluting the yield to 2.592%.
Media and entertainment company Time Warner (TWX) surpassed analysts' second-quarter expectations with adjusted earnings of 60 cents a share on sales of $7.03 billion. Consensus estimates had been for a profit of 56 cents a share on revenue of $6.82 billion. Shares were falling 2.9% to $33.
Shares of Hertz (HTZ) were flat at $12.99 after the rental-car company reported better-than-expected​ second-quarter earnings and raised its 2011 outlook.
Video, high-speed Internet and phone services provider Comcast (CMCSA) topped analysts' estimates by a penny with second-quarter adjusted earnings of 42 cents a share. Revenue of $14.2 billion was also better than the $13.83 billion in sales that the market had been projecting. The stock was gaining 0.5% to $22.86.
The Energy Information Administration said crude oil inventories rose by 950,000 in the week ended July 29, falling short of the gain of 2 million barrels that analysts had been expecting, according to a Platts survey.
The dollar weakened against a basket of currencies, with the dollar index down by 0.6%.
MARKET UPDATE
NAME
LAST
CHANGE
% CHANGE
There's a problem getting this information right now. Please try again later.
NAME
LAST
CHANGE
% CHANGE
There's a problem getting this information right now. Please try again later.
[BRIEFING.COM] The major averages ended modestly lower with the S&P 500 shedding 0.3%.

The benchmark average saw an opening loss of 1.2% after Japan's Nikkei tumbled 7.3%. Japanese stocks sold off amid continued volatility in Japanese Government Bond futures as the 10-yr yield spiked almost 16 basis points to 1.002 before the Bank of Japan's JPY2 trillion liquidity injection caused yields to retrace their gains.

Adding insult to injury was news out of China where the HSBC ... More
More Market News
Currencies
NAME
LAST
CHANGE
% CHANGE
There's a problem getting this information right now. Please try again later.