AT&T, T-Mobile scrap a $39 billion deal
Opposition from the Obama administration over competition and job losses proves too big to overcome. The companies say more capacity to handle growing mobile usage is needed. Sprint is a winner; shares jump.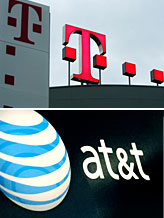 Updated: 7:59 p.m. ET

AT&T (T) and T-Mobile called off their $39-billion merger late Monday, a move that could cost AT&T $4 billion before taxes in cancellation costs, trim revenues for investment banks by $150 million and give Sprint Nextel (S) another shot at becoming a true player in the mobile market.

The AT&T's purchase of T-Mobile from Germany's Deutsche Telekom (DT) would have made it the nation's largest cellphone company. AT&T is now the country's second-largest wireless carrier; T-Mobile is the fourth-largest. But it's not going to happen because critics said the deal was anti-competitive. 

Sprint shares jumped 6%, or 13 cents, to $2.29 because investors bet the company would be better able to compete against AT&T and Verizon Wireless, the joint venture of Verizon Communications (VZ) and British telecom giant Vodaphone (VOD).

AT&T was down slightly after hours. Deutsche Telekom was unchanged at $11.43 in New York. Verizon was little changed.

The deal fell apart because of fierce opposition from the Justice Department and the Federal Trade Commission.

Article continues below.

Both worried that the deal would reduce the nation's mobile telecommunications market to AT&T and Verizon Wireless and a few bit players to the side. Like Sprint Nextel,
CenturyLink
(
CTL
) and a few others.
And it would mean job cuts for telecom workers in the inevitable consolidation. The Obama Administration said the deal could cost as many as 20,000 jobs, jobs that would take years to replace. T-Mobile has some 42,000 employees.
For their part, AT&T and Telekom said that scuttling the deal means that adding more broadband spectrum will be delayed. The U.S. wireless industry is "one of the most fiercely competitive industries in the world, with a mounting need for more spectrum that has not diminished and must be addressed immediately," the companies said in a joint statement.
They did agree to push a "mutually beneficial roaming agreement."
What started this deal rolling starting in March was AT&T's chronic problem: Not enough capacity in key markets like New York and San Francisco to prevent users from having phone calls, games, even television shows cut off because the local network couldn't handle all the demand.
AT&T could -- and apparently will -- continue to invest in new bandwidth and cell-phone towers. But its solution for a very big short-term fix was to buy T-Mobile from Deutsche Telekom, which was attractive to AT&T for two reasons. T-Mobile uses the same technology that AT&T uses. And the German company wanted to get out of the U.S. market.
The opposition came quickly, from the Obama Administration, labor unions, Sprint and others.
The Justice Department and the FCC said that T-Mobile was an important low-price competitor to Verizon and AT&T. If T-Mobile were to be gobbled up by AT&T, the agencies said, consumers would see higher prices and less innovation.
Monday's announcement came as little surprise after the Justice Department sued on Aug. 31 to block the merger. The deal's prospects declined when the FCC's chairman also came out against it. The companies withdrew their FCC application last month.
Sanford Bernstein analyst Craig Moffett told The Associated Press that the announcement "is like receiving the divorce papers for a couple that's been separated for years."

Many people, however, believe that AT&T had overstated the spectrum crisis, the AP said. AT&T already has an ample supply of unused wireless spectrum that it plans to use to expand its network over the next several years.

And much of T-Mobile's spectrum is already in use, so the deal wouldn't have resulted in fresh airwaves becoming available. Furthermore, AT&T has made great strides in addressing the network congestion not so much by tapping its unused spectrum, but by simply upgrading its cell-tower equipment.
Moffett said AT&T's spectrum needs are not so grave that it needs to make a large acquisition right away.
While Sprint was the clear winner, there was some losers: the investment banks that were advising AT&T and T-Mobile on the deal, The Wall Street Journal noted this afternoon. (Registration may be required.) They stood to collection $150 million or so in fees.

These include Greenhill & Co. (GHL), JPMorgan Chase (JPM), Evercore Partners, (EVR), Morgan Stanley (MS), Deutsche Bank (DB), Credit Suisse (CS) and Citigroup (C).
And one other company will be a winner, The Journal said: Goldman Sachs (GS). Because JPMorgan apparently won't get to claim the deal, Goldman will end the year as the top investment bank in mergers and acquisitions.
DATA PROVIDERS
Copyright © 2013 Microsoft. All rights reserved.
Fundamental company data and historical chart data provided by Morningstar Inc. Real-time index quotes and delayed quotes supplied by Morningstar Inc. Quotes delayed by up to 15 minutes, except where indicated otherwise. Fund summary, fund performance and dividend data provided by Morningstar Inc. Analyst recommendations provided by Zacks Investment Research. StockScouter data provided by Verus Analytics. IPO data provided by Hoover's Inc. Index membership data provided by Morningstar Inc.
MARKET UPDATE
NAME
LAST
CHANGE
% CHANGE
There's a problem getting this information right now. Please try again later.
NAME
LAST
CHANGE
% CHANGE
There's a problem getting this information right now. Please try again later.
Market index data delayed by 15 minutes
[BRIEFING.COM] A solid November employment report translated into a solid day of gains for the major averages. While there was some talk that the encouraging job growth raised the odds of the Fed announcing a tapering at its December meeting, the message of the markets today was either that it didn't believe there would be a tapering this month or that it doesn't fear a tapering this month.

It was just one day, yet there was ample meaning wrapped up in the connection that the 10-yr ... More
More Market News
Currencies
NAME
LAST
CHANGE
% CHANGE
There's a problem getting this information right now. Please try again later.