Stocks tumble as jobless rate climbs to 9.2%
The US economy gained only 18,000 jobs in June, missing expectations for 80,000. Global markets fall. The price of gold spikes.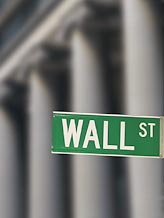 By Melinda Peer, TheStreet
Updated at 12:48 p.m.
Stocks were losing roughly 1% as a disappointing June jobs report had investors feeling less confident in the economic recovery. 
The Dow Jones Industrial Average ($INDU) was down by 113.1 points, or 0.9%, at 12,606. The S&P 500 ($INX) was lower by 14.5 points, or 1%, at 1,338, and the Nasdaq ($COMPX) was falling by 26.3 points, or 0.9%, at 2,846.
The U.S. economy only added 18,000 jobs in June after gaining 25,000 jobs in May, according to the Labor Department's report, which was well below the increase of 80,000 that the market had been expecting. The private sector added 57,000 payrolls, missing projected additions of 110,000, according to Briefing.com. The unemployment rate was also disappointing, rising to 9.2%, even though economists had expected it to hold steady at 9.1%.
Average hourly earnings were unchanged in June and the average workweek dipped to 34.3 hours, from 34.4 hours, previously. Manufacturing industries saw a 0.3% decline in weekly hours, suggesting minimal growth in industrial production during the month.
The market took the June's lower-than-expected job growth particularly hard after data from Automatic Data Processing on Thursday showed that the private sector added 157,000 payrolls in June – more than double what economists had been expecting – leading some market watchers to increase their expectations ahead of Friday's report.
The disappointing news curbed investors' risk appetites, triggering a flight to quality.
The benchmark 10-year Treasury rose 12/32, diluting the yield to 3.016%.
Gold for August delivery was up by $11.50 at $1,542.10 an ounce.
Meanwhile, the August crude oil contract was shedding $2.43 to trade at $96.24 a barrel.
"The June jobs report was, in a word, horrible," said Geoff Somes, senior economist at State Street Global Advisors.
"'Disappointed'" is really the key word for the marekt here. I was looking at expectations going into the report and one survey had expectations for job growth of 105,000. I thought that was a little bit rich. The ADP print yesterday helped lift those expectations. However, given what we've seen in jobless claims over the past couple of weeks, we were ripe for a disappointment. That said, even though I was expecting a disappointing number, I still wasn't expecting something as weak as job growth of 18,000," he said.
"We're clearly seeing signs that the soft patch that started in the spring has persisted into the early summer as well."
The disappointing U.S. jobs figure and renewed concern about Italy's financial stability weakened European markets. Shares of Italian bank UniCredit dropped amid fears that Italy may be the next eurozone country to struggle with its sovereign debt obligations, according to a Wall Street Journal article.
The euro fell 0.9% against the dollar, which was trading 0.5% higher against a basket of currencies, according to the dollar index. The FTSE in London was shedding 1%, and the DAX in Frankfurt was declining by 0.9%.
Earlier, Hong Kong's Hang Seng added 0.9%, and Japan's Nikkei gained 0.7%.
The Department of Commerce said wholesale inventories gained 1.8% in May after rising 1.1% in April. The level was stronger than the growth of 0.9% that economists had been expecting, according to Briefing.com.
Market breadth was overwhelming negative and volume was light. Of the 79% of the 687 million shares changing hands on the New York Stock Exchange trading to the downside while only 19% of shares were rising. There were 8 million shares trading on the Nasdaq..
Shares of capital goods, conglomerates and financials were showing the steepest losses with Caterpillar (CAT), General Electric (GE), Bank of America (BAC) and American Express (AXP) were among the Dow's biggest laggards.
Investors were favoring safer bets with consumer staples, utilities and healthcare stocks showing the mildest losses.
Merck (MRK) was the only component trading in positive territory. Pfizer (PFE) and consumer staples like Procter & Gamble (PG), Coca-Cola (KO) and Kraft Foods (KFT) were showing some of the mildest losses.
Bank of America (BAC) agreed to sell its Balboa Life insurance business to Securian Financial for an undisclosed sum, according to the Financial Times. The move comes as banks are shedding extraneous units to focus on their core retail and commercial banking businesses amid new regulatory rules that will raise capital requirements for the largest banks. Bank of America's stock was losing 2.1% to $10.69.
ING Group (ING) agreed to sell its car leasing division to BMW for 700 million euros, or $1 billion. The Dutch financial services company said the sale will result in a capital release of roughly 530 million euros and add 17 basis points to ING Bank's Tier 1 ratio.Shares of ING were shedding 2.3% to $11.95.
Former News of the World editor Andy Coulson was arrested over the reporting scandal that allegedly included phone hacking and illegal payments to officers for confidential information. The case has resulted in the closure of News Corp.'s (NWSA) publication, and British Prime Minister David Cameron has called for a full public inquiry into the matter.
Related Articles
DATA PROVIDERS
Copyright © 2013 Microsoft. All rights reserved.
Fundamental company data and historical chart data provided by Morningstar Inc. Real-time index quotes and delayed quotes supplied by Morningstar Inc. Quotes delayed by up to 15 minutes, except where indicated otherwise. Fund summary, fund performance and dividend data provided by Morningstar Inc. Analyst recommendations provided by Zacks Investment Research. StockScouter data provided by Verus Analytics. IPO data provided by Hoover's Inc. Index membership data provided by Morningstar Inc.
MARKET UPDATE
NAME
LAST
CHANGE
% CHANGE
There's a problem getting this information right now. Please try again later.
NAME
LAST
CHANGE
% CHANGE
There's a problem getting this information right now. Please try again later.
Market index data delayed by 15 minutes
[BRIEFING.COM] There wasn't a lot of excitement in the stock market today and there is nothing wrong with that. After rallying in broad-based fashion on Friday, the major indices stood their ground (for the most part) amid a lack of conviction from buyers and sellers alike.

Today wasn't a case so much of the stock market going up as it was a case of some influential stocks going up to keep the major indices on a winning path. In fact, decliners were just about even with ... More
More Market News
Currencies
NAME
LAST
CHANGE
% CHANGE
There's a problem getting this information right now. Please try again later.