How will Apple shares fare with Jobs' passing?
The consensus is that CEO Tim Cook is a winner and that the company has an enormously talented work force. But the stock historically has been volatile. One irony: Apple had only recently lost its position as the world's most valuable company.
Updated: 11:35 a.m. ET Thursday

Steve Jobs lived long enough to see Apple (AAPL) become the most valuable company in the world. But on the day he died, at age 56, exactly six weeks after resigning as the CEO of the company he co-founded, Apple was the second-most-valuable​ company in the world.

The stock was up 1.2% to $382.94 in morning trading Thursday. As of Wednesday's close, it sported a market capitalization of $350.7 billion. That's second only to that of Exxon Mobil (XOM), which rose 1.5% Wednesday, closing at $73.95. Its market cap was $359.4 billion.

Apple's market cap had been greater than Exxon's between Sept. 8 and Monday. On Tuesday, Exxon took the title back.

Jobs' death now raises the uncomfortable question: Was Apple's stock price all about Steve Jobs?

We won't know the long-term answer for some time.

Apple is a volatile stock. It has always been a volatile stock, and, between its hitting an all-time high of $422.86 on Sept. 20 and Wednesday, it dropped 10.6%. 

Exxon's change over the same time frame -- from the high on Sept. 20 through Wednesday's close: down 1.4%. The change for the Standard & Poor's 500 Index ($INX): was 4.8%. The Nasdaq-100 Index ($NDX) fell 4.9%. Apple represents about 12% of the index's value.

One big reason for Apple's volatility has been its popularity among hedge funds, whose managers in recent years have seen Apple as the one stock they had to own. That's great while the market is stable or rising. But when the market has fallen apart and hedge funds were forced to raise cash, they sold Apple.

At the end of 2007, Apple's shares briefly topped $200 and finished the year at $198.08. It never came close to that level in 2008 and did not bottom until Jan. 20, 2009 -- the day Barack Obama became president -- at $78.20. That was a decline of 60.5%. The Nasdaq's loss was 45%.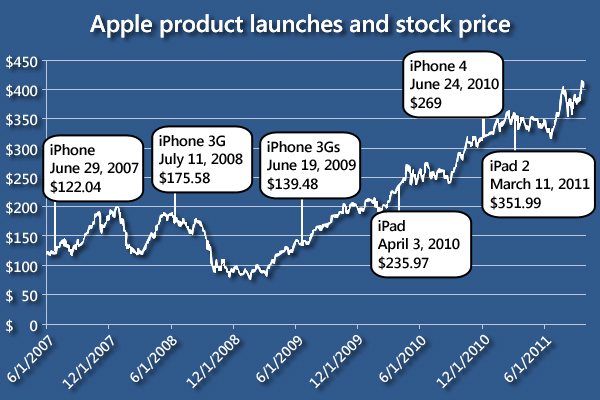 History suggests that when a charismatic leader leaves a company -- for whatever reason -- the company loses its urgency, and the stock often suffers.
But the consensus since, say, last winter, when Jobs took a second medical leave of absence -- has been that the company is in great hands with Tim Cook, who became the acting CEO and permanent CEO on Aug. 24.
Cook may not have Jobs' flash, but his impact on Apple has been enormous. Cook is responsible for building Apple's production system, which relies on others to manufacture its products. At the same time, Apple's management ranks are so deep in talent that the company should transition into a world without Steve.
Moreover, between Aug. 24,when Cook became CEO, and its peak on Sept. 20, Apple's shares rose 9.9%. It's the market that's pulled Apple lower.
MARKET UPDATE
NAME
LAST
CHANGE
% CHANGE
There's a problem getting this information right now. Please try again later.
NAME
LAST
CHANGE
% CHANGE
There's a problem getting this information right now. Please try again later.
[BRIEFING.COM] Stocks ended modestly higher as the S&P 500 climbed 0.2%, and the Dow added 0.4% to register its 19th consecutive Tuesday of gains.

The major averages saw little change during morning action, but afternoon buying interest helped lift the indices to session highs. Most cyclical sectors (with the exception of materials and technology) finished among the leaders, but the defensively-geared health care sector settled atop the leaderboard as biotechnology outperformed. ... More
More Market News
Currencies
NAME
LAST
CHANGE
% CHANGE
There's a problem getting this information right now. Please try again later.