Can Apple still be Apple without Steve Jobs?
The co-founder of the tech giant says he can't continue as CEO. Tim Cook, the acting CEO since January, will replace him. Jobs' company has been a major tech innovator and sports a market cap exceeded only by Exxon's.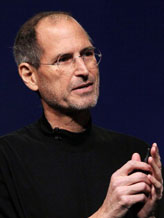 Updated: August 25 at 8:45 a.m. ET

Steve Jobs always introduced Apple's (AAPL) new products. He was always the keynote speaker at Apple's annual developers conference. He sometimes participated in analyst calls. One rarely saw anyone other than Jobs representing Apple in public venues.

That will change now that Jobs, 56, has resigned as Apple's chief executive. That creates a challenge for Apple because few companies have been as much wrapped up in the persona of its boss as Apple.

And if Jobs isn't there, what happens next?

The challenge was already apparent in the market reaction to Jobs' resignation late Wednesday. The shares were off 5.1% after hours to $357.10 after closing at $376.18, up 0.7%, in regular trading. The shares are up 16.6% this year, compared with a 6.4% decline in the Standard & Poor's 500 Index ($INX).

But by Thursday morning, Apple's stock had recovered somewhat and was only down just 2.4% in pre-market trading. That's still enough to affect U.S. stocks, but futures trading in the S&P 500 and the Nasdaq-100 Index ($NDX.X) indicate stocks will open mixed. Analysts comments Thursday were reassuring, with Citigroup suggesting investors buy on any dip.
Apple is the second-largest component of the S&P 500, representing 3.2% of its value. It also represents about 12% of the value of the Nasdaq-100, which tracks the largest Nasdaq stocks.

The stock's decline may be temporary.

Article continues below video.

Jobs wants to continue as a director and chairman of the company's board. If his health permits, he will continue to exert enormous influence on the company and its formidable array of products.
Its iPhone 5 phone is due in October.
Sprint Nextel (S)
will finally have an Apple phone to sell against
AT&T (T)
and
Verizon Wireless
, majority-owned by
Verizon Communications (VZ)
.
An iPad 3 is expected next year, along with new Macintosh computers.
Tim Cook, who is replacing Jobs, has been acting CEO since January and has been acting CEO twice before when Jobs' cancer problems forced him to take extended leaves of absence.
Cook, who is 50 and joined Apple in 1998, is a known quantity as a public face of Apple. He is known as a manufacturing genius, but his greatest innovation has been to outsource the manufacturing of virtually everything that carries the Apple label. Apple isn't a manufacturer any longer, hasn't been for years. But it is a master of meticulous design and merchandising.
Related articles
Behind Cook is a deep, experienced bench of product designers and managers who have learned from their mistakes. Apple has not always hit on each product. Its Lisa computer, introduced in 1984, was a notable bust. So was Apple TV in 2007.

Still, moving from a visionary leader like Steve Jobs creates uncertainty. "Great companies rarely go from strength to strength," Charles O'Reilly, a management expert at Stanford University's Graduate School of Business, told The Wall Street Journal today.

So the question is about to be joined. Can Apple continue its intensely driven success of the last 13 years? Some will say it can because of the talent in the company. But Apple's history shows it struggled and nearly failed after he left in the 1980s.

Apple was started by Jobs and his friend Steve Wozniak in the late 1970s as a computer maker. But after Jobs returned to the company in 1997 after several years of exile, it began to see itself as more than just a computer maker.

You saw the change when the iPod music player hit the market. That led to the iTunes online store that let users download the music they wanted -- from entire albums to single songs.

The iPod led to the iPhone and then to the iPad, which have changed mobile communications and computing entirely. The iPad generates more revenue for Apple than laptop and notebook computers do for rivals Hewlett-Packard (HPQ) and Dell (DELL). The iPhone brought the smartphone out from the corporate world that had been dominated by Research In Motion (RIMM) -- threatening RIM's viability in the process.

Its Apple stores are wildly popular, so popular that entrepreneurs in China have opened exact replicas -- down to the T-shirts that employees wear.

Jobs submitted his resignation on Wednesday. He had been on medical leave since January and had pledged to resign if the day came that he couldn't continue in his job. "Unfortunately, that day has come," he wrote in a letter to Apple's board of directors.

Cook was promptly named CEO.

"Steve's extraordinary vision and leadership saved Apple and guided it to its position as the world's most innovative and valuable technology company," said Art Levinson, chairman of Genentech, on behalf of Apple's board.

The announcement wasn't a huge surprise, given Jobs' health problems, which were evident in his recent appearances.

Jobs left the company in 1984 after a struggle with his board and founded NeXT, a computer platform development company specializing in the higher-education and business markets.

His second tenure, which began in 1997 with the company seemingly on the ropes, has been a staggering success. 


The company evolved from a maker of cool personal computers into a colossus.

The company grossed $65 billion in fiscal 2010 and looked headed toward revenue of at least $120 billion in fiscal 2011. In the process, the shares have soared in value -- more than 5,300% since bottoming in the spring of 2003 -- and now sports a market capitalization of $349 billion, second only to Exxon Mobil's XOM) $358 billion.

Jobs also bought the animation business of George Lucas' Lucasfilm, renamed it Pixar, which made the wildly popular animated films such as "Toy Story," "Cars," "Finding Nemo" and "Up." The company was sold to Walt Disney (DIS) for $7.4 billion. Jobs became Disney's largest shareholder.

Jobs has been struggling with health issues for most of the past 10 years. He underwent cancer surgery in 2004 and a liver transplant in 2009. The current medical leave is his third.
MARKET UPDATE
NAME
LAST
CHANGE
% CHANGE
There's a problem getting this information right now. Please try again later.
NAME
LAST
CHANGE
% CHANGE
There's a problem getting this information right now. Please try again later.
[BRIEFING.COM] The S&P 500 ended this week with a bang, roaring to a new all-time high on the back of stronger-than-expected economic data, influential leadership, and an ongoing appreciation for the Fed's monetary policy support.

The bullish bias was evident in premarket action as the S&P futures pointed to a higher start without the benefit of any definitive news catalyst. Stocks indeed benefited from a blast of buying interest at the opening bell on this ... More
More Market News
Currencies
NAME
LAST
CHANGE
% CHANGE
There's a problem getting this information right now. Please try again later.