Wal-Mart loses its luster
Analysts have turned on the retailing giant, saying sales are likely headed down.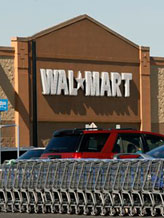 Wall Street is losing its faith in
Wal-Mart (WMT)
.
Worried about how the company fared in the crucial holiday shopping season, analysts are starting to cut their ratings. JP Morgan was the latest to sock Wal-Mart with a neutral rating, causing the stock to drop more than 1% in midday trading Monday to $54.88.
"We've become increasingly concerned that the company's recent same-store-sales deterioration in the U.S. could be a secular problem that could last multiple years -- not just a few quarters,"
wrote JP Morgan analyst Charles Grom
in a research note. The stock has been a non-starter for more than a decade, and over the past year mostly stayed in the $48 to $56 range.
Grom added that he didn't think Wal-Mart had a great holiday season, but said the downgrade from overweight to neutral wasn't directly related to the retailer's fourth-quarter performance. We'll find out how the company did when it reports its fourth quarter next week, on Feb. 22.
Post continues after video:
JP Morgan's downgrade follows
a similar one last week
from UBS Securities. Analysts there cut the stock's rating to neutral from buy, saying same-store sales could have a tough time in the fourth quarter.
Sources tell The New York Post
that Wal-Mart is trying to get rid of excess inventory after a disappointing holiday season, and it has halted orders of fresh merchandise.
Oh, how things have changed. Wal-Mart was optimistic back in November, predicting that sales would finally rise -- after six quarters of consecutive declines -- at stores open at least a year,
Reuters reported
.
But then huge snowstorms and freezing temperatures brought much of the country to a standstill. Gas prices also rose, putting more pressure on household budgets. And Grom at JP Morgan suspects heightened competition from "niche grocers" and dollar stores.
So Wal-Mart's dreams of sales growth were dashed -- at least in the minds of some analysts.
"Everybody is sensitive to the sales number," one Gilford Securities analyst told Reuters. "Whether or not it is caused by the weather, if it comes up short the stock is going to feel a setback."
In other words, Monday's stock drop was just the appetizer. A disappointing earnings report could send shares down further.

I don't like WalMart, much.  I feel sorry for the folks who work there.  Anyway, if I did want to help WalMart  I would have them take a look at their customer's experience per trip to the store.  They screwed themselves when they tried to become Target, and they miss opportunities to be BETTER than Targe't.  For instance,  when the country gets old and fat (which has already happened) and your store is as big as a mall, put some damn benches around the store so Grandma can sit down a spell or junior can rest those barking dogs!  If WalMart only knew how many sales it misses because people don't want to tackle the BIG BOX.  They also need to find a way to treat employees better, their strained smiles and taxed demeanor's are so depressing to encounter.  Would it kill management to let cashiers have a stool to lean/sit on for maybe the second half of their shift?  WalMart will never out-feminine Target, so they shouldn't try! They may be able to out-family the competition though, if they weren't so obviously  heartless. Where's the loss leader Soda machine at the front of the store? GONE  Where's the smile on the little one's faces as they realize their coins will buy them a drink AND a treat? GONE  Where's America's allegiance to the store that used to promise low prices ALWAYS, AND had enthusiastic employees that profited from investing in their employer GONE The sad thing is, not only do I know I'm right, I know there's not a chance in Hades  that  WalMart will wake up and smell the coffee, they're too big to pay attention anymore, they'd rather just concentrate on paying minimum wage (plus a quarter) and trying to squeeze a quarter more out of  YOU for your next pound of coffee.

In my area, ever since they replaced the old store with a new supercenter, it's been all downhill. I actually liked the smaller store better because there was a WIDER selection of merchandise in every catagory, other than grocery.  Like all retailers, they've cut back on selection and have eliminated products altogether. I patronized their arts & crafts department frequently while in the old store. Imagine my surprise and disappointment upon seeing the much smaller version in the supercenter.  Now, I go to Jo-Ann Fabrics.

I've been getting my prescriptions at Wal-Mart for a couple years now and as an old geezer, I use several Rx's on a daily basis.
I've become increasingly tired of being treated like livestock at their "pharmacies," but my encounter two days ago convinced me that it's time to buy prescriptions elsewhere.
Not only are their staff members arrogant, they have no problem showing their customers how little they value their customers' time, or schedules. I believe any cost savings Wal-Mart MAY provide just aren't worth the aggravation. Experiences like this show me exactly how essential competition is in improving customer satisfaction. Pharmacies other than Wal-Mart's do exist and I'll be using them for filling my next Rx.   
Are you sure you want to delete this comment?
DATA PROVIDERS
Copyright © 2013 Microsoft. All rights reserved.
Fundamental company data and historical chart data provided by Morningstar Inc. Real-time index quotes and delayed quotes supplied by Morningstar Inc. Quotes delayed by up to 15 minutes, except where indicated otherwise. Fund summary, fund performance and dividend data provided by Morningstar Inc. Analyst recommendations provided by Zacks Investment Research. StockScouter data provided by Verus Analytics. IPO data provided by Hoover's Inc. Index membership data provided by Morningstar Inc.
MARKET UPDATE
NAME
LAST
CHANGE
% CHANGE
There's a problem getting this information right now. Please try again later.
NAME
LAST
CHANGE
% CHANGE
There's a problem getting this information right now. Please try again later.
Market index data delayed by 15 minutes
[BRIEFING.COM] S&P futures vs fair value: +3.80. Nasdaq futures vs fair value: +10.00. The cash market is on track to start the session on a slightly higher note. Most foreign markets have traded higher on Monday, aided in part by Wall Street's rally on Friday.

Some individual movers of note at this juncture are Sysco (SYY 44.39, +10.08), which is soaring in pre-market action after announcing an agreement to acquire US Foods for a total consideration (equity and debt) ... More
More Market News
Currencies
NAME
LAST
CHANGE
% CHANGE
There's a problem getting this information right now. Please try again later.