Here's why Barnes & Noble attracts John Malone
Liberty Media, which operates the Starz cable networks and the Home Shopping Network, offers to buy the bookstore chain for $1 billion. It makes sense for Malone. Will it make sense for Barnes & Noble?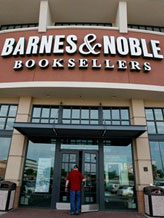 Updated: 5:45 p.m. ET Friday
If you think about the totality of what John Malone does, then you begin to understand why he wants to buy
Barnes & Noble (BKS)
.
Late Thursday, Malone's
Liberty Media (LINTA)
offered to buy the big bookstore chain for $17 a share, or about $1 billion, a 20.5% premium over the company's $14.11 closing price. The stock traded as high as $17.60 after hours, which is a signal some investors expect the offer to increase somewhat. The shares closed up 29.9% to $18.33 on Friday.
The offer comes with a condition: Chairman Leonard Riggio needs to stay, and he needs to have an equity position in the business. Barnes & Noble wouldn't say what it or Riggio will do. But it will consider the offer, which will need financing. 
Malone is interested because he is in the media business, and he sees Barnes & Noble as a media business because of its sizable online operation and its Nook electronic reader.
Malone's company owns
Gifts.com
; 40% of
Expedia (EXPE)
, the online travel agency; 81% of
Backcountry.com
. Malone has interests in cable television, including Starz, the premium cable network; HSN, which operates the Home Shopping Network, and QVC, which operates a host of online retailing businesses.
There's more: a 67% stake in McNeil/Lehrer Productions, which produces the "PBS News Hour"; a 40% interest in satellite radio operator
Sirius XM Radio (SIRI)
. His Leisure Arts business publishes needlework, craft, decorating, entertaining and other of what his company calls "lifestyle interest how-to books." He has a host of smallish stakes in other media companies, including
Time Warner (TWX)
and
Time Warner Cable (TWC)
.
Apple's (AAPL)
iPad may get a lot of attention, but, according to a Goldman Sachs report in February, the fact is that
Amazon.com's (AMZN)
Kindle has a 67% share of the electronic-reader business. Barnes & Noble has a 22% share. But Barnes & Noble has a 27% share of the electronic-book business, compared with Kindle's 58% and Apple's 9% share.
Barnes & Noble's online business, which is where Nook resides, saw revenue jump 52% to $319.4 million in its fiscal third quarter, which ended on Jan. 31. Most of the gain is Nook-related. The online business represented about 14% of Barnes & Noble's business in the quarter, up from 10% a year earlier. In March, Marc Parrish, a Barnes & Noble executive predicted that
ebooks would dominate the book business
perhaps as soon as two years.
Barnes & Noble has offered two versions of the Nook; a third version may be introduced next week, The Wall Street Journal said.
But the traditional book business has been troubled in recent years. Borders is in Chapter 11 bankruptcy and is shutting down stores. Independent shops are closing. Riggio put Barnes & Noble up for sale a year ago.
So, a great deal about Barnes & Noble would interest a John Malone, especially if Riggio stays. Riggio built Barnes & Noble from a modest New York bookseller into a national book chain and was willing to invest in Nook to compete against Amazon when a lot of analysts thought he was crazy.
Would Riggio be willing to sell? Yes, because he might get some backing to continue to build up the Nook business. Certainly, he would be able to tell his shareholders -- especially Ron Burkle, who owns 19% or so of the company --  he got them out of a horrible situation. The stock was at $47 in 2005 and fell to as low as $8.77 on April 18.
Barnes & Noble operates more than 700 bookstores across the country and is the world's largest specialty retailer, with revenue of nearly $7 billion in the last four quarters. Riggio started out running a college bookstore in Manhattan's Greenwich Village. In 1971, he bought the Barnes & Noble name and its flagship store in Manhattan. The company expanded through acquisitions, buying B. Dalton Bookseller and Doubleday Bookshops.
DATA PROVIDERS
Copyright © 2013 Microsoft. All rights reserved.
Fundamental company data and historical chart data provided by Morningstar Inc. Real-time index quotes and delayed quotes supplied by Morningstar Inc. Quotes delayed by up to 15 minutes, except where indicated otherwise. Fund summary, fund performance and dividend data provided by Morningstar Inc. Analyst recommendations provided by Zacks Investment Research. StockScouter data provided by Verus Analytics. IPO data provided by Hoover's Inc. Index membership data provided by Morningstar Inc.
MARKET UPDATE
NAME
LAST
CHANGE
% CHANGE
There's a problem getting this information right now. Please try again later.
NAME
LAST
CHANGE
% CHANGE
There's a problem getting this information right now. Please try again later.
Market index data delayed by 15 minutes
[BRIEFING.COM] The major indices continue to hold a winning edge, the sharpest of which belongs to the Nasdaq. The latter has risen 0.4% today and it is easy to see why with both Google (GOOG 1080.27, +10.40) and Apple (AAPL 563.46, +3.44) posting early gains. Facebook (FB 48.28, +0.34), Twitter (TWTR 47.53, +2.58) and LinkedIn (LNKD 235.71, +2.72) are some other luminaries still attracting buying interest.

Overall, there simply hasn't been a rush ... More
More Market News
Currencies
NAME
LAST
CHANGE
% CHANGE
There's a problem getting this information right now. Please try again later.