Harley-Davidson turns momentum around
The motorcycle maker is still struggling with falling sales, but it's reinventing itself and cutting expenses.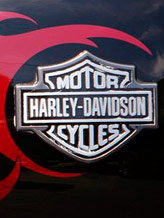 The
picture
still isn't pretty for
Harley-Davidson (HOG)
. Worldwide sales were down 1% in the fourth quarter and 8.5% for 2010 -- not good for a company desperate to expand internationally after being wracked by
recession
in the U.S.
So why are investors loving the stock today, pushing it up more than 8% to $39.50? Because Harley beat expectations in the quarter with some impressive numbers, narrowing its loss in an effort to become as nimble and efficient as its motorcycles.
"We have made strong progress at transforming our business to be leaner, more agile and even more effective at delivering great products and customer experiences," chief executive Keith Wandell said in a statement.
Harley is trying to reinvent itself as a smaller, leaner company that can better compete with Japanese bikes that are so attractive to a younger generation of riders. Just check out the
stripped-down, low-riding Blackline model
Harley launched this month for $15,000.
Post continues after video:
A top priority for the reinvented Harley-Davidson is cost cutting across the board. And it succeeded in the fourth quarter, reporting a loss of $46.8 million, or 20 cents a share. That's much improved from the loss of $218.7 million, or 94 cents a share, in the year-ago period.
Analysts were expecting a loss of 24 cents a share. And in fact Harley would have made a profit in the quarter if it hadn't taken an $85 million charge from buying back some debt. The financial services unit of the company was a big plus, contributing $43.5 million in profit, compared with a loss a year ago.
Revenue saw a 20% jump to $917.1 million -- welcome news to investors who a year ago were trying to understand how revenue plunged by 40%. Analysts had expected $853.8 million in revenue. And gross margin showed great improvement, going from 20.3% to 29.6% in a year.
The full-year numbers looked good as well. Harley saw $146.5 million in profit, or 62 cents a share, compared with a loss of $55.1 million, or 24 cents a share, in 2009.
So Harley definitely has turned momentum in its favor. All it needs is for sales to start growing as well. Harley said it will spend 2011 stocking inventory at dealerships, shipping between 221,000 to 228,000 motorcycles to distributors worldwide. That's an increase of 5% to 8% from 2010. Dealers aren't going to sell anywhere near that number, but supplies are low and Harley wants to boost levels.
Harley also said gross margin will continue to improve, reaching between 34% and 35% in 2011. And its ongoing restructuring in 2011 will cost as much as $75 million, bringing full-year capital expenditures to between $210 million and $230 million.
This year will also see Harley continue to expand internationally. The company chose India as the site of its second international assembly plant. After China, India is the fastest-growing market for two-wheelers.
"Margins and mix continue to be favorable," an Edward Jones analyst
told Reuters
. "And they're looking for that to continue in 2011."

Maybe, just maybe if folks like Harley Davidson (I am a previous Harley owner) priced their machines and supporting products reasonably they just might improve sales.
Why do these companies whine about buisness when the country just got smacked in the face in the 4th quarter of 2009......did you all forget that?
Get real with your expectations and less greedy....you will do better in the long run.

Nimble and efficient?  Has the author ever ridden a Harley?  Or compared it to any competitive motorcycle?

I wish Harley the best as an American company.  I even owned their stock back in the 1980s and 1990s.  I lost interest when they placed too much emphasis on branded products and the "Harley Experience" instead of their motorcycles.

I believe Harley is in the same situation that John Deere was in back in the late 1950s, and where  Cadillac was back in the 1980s . . . A large, aging, devoted customer base that abhors change.  Unfortunately that customer base is dying off, while new generations cannot relate to their aging products.

The V-Rod is a step in the right direction.  As is the recent additions of rubber motor mounts and fuel injection.  Now make a product that can compete with Honda and Yamaha for comfort, performance, and reliability . . .


Are you sure you want to delete this comment?
DATA PROVIDERS
Copyright © 2013 Microsoft. All rights reserved.
Fundamental company data and historical chart data provided by Morningstar Inc. Real-time index quotes and delayed quotes supplied by Morningstar Inc. Quotes delayed by up to 15 minutes, except where indicated otherwise. Fund summary, fund performance and dividend data provided by Morningstar Inc. Analyst recommendations provided by Zacks Investment Research. StockScouter data provided by Verus Analytics. IPO data provided by Hoover's Inc. Index membership data provided by Morningstar Inc.
MARKET UPDATE
NAME
LAST
CHANGE
% CHANGE
There's a problem getting this information right now. Please try again later.
NAME
LAST
CHANGE
% CHANGE
There's a problem getting this information right now. Please try again later.
Market index data delayed by 15 minutes
[BRIEFING.COM] The major averages spent the entire session in a steady downtrend, but despite persistent selling pressure, today's losses were limited in scope. The Dow, S&P 500, and Nasdaq shed between 0.2% and 0.3% while the Russell 2000 lagged, falling 0.9%.

The underperformance of the Russell 2000 was likely owed in part to tax-loss selling, which tends to pick up this time of year. Small-caps often feel that pinch in a stronger fashion than large-cap issues since individual ... More
More Market News
Currencies
NAME
LAST
CHANGE
% CHANGE
There's a problem getting this information right now. Please try again later.