IPad sales fall short, but Apple net soars
A deal to sell iPhones to Verizon customers pays off, but the company is struggling to meet massive iPad demand. Sales in Japan slip because of the earthquake, though supplies from Japanese vendors haven't been hurt.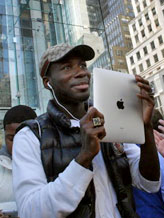 Updated: 11:07 p.m. ET
There were a few worries in Apple's call Wednesday with analysts. Would the Japanese earthquake disrupt its supply networks or boost its costs? Was there any indication of slackening demand for its core iPhone, iPad and Macintosh products? When was Steve Jobs going to come back to work?
The short answers from the company that's now the rival of
IBM (IBM)
in terms of sales and should help fuel a strong start to stocks on Thursday: No, no and don't know.
There was a good question: Why was the guidance for the fiscal third quarter -- earnings of $5.03 a share and revenue of $23 billion -- more conservative than even Apple normally offers? The answer was more complicated.
Apple sold 4.7 million iPads in the quarter. The expectation had been for 6.1 million units sold; there were estimates as high as 7.2 million units. It's scrambling to meet the demand for its iPad 2s and has a huge backlog. And it doesn't recognize the revenue on products sold from its company-owned stores until the customer receives it. So, the backlog is holding things back.
That said, Apple delivered a big quarter. The shares, up 1.4% to $342.41 in regular trading, were up an additional 3.1% after hours to $353.02.
Article continues below.
The company earned $6 billion, or $6.40 a share, on revenue of $24.67 billion. Earnings were up 95%; revenue jumped 82%. The results smashed the consensus Street estimate of $5.37 a share on revenue of $23.4 billion.
Apple's sales exceeded those of IBM for the first time; IBM's first-quarter revenue came to $26 billion. And the company that Steve Jobs and Steve Wozniak started in a California garage stands a good chance of ending its fiscal year with revenue well in excess of $100 billion.
What made Apple's quarter was huge iPhone sales and a 32% gain in sales of Macintosh computers.
IPhone sales grew 113% in units to 18.65 million. Revenue was up 126% to $12.3 billion. The iPhone now represents about half of Apple's total sales, up from 40% a year ago. The key to the growth was the iPhone's availability to Verizon Wireless customers. Verizon Wireless started selling iPhones in February.
Verizon Wireless is 55% owned by
Verizon Communications (VZ)
and 45% by
Vodaphone (VOD)
, the British telecommunications company.
Apple sold 3.76 million Macs, with portables far more popular than desktop machines, up from 2.94 million units a year ago. Revenue jumped from $3.76 billion to $4.98 billion.
IPod sales, however, were down 17% in units and 14% in sales. Some 9 million iPods were sold in the quarter, down 17% from a year ago. Revenue of $1.6 billion was off 14%.
In addition, Apple saw growth soar in Asia, especially in China. Asian unit volume jumped 76%, with revenue rising 151% to $4.7 billion. Apple's international business reflects about 59% of sales.
It was not clear how much of Apple's revenue gain was due to the dollar's decline this year. The
U.S. Dollar Index
, which measures the dollar against a basket of currencies, was off 4.1% in the quarter.
The March 11 earthquake and tsunami didn't affect Apple in terms of supply or costs, Chief Operating Officer Tim Cook said on Wednesday's conference call. It may not affect
fiscal-third-quarter​
results. But Cook implied that what happens after the third quarter depends on all of Apple's suppliers getting back on their feet.
But Cook did say the earthquake probably reduced sales in Japan by about $200 million.
As to Steve Jobs, who was not on the call, Cook would only say the boss has been involved in major decisions and is often at the office. But it's not known how long before Jobs is back at work full time.

Apple, Google tap phone location data: report
The two build databases that could help them tap a market for location-based services
http://www.msnbc.msn​.com/id/42717490/ns/​technology_and_scien​ce-security
i love it.......i watched the new's and seen thousands upon thousands line up and wait in the mall's and in the freezing cold to buy one of these item's......did their parents brainwash these children with 1984, is everyone so daft....
..googles data mining warehouse is as large as the largest mall in america(close enough).......
they got these people to pay 3 TIMES ACTUAL COST OF PRODUCT PLUS APP'S and now they take their user info and sell it to highest
bidder..............​..
roflmao..........! whats sad about this is that 80% will actually say it's fine and then these 80% will embellish it and the another 10% follow  and then the politicians make it mandatory for all to be snooped on in this way! 
Are you sure you want to delete this comment?
DATA PROVIDERS
Copyright © 2013 Microsoft. All rights reserved.
Fundamental company data and historical chart data provided by Morningstar Inc. Real-time index quotes and delayed quotes supplied by Morningstar Inc. Quotes delayed by up to 15 minutes, except where indicated otherwise. Fund summary, fund performance and dividend data provided by Morningstar Inc. Analyst recommendations provided by Zacks Investment Research. StockScouter data provided by Verus Analytics. IPO data provided by Hoover's Inc. Index membership data provided by Morningstar Inc.
MARKET UPDATE
NAME
LAST
CHANGE
% CHANGE
There's a problem getting this information right now. Please try again later.
NAME
LAST
CHANGE
% CHANGE
There's a problem getting this information right now. Please try again later.
Market index data delayed by 15 minutes
[BRIEFING.COM] Commodities ended the day mixed with energy lower, except for natural gas, metals mixed with gold and copper higher and silver fell.

Crude oil futures lost some steam near the end of today's session and fell to a new LoD of $97.27 just a couple minutes before the end of floor trading. At the end of the session, Jan crude oil ended $0.30 lower at $97.40. Jan natural gas gained 11 cents to $4.23/MMBtu.

Precious metals gained some steam in the early hours of electronic ... More
More Market News
Currencies
NAME
LAST
CHANGE
% CHANGE
There's a problem getting this information right now. Please try again later.