The market grows more treacherous
Stocks drift lower and bonds are hit as investors await the Fed. Prepare for higher volatility this week.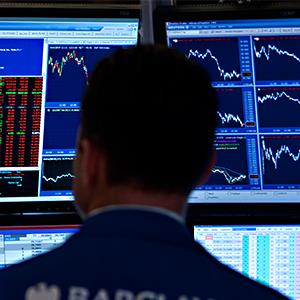 By Anthony Mirhaydari
With summer vacations fading evermore into distant memory, investors are being faced with increasingly treacherous market conditions in a month that historically has been a poor performer.
On Monday (the six-year anniversary of Lehman Bros. imploding), stocks finished mostly lower as bonds were hit once again heading into Wednesday's critical Federal Reserve policy meeting statement.

In the end, the Standard & Poor's 500 Index ($INX) lost a fraction as it remains below the 2000 level. The Nasdaq Composite Index ($COMPX) lost 1.1 percent as the approaching Alibaba IPO is sucking the wind out of big tech stocks.

Notably, the Russell 2000 ($TOMX) lost 1.2 percent as it dropped below its 50- and 200-day moving averages.
Fears are growing that the Fed, increasingly cognizant of a strengthening labor market and growing concern about the dangers of holding interest rates too low for too long, will drop in the "considerable time" language from its statement.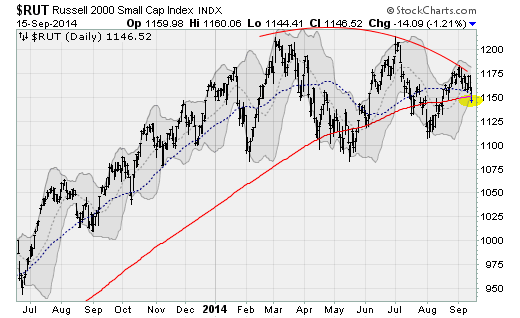 So much depends on the fate of these two little words.
Already, bonds (which, by the way, have been in a bull market for more than 30 years) have been stalled over the last few months on the knowledge that the Fed's QE3 bond buying program remains on track to end in October. But that has rattled markets over the last week has been a growing consensus that the Fed's first short-term interest rate hike could happen in the middle of 2015; whereas before, Wall Street wasn't looking for action until around September 2015.
A more hawkish Fed statement on Wednesday could further push up both the timing and the pace of the Street's rate hike expectations. Not only will bonds see additional selling pressure if that happens, but stocks could as well since cheap credit has bolstered stocks by funding share buyback programs.
There's more.
With bond yields so low, and so much money piled into bond funds ($1 trillion into U.S. bond funds since 2009) amid very low secondary market trading volumes, there is a risk of large price swings in areas like high-yield corporate bonds should a sooner or more aggressive Fed tightening campaign roil the bonds market -- which, as I mentioned earlier, has been rallying since the early 1980s.
Most people just don't remember what a secular bear market in bonds looks and feels like anymore.
To this point, the Institute of International Finance -- a global association of banks -- recently warned of potential trouble here. And back in June, there was an article in The Financial Times that said the Fed was looking at limiting the stampede out of bonds by imposing an exit free to sell.
Outside of the Fed news, investors were pressured on Monday by weaker-than-expected​ industrial production data out of China overnight. In fact, the result was the weakest since 2008 while power output declined for the first time in over four years. The data would've normally increased speculation that the People's Bank of China would respond with stimulus, but the official Chinese press downplayed the potentially for any such move as China's obsession with credit-fueled growth loses its efficacy.
For now, investors would do well to prepare for higher volatility later this week and into October as the market -- at a time of extended bullish sentiment (AAII bears lowest since 2004) -- digests the coming change of Fed policy.
Edge subscribers enjoyed a 5.3 percent gain in their VelocityShares Daily 2x VIX Short-Term ETN (TVIX) position today for a total gain of 9.2 percent so far this month.
More from InvestorPlace
Anthony Mirhaydari is founder of the Edge and Edge Pro investment advisory newsletters, as well as Mirhaydari Capital Management, a registered investment advisory firm.
DATA PROVIDERS
Copyright © 2014 Microsoft. All rights reserved.
Fundamental company data and historical chart data provided by Morningstar Inc. Real-time index quotes and delayed quotes supplied by Morningstar Inc. Quotes delayed by up to 15 minutes, except where indicated otherwise. Fund summary, fund performance and dividend data provided by Morningstar Inc. Analyst recommendations provided by Zacks Investment Research. StockScouter data provided by Verus Analytics. IPO data provided by Hoover's Inc. Index membership data provided by Morningstar Inc.
MARKET UPDATE
NAME
LAST
CHANGE
% CHANGE
There's a problem getting this information right now. Please try again later.
NAME
LAST
CHANGE
% CHANGE
There's a problem getting this information right now. Please try again later.
Market index data delayed by 15 minutes
[BRIEFING.COM] The stock market welcomed the new trading week with a mixed session that saw relative strength among large-cap stocks, while high-beta names underperformed. The Dow Jones Industrial Average (+0.3%) and S&P 500 (-0.1%) finished near their flat lines, while the Nasdaq Composite and Russell 2000 both lost 1.1%.

Equities began the day on a cautious note amid continued concerns regarding the strength of the global economy. Over the weekend, China reported its first decline ... More
More Market News
Currencies
NAME
LAST
CHANGE
% CHANGE
There's a problem getting this information right now. Please try again later.