A surprising reversal in America's prison population
The soaring costs of incarceration got even conservatives' attention, leading to new approaches to criminal justice and sentencing.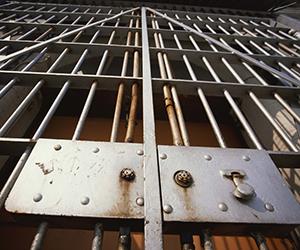 For the past several decades, and to the dismay of many people, one national sector has seen unprecedented growth: America's prison population. The number of inmates in U.S. federal and state prisons grew sixfold between the 1970s and 2000. State prison populations alone jumped by 700% between 1970 and 2009 after topping 2 million for the first time in 2002.
However, at the end of 2012, the Department of Justice reported that while more than 2.2 million people were incarcerated in local, state or federal prisons -- and 4.8 million more under some from of adult correctional supervision like community service, probation or parole -- the overall number of inmates was declining.
According to The Wall Street Journal, rising costs, lower crime rates, increased budget pressures, and new approaches to corrections and sentencing have finally added up to fewer people behind bars.
Another critical component has been a political shift. Conservative lawmakers, who in the past supported tough crime laws and strict sentencing guidelines, are now spearheading many of the reforms.
The WSJ says the changeover was first noticed in Texas in 2007, when GOP officials there "balked at the need to build three new prisons to house an anticipated 17,000 more prisoners by 2012."
"They decided instead to revamp the state's probation system," the paper noted, "and boost funding for addiction treatment and rehabilitation by $241 million." Since 2008, the Texas state prison population has declined by nearly 6,000 inmates, leading Texas to shut down a prison in 2011 for the first time in state history.
In Ohio, Republican state Sen. Bill Seit says his views on prison time began to change several years ago when his county, which includes Cincinnati, voted down funding to construct a new jail. "It became all the clearer to me how we pass tough sentencing laws with a blind eye to the fiscal impacts," he told the paper.
Georgia was recently spending $3 million a day to keep one out of every 13 state residents behind bars, on probation or on parole. But new laws there have helped move nonviolent criminals into non-prison situations, such as rehabilitation programs. The changes have also given state judges wider leeway in sentencing and in expanding so-called accountability courts.
One Georgia drug court, for example, found its sentencing program of mandatory employment or schooling, group counseling and frequent drug tests costs the state $13 a day per person -- compared with the $50 a day needed to feed and house a state prisoner. And the recidivism rate for the drug-court "graduates" is just 8%.
That's some much-needed good news in a category that until recently has had very little.

DATA PROVIDERS
Copyright © 2014 Microsoft. All rights reserved.
Fundamental company data and historical chart data provided by Morningstar Inc. Real-time index quotes and delayed quotes supplied by Morningstar Inc. Quotes delayed by up to 15 minutes, except where indicated otherwise. Fund summary, fund performance and dividend data provided by Morningstar Inc. Analyst recommendations provided by Zacks Investment Research. StockScouter data provided by Verus Analytics. IPO data provided by Hoover's Inc. Index membership data provided by Morningstar Inc.
MARKET UPDATE
[BRIEFING.COM] The stock market finished an upbeat week on a mixed note. The S&P 500 shed less than a point, ending the week higher by 1.3%, while the Dow Jones Industrial Average (+0.1%) cemented a 1.7% advance for the week. High-beta names underperformed, which weighed on the Nasdaq Composite (-0.3%) and the Russell 2000 (-1.3%).

Equity indices displayed strength in the early going with the S&P 500 tagging the 2,019 level during the opening 30 minutes of the action. However, ... More
More Market News