Burn! Attorney smacks down NJ town's complaint
A powerhouse corporate and government lawyer for a website owner destroys West Orange's legal counsel with a 3-page scolding.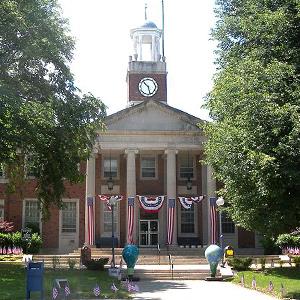 West Orange, N.J., by nature, is not an entertaining place. You can hike around Eagle Rock Reservation, go to a movie at Essex Green, bowl a few frames and, until recently, get some decent char-broil at
Pal's Cabin
.
It's a quiet, bucolic suburb (pictured) that's peaceful enough to house one of New Jersey's largest physical rehabilitation centers. Since Rascal's Comedy Club closed a decade ago, West Orange hasn't been a place you go for laughs.
At least not until it inspired the three pages of comedic gold lawyer Stephen B. Kaplitt sent to the town's legal counsel in response to a cease-and-desist letter received by his client, Jake Freivald, according to the blog Above The Law. Township attorney Richard D. Trenk went after Freivald, a failed town council candidate, for starting up westorange.info and posting links to basic West Orange information on the site.
Trenk argued that the site was Freivald's attempt to "confuse and conflate" the township's official domain name and website with Freivald's separate site. Kaplitt, however, recognized the complaint as the kind of parochial political needling that's long been a favorite pastime of New Jersey municipal politicians and a continued distraction from other tasks like, oh, improving the town.
Kaplitt responded by berating the town's attorney and his error-filled cease-and-desist letter as "sent in jest" and "certainly not a ham-fisted attempt to bully a local resident solely because of his well-known political views."

You see, Freivald didn't just track down the first attorney whose number appeared on a bus stop bench: He enlisted the help of a 20-year veteran of corporate, finance and international law. Before the gnat that is West Orange began buzzing in his ear, Kaplitt was handling billions in transactions for Beacon Financial corporation, senior adviser to the Assistant Secretary of State for Economic, Energy and Business Affairs at the U.S. Department of State and the man behind the State Department's Economic Empowerment in Strategic Regions, which promotes business development in regions where unemployment helps fuel conflict and extremism.
If quips such as "So that I may properly counsel my client, please also explain what in Sam Hill's name you meant by 'anything else confusingly similar thereto,'" and requests for "a refund in the amount of $28,763.22 for excess property taxes" levied on Kaplitt's West Orange home since 2010 make it sound as if he feels this town quarrel is beneath him, it's because it is.

While the long read of Kaplitt's response gives a better idea of just how bored and frustrated he is with the town's remedial legal maneuvering, Kaplitt's background as senior adviser to the General Counsel of the U.S. Agency for International Development relaying information from the White House, Congress, foreign governments and other agencies make Freivald's case seem like light work.
When that's your day job, schooling the legal minds of your sleepy little suburban home and exploiting the rare opportunity to show off your comedy chops can make pro bono legal interventions into laughable local spats like these a nice little hobby.
DATA PROVIDERS
Copyright © 2014 Microsoft. All rights reserved.
Fundamental company data and historical chart data provided by Morningstar Inc. Real-time index quotes and delayed quotes supplied by Morningstar Inc. Quotes delayed by up to 15 minutes, except where indicated otherwise. Fund summary, fund performance and dividend data provided by Morningstar Inc. Analyst recommendations provided by Zacks Investment Research. StockScouter data provided by Verus Analytics. IPO data provided by Hoover's Inc. Index membership data provided by Morningstar Inc.
MARKET UPDATE
[BRIEFING.COM] The stock market welcomed the new trading week with a mixed session that saw relative strength among large-cap stocks, while high-beta names underperformed. The Dow Jones Industrial Average (+0.3%) and S&P 500 (-0.1%) finished near their flat lines, while the Nasdaq Composite and Russell 2000 both lost 1.1%.

Equities began the day on a cautious note amid continued concerns regarding the strength of the global economy. Over the weekend, China reported its first decline ... More
More Market News