DirecTV gets burned over Colorado fire fees
Amid popular outrage, the satellite TV provider says it was a mistake to demand payment for lost equipment.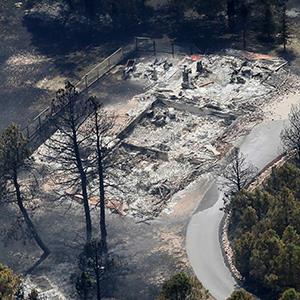 Updated at 2 p.m. ET.
As if it's not bad enough to lose all your possessions in a wildfire, imagine the insult when your satellite TV provider demands $400 in payment for lost equipment. 

Jeremy Beach of Black Forest, Colo., said that's what happened after his family's house burned to the ground Tuesday, the Colorado Springs Gazette reports. When he started calling providers and utilities to cancel service to the nonexistent home, most were understanding. All except DirecTV (DTV). 
The company told him he would owe the company $400 for a satellite dish and two receivers that were lost in the fire. 
"I couldn't believe it," he said. "I had lost everything, and they acted like they could (not) care less."
Beach fled the fire with his 5-year-old son and wife, who is pregnant with twins. He said he needs that money "to rebuild my life: cups, plates, shoes, a new bike for my kid. I got so angry I had to hang up."
But DirecTV is now saying that the demand for payment was a mistake. A spokesman told MSN Money that the agent who spoke with Beach was incorrect. "We are contacting the customer to apologize and assure him and his family that we will do everything we can to help them through this difficult time," spokesman Darris Gringeri wrote in an email. He added that the customer service representative didn't follow company policy on the issue.
DirecTV's reputation has already been damaged by the incident, however. 
Dozens of people in the Colorado Springs area posted outraged comments on the Gazette's site, and some pledged to switch providers or call with complaints. 
"There comes a line where you have to see what a company is made of and if extreme circumstances don't account for a little leniency (then) it is not a company I want to be a part of," one Colorado Springs resident wrote on the Gazette's site. 
The wildfire raging near Colorado Springs is the most destructive in the state's history, NBC News reports. So far, two people have died in the 15,700 acre Black Forest fire, and 378 houses have burned. More than 30,000 people have fled their homes. 
It's not the first time DirecTV has played hardball with fire victims. In 2012, the company charged Colorado fire victims for equipment, saying most people's insurance would cover the cost, the Gazette notes. 
DirecTV charged one Los Angeles County man about $280 in 2009 after his two-bedroom cabin burned to the ground in a wildfire, according to the Los Angeles Times. When the man called to complain, DirecTV told him it was actually doing him a favor, since he could have been billed $400 for the lost equipment. The company's contract spells out that customers are liable for lost equipment.
DirecTV eventually called that case a "regrettable mistake" and refunded the $280.
Follow Aimee Picchi on Twitter at @aimeepicchi. 
DATA PROVIDERS
Copyright © 2014 Microsoft. All rights reserved.
Fundamental company data and historical chart data provided by Morningstar Inc. Real-time index quotes and delayed quotes supplied by Morningstar Inc. Quotes delayed by up to 15 minutes, except where indicated otherwise. Fund summary, fund performance and dividend data provided by Morningstar Inc. Analyst recommendations provided by Zacks Investment Research. StockScouter data provided by Verus Analytics. IPO data provided by Hoover's Inc. Index membership data provided by Morningstar Inc.
MARKET UPDATE
[BRIEFING.COM] The stock market finished the Tuesday session on the defensive after spending the entire day in a steady retreat. The S&P 500 (-0.6%) posted its third consecutive decline, while the small-cap Russell 2000 (-0.9%) slipped behind the broader market during afternoon action.

Equity indices were pressured from the start following some overnight developments that weighed on sentiment. The market tried to overcome the early weakness, but could not stage a sustained rebound, ... More
More Market News