EA's Simpsons game triggers gun fans' ire
They're up in arms over 'The Simpsons: Tapped Out,' which has snarky comments about the NRA squirreled away in it.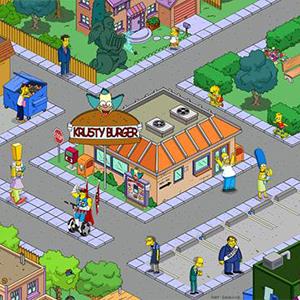 Electronic Arts (EA) is finding out that making fun of the National Rifle Association is a surefire way to get the organization's supporters up in arms. 

EA's iPad and iPhone game "The Simpsons: Tapped Out" is based on the long-running Fox animated show, and it asks players to rebuild Springfield after Homer accidentally ruins the town by causing a meltdown at the power plant. 
While that's all standard fare, one of the game's top levels includes snarky commentary about the NRA that's prompting some gun-rights supporters to fire off angry complaints. 
EA apparently never thought people would play the game long enough to get to level 30, the Daily Mail reports. 
Level 30 includes one exchange in which Bart Simpson asks his friend Milhouse if he wants to visit the town's new gun shop, according to dialogue recorded by SimpsonsWiki.net.
"Of course!" Milhouse responds. "After all, the NRA says it's the safest place for kids."
Bart then replies, "They also say us kids should sleep under a blanket made of loaded guns. You know -- for safety."
"I eat my cereal every morning with a gun instead of a spoon. Because more guns everywhere means safer kids. Thanks, NRA!" Milhouse responds. 
At another point, Chief Wiggums asks whether he needs a background check to buy an AK-49, and a store clerk responds, "Of course not. That would infringe on your constitutional right to never be inconvenienced -- even in the tiniest, most reasonable way -- when guns are involved."
"The Simpsons," which airs on a News Corp. (NWS) network, is known for taking on some of America's hottest issues, from same-sex marriage to Gitmo. 
Gun blog The Truth About Guns complained that the game reflects that the "media's assault on gun owners, painting them as uncaring, heartless psychopaths who just want to kill people, continues apace." 
Follow Aimee Picchi on Twitter at @aimeepicchi. 
DATA PROVIDERS
Copyright © 2014 Microsoft. All rights reserved.
Fundamental company data and historical chart data provided by Morningstar Inc. Real-time index quotes and delayed quotes supplied by Morningstar Inc. Quotes delayed by up to 15 minutes, except where indicated otherwise. Fund summary, fund performance and dividend data provided by Morningstar Inc. Analyst recommendations provided by Zacks Investment Research. StockScouter data provided by Verus Analytics. IPO data provided by Hoover's Inc. Index membership data provided by Morningstar Inc.
MARKET UPDATE
[BRIEFING.COM] Equity indices remain near their lows with the S&P 500 trading down 0.8%. The consumer discretionary sector (-1.5%) slumped to the bottom of the leaderboard at the start and the growth-sensitive sector remains behind the other nine groups at this juncture.

High-beta names like Amazon.com (AMZN 321.92, -9.40), Netflix (NFLX 439.80, -17.72), and Priceline.com (PCLN 1157.78, -28.34) have contributed to the underperformance with losses ranging from ... More
More Market News