Farewell, telegrams: The last one is coming soon
Somebody, somewhere in India will send the final message in July, ending a technology that connected people for more than 160 years.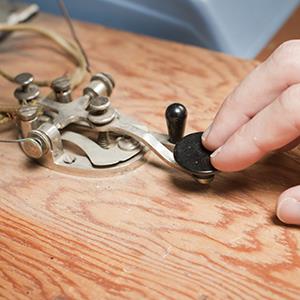 In 1844, Samuel Morse started the modern era of communications with a dramatic flourish when he transmitted the Bible verse "What hath God wrought" over a line between Washington, D.C., and Baltimore. More than 160 years later, the technology is finally exiting the world stage.
According to the
Christian Science Monitor
, the last telegram ever is expected to be sent next month in India.
Baharat Sanchar Nigam Limited
, the country's state-owned telecom company, still sends about 5,000 telegrams a day, but it can no longer afford to offer the service. 
"We were incurring losses of over $23 million a year because SMS and smartphones have rendered this service redundant," Shamim Akhtar, the general manager of Baharat's telegraph services, told the publication.
Telegrams are still valued in India by some people, such as those who run away to get married over family objections when a partner is of the wrong caste. Mobile penetration in India is only 26%, but the Monitor noted that "even in the remotest village, at least someone has a phone."

Western Union
(
WU
), whose name was synonymous with telegrams from the start, stopped offering the service in 2006, saying it was no longer cost-effective. In 2005, Western Union had sent about 4,000 telegrams, according to
The Associated Press
.
Telegrams were the closest thing people could get to instant communications for generations. The Wright Brothers sent their father one after their first successful flight in 1903.
Telegrams reached the height of their popularity during the 1920s and '30s when they were far cheaper than long-distance phone calls. People came to dread getting telegrams during World War II because they often were used to tell families that their loved ones had been killed in battle overseas.
As phone calls got cheaper, though, demand for telegrams withered. Now many younger people probably have never heard of them. Experts estimate that the world now has
1.5 billion smartphones
, any of which can easily send and receive messages much faster than Morse and his contemporaries could possibly imagine.
It's amazing that telegrams lasted as long as they did. 
Follow Jonathan Berr on Twitter @jdberr.

Curious why texting is so popular when it is essentially a step backward.  I've told all my friends and relatives not to text me.  Why would you send a text by typing a bunch of buttons when you can call and do it in half the time and effort?    What's next?  Semiphor?  Carrier pidgeons?  Telegraph? :)
Are you sure you want to delete this comment?
DATA PROVIDERS
Copyright © 2014 Microsoft. All rights reserved.
Fundamental company data and historical chart data provided by Morningstar Inc. Real-time index quotes and delayed quotes supplied by Morningstar Inc. Quotes delayed by up to 15 minutes, except where indicated otherwise. Fund summary, fund performance and dividend data provided by Morningstar Inc. Analyst recommendations provided by Zacks Investment Research. StockScouter data provided by Verus Analytics. IPO data provided by Hoover's Inc. Index membership data provided by Morningstar Inc.
MARKET UPDATE
[BRIEFING.COM] Equity indices extended this week's losses with a broad-based retreat. The S&P 500 fell 0.6% to end the week lower by 1.1%, while the Russell 2000 (-1.1%) finished with a 0.9% decline since last Friday.

Staying true to the theme observed throughout the week, the energy sector (-1.5%) tumbled out of the gate, thus dragging the broader market down with it. Once again, dollar strength and crude oil weakness contributed to sector's underperformance, but the ... More
More Market News