Food additives banned abroad but eaten in US
Americans consume many chemicals that are illegal elsewhere. Given the money involved, that's unlikely to change anytime soon.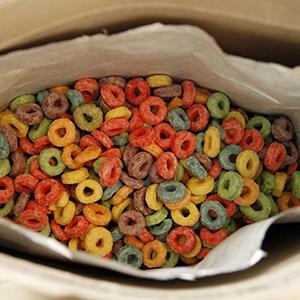 What do Mountain Dew, Hungry Man frozen dinners, Chex Mix and Froot Loops (pictured) have in common? They're all packaged food products that include some ingredients that have been banned outside the U.S. 

PepsiCo's (PEP) Mountain Dew, for example, includes brominated vegetable oil, which is banned in more than 100 countries, reports the Daily Mail, which cites a book called "Rich Food, Poor Food" that includes a list of American staples made with ingredients outlawed in other countries.
Some Pinnacle Foods' (PF) Hungry Man frozen dinners include azodicarbonamide, a chemical used to make bleach and rubber yoga mats, the Mail notes. The chemical has been banned in Australia, the U.K. and many European countries.

As for General Mills' (GIS) traditional Chex Mix, it includes butylated hydroxytoluene, or BHT. It's made from petroleum and has been banned in Japan, the U.K. and other countries. And Kellogg's (K) Froot Loops includes Yellow 6 food coloring, which the book notes is banned in some countries.

Despite calls for change, consumers who are concerned about such ingredients are fighting huge industries that may have little incentive to tinker with their formulas. Sales of sodas such as Mountain Dew totaled $28.8 billion last year. 
Brominated vegetable oil prompted a food fight last year after a 16-year-old high school student started a petition to have the ingredient removed from PepsiCo's Gatorade. The drink maker earlier this year said it would use an alternative. While the U.S. Food and Drug Administration says brominated vegetable oil is safe, critics contend it's potentially harmful to humans. 
Although Gatorade changed its formula, other soft drinks still contain brominated vegetable oil, including Squirt and Fresca, the Daily Mail notes. 
One of the most common additives banned outside the U.S. but used in American foods is coloring. That became an issue earlier this year when two food bloggers questioned the use of Yellow 5 and Yellow 6 in Kraft (KRFT) Macaroni & Cheese, which sells the product without those dyes outside the U.S.
Kraft defended its record, noting its food products follow the FDA's regulations. It also offers varieties that don't include the dyes, such as Kraft Macaroni & Cheese Organic White Cheddar.
The outcry against such additives may be giving a boost to the organic food industry, which reached $26.7 billion in sales in 2010, up from just $1 billion in 1990, according to the Organic Trade Association. 
Follow Aimee Picchi on Twitter at @aimeepicchi.
DATA PROVIDERS
Copyright © 2014 Microsoft. All rights reserved.
Fundamental company data and historical chart data provided by Morningstar Inc. Real-time index quotes and delayed quotes supplied by Morningstar Inc. Quotes delayed by up to 15 minutes, except where indicated otherwise. Fund summary, fund performance and dividend data provided by Morningstar Inc. Analyst recommendations provided by Zacks Investment Research. StockScouter data provided by Verus Analytics. IPO data provided by Hoover's Inc. Index membership data provided by Morningstar Inc.
MARKET UPDATE
[BRIEFING.COM] The stock market finished an upbeat week on a mixed note. The S&P 500 shed less than a point, ending the week higher by 1.3%, while the Dow Jones Industrial Average (+0.1%) cemented a 1.7% advance for the week. High-beta names underperformed, which weighed on the Nasdaq Composite (-0.3%) and the Russell 2000 (-1.3%).

Equity indices displayed strength in the early going with the S&P 500 tagging the 2,019 level during the opening 30 minutes of the action. However, ... More
More Market News