Gross! Wendy's worker busted on camera
An employee of the fast-food chain is caught chugging a Frosty straight from the tap, adding to a recent string of disgusting fast-food images.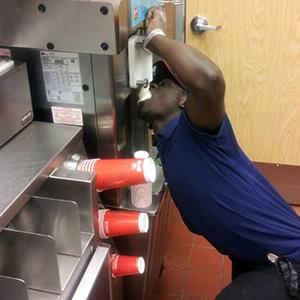 Even without the
fatty concoctions
they cook or the occasional
horse meat
they serve, fast food workers can be nasty. Seriously, some of you folks are just gross.
The American public's stomachs are just now untwisting themselves after taking in images of a since-fired employee at Yum Brands' (YUM) Taco Bell licking a stack of shells, a similarly terminated KFC employee licking a pile of mashed potatoes, a sacked Burger King (BKW) employee stomping on a bin of lettuce and another Taco Bell employee nuking his career by urinating on a plate of nachos.

Now those stomachs are turning again, thanks to a Reddit photo of a Wendy's (WEN) employee who decided to dispense a Frosty into his mouth straight from the machine.
A Wendy's spokesman would not identify the worker or the location where the Frosty foul took place, according to USA Today. "Obviously, the employee broke the rules," the spokesman told the newspaper. "He is no longer at the restaurant. The franchisee is meeting with the restaurant team to reinforce proper procedures."
Listen, we get it.  Fifty-two percent of American workers hate their jobs and 284,000 college grads are earning minimum wage in gigs that aren't much of a challenge for them. Productivity has almost nothing to do with wages anymore and the incentive for workers to do bad jobs well is shrinking with their paychecks.
That said, eww. Boredom isn't an excuse to assault the public at large with bodily enzymes and secretions. Even when you're careful enough to avoid contact with the food and machinery, as the Frosty guzzler appeared to be, a mind-numbing job isn't improved by a daylong brain freeze at 41 calories per ounce.
Plus, do you really want to incur the wrath of Wendy's? It's the one giant fast-food chain that more than half of all Americans actually like and you're cutting off your supply of Pretzel Bacon Cheeseburgers for the foreseeable future just to freebase some Frosty today.
Also, corporate food service workers, haven't you caught on to the fact that anything remotely out of the ordinary that happens at your job with a smartphone nearby is going to end up on Reddit, and then just about everywhere else? It's basically the fast-food industry's de facto human resources office.
DATA PROVIDERS
Copyright © 2014 Microsoft. All rights reserved.
Fundamental company data and historical chart data provided by Morningstar Inc. Real-time index quotes and delayed quotes supplied by Morningstar Inc. Quotes delayed by up to 15 minutes, except where indicated otherwise. Fund summary, fund performance and dividend data provided by Morningstar Inc. Analyst recommendations provided by Zacks Investment Research. StockScouter data provided by Verus Analytics. IPO data provided by Hoover's Inc. Index membership data provided by Morningstar Inc.
MARKET UPDATE
[BRIEFING.COM] The dollar index remained in the red in afternoon trading, which helped provide price support to commodities.

Crude oil had a nice run today, gaining over $2/barrel on a steady climb upwards. Oct crude oil finished the day $2.02 to $94.91/barrel
Oct natural gas has a nice run today too, extending yesterday's gains. Oct NG closed 6 cents higher to $3.99/MMBtu
Dec gold rose today by $1.40 to $1236.20/oz, while Dec silver gained $0.11 ... More
More Market News