Lone Signal lets you tweet aliens for a fee
The company is beaming 144-character messages into space for roughly a quarter a pop. Whether a potentially inhabitable solar system wants to hear about Justin Bieber a few years from now is anyone's guess.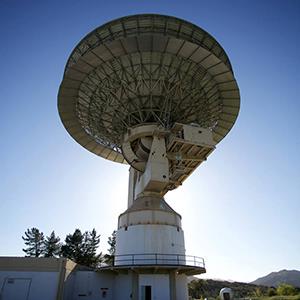 If you're on Twitter spending portions of your day sending 144-character missives into the ether anyway, why wouldn't you just send a few out to aliens?
CNNMoney reports that a company called Lone Signal is using the formerly abandoned Jamesburg Earth Station in California -- profiled by The Atlantic late last year -- to send tweets into space. The first one is free (get that "Klaatu barada nicto" joke out of your system early, folks), but Lone Signal charges 99 cents for a package of four extraterrestrial text messages.
That's a whole lot of #Yeezus-tagged messages for the poor sentient beings of Gliese 526 to sort through, but Lone Signal is hoping that the potentially habitable solar system will be amenable to #FF tweets every Friday and Beliebers bombarding them with messages about their interstellar teen pop deity.

Just to ensure that the message is received in as coherent a fashion as possible, Lone Signal is pairing each one with a message written in binary code that contains basic principles of physics. Lone Signal's founders believe that since those principles apply throughout the universe, they are more likely to be understood by an alien than high school yearbook textspeak.
That's not just some throw-it-against-the​-wall, see-if-it-sticks theory, either. Astrophysicist and planetary scientist Michael W. Busch, a fellow at the National Radio Astronomy Observatory, developed the message and has sent it out through means far less commercial than this.
In fact, Lone Signal's entire support structure is made up of tech minds who just want to take their own crack at what was once the sole domain of research universities and NASA's SETI program. Chief executive Jaime King co-founded Rockstar Games (TTWO), which produced the "Grand Theft Auto" series. Jacob Haqq-Misra, Lone Signal's chief scientific officer, holds a Ph.D. in meteorology and astrobiology from Penn State University. Ray Kurzweil, director of engineering at Google (GOOG), was one of the first to send a message.
If all goes well and enough users can be persuaded to send out trite messages with little hope of a response -- which a day's worth of Twitter traffic suggests isn't such a stretch -- Lone Signal hopes to raise $100 million and set up a full-scale continuous transmission project and place satellite dishes in each hemisphere.

If the inhabitants of Gliese 526 turn out to be less than amused with tweets about Hannah Montana and Mac Miller, no less than renowned physicist Stephen Hawking says it could have disastrous consequences for the human race. Given how human beings have treated each other when civilizations with superior technology have encountered those lagging behind, Hawking suggests in his book "A Brief History of Time" that we shut down the dishes and lay low.
If you think that #3words hashtag is annoying now, just wait until it summons the Death Star.
DATA PROVIDERS
Copyright © 2014 Microsoft. All rights reserved.
Fundamental company data and historical chart data provided by Morningstar Inc. Real-time index quotes and delayed quotes supplied by Morningstar Inc. Quotes delayed by up to 15 minutes, except where indicated otherwise. Fund summary, fund performance and dividend data provided by Morningstar Inc. Analyst recommendations provided by Zacks Investment Research. StockScouter data provided by Verus Analytics. IPO data provided by Hoover's Inc. Index membership data provided by Morningstar Inc.
MARKET UPDATE
[BRIEFING.COM] The stock market finished an upbeat week on a mixed note. The S&P 500 shed less than a point, ending the week higher by 1.3%, while the Dow Jones Industrial Average (+0.1%) cemented a 1.7% advance for the week. High-beta names underperformed, which weighed on the Nasdaq Composite (-0.3%) and the Russell 2000 (-1.3%).

Equity indices displayed strength in the early going with the S&P 500 tagging the 2,019 level during the opening 30 minutes of the action. However, ... More
More Market News