Lucas, Spielberg: Get ready for $100 movie tickets
Among other major shifts, these veterans predict Hollywood's focus on mega-budget films will mean far fewer and more expensive theaters.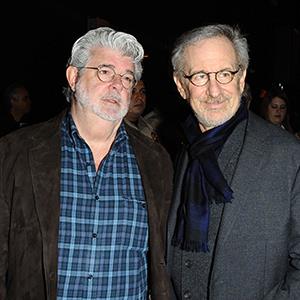 George Lucas and Steven Spielberg have been around the block a couple of times when it comes to producing blockbuster movies. So when these highly successful Hollywood veterans say their industry is on the verge of some radical economic and cultural changes, it's worth paying attention.
Lucas and Spielberg recently took part in a panel discussion at the University of Southern California's School of Cinematic Arts. And according to industry newspaper Variety, the two warned that Hollywood's current trend of big-budget action movies -- and the industry's expectations of equally huge profits -- could have dire consequences.
The film studios may be "going for the gold," Lucas said, "but that isn't going to work forever. And as a result they're getting narrower and narrower in their focus. People are going to get tired of it. They're not going to know how to do anything else."
Spielberg pointed out that because theatrical movie releases are now competing against new, more personal and often more compelling forms of entertainment, Hollywood is playing a dangerous high-stakes game.
"There's eventually going to be a big meltdown," he said. "There's going to be an implosion where three or four or maybe even a half-dozen of these mega-budgeted movies go crashing into the ground, and that's going to change the paradigm again."
After that meltdown, Lucas predicts a smaller and much higher-priced sector of movie theaters.
"You're going to end up with fewer theaters, bigger theaters with a lot of nice things," he forecast. "Going to the movies will cost 50 bucks or 100 or 150 bucks, like what Broadway costs today, or a football game. It'll be an expensive thing. . . . (The movies) will sit in the theaters for a year, like a Broadway show does."
The two men also expect most "content" -- movies and TV series -- to find a new home with video-on-demand streaming services, whereby smaller and quirkier entertainment can find new audiences.

"What used to be the movie business, in which I include television and movies, . . . will be Internet television," Lucas said.
Spielberg and Lucas also considered the growing field of video games and how their audience will most likely expand. Among the changes they expect are more empathetic games -- in which users can actually relate to characters -- that will develop a new market.
"The big game of the next five years will be a game where you empathize very strongly with the characters and it's aimed at women and girls," Lucas said.
"They like empathetic games. That will be a huge hit and as a result that will be the 'Titanic' of the game industry," he added, "where suddenly you've done an actual love story or something and everybody will be like 'where did that come from?' Because you've got actual relationships instead of shooting people."
DATA PROVIDERS
Copyright © 2014 Microsoft. All rights reserved.
Fundamental company data and historical chart data provided by Morningstar Inc. Real-time index quotes and delayed quotes supplied by Morningstar Inc. Quotes delayed by up to 15 minutes, except where indicated otherwise. Fund summary, fund performance and dividend data provided by Morningstar Inc. Analyst recommendations provided by Zacks Investment Research. StockScouter data provided by Verus Analytics. IPO data provided by Hoover's Inc. Index membership data provided by Morningstar Inc.
MARKET UPDATE
[BRIEFING.COM] The S&P 500 trades higher by 0.4% with all ten sectors sporting gains. The benchmark index has extended this week's gain to 1.6%, while the Dow Jones Industrial Average (+0.4%) is now higher by 2.0% since last Friday.

The Leading Indicators report for August was up 0.2%, while the Briefing.com consensus expected a reading of 0.4%. That followed a revised increase of 1.1% for July (from 0.9%). Nasdaq +13.77 at 4607.2... NYSE Adv/Dec 1867/883... Nasdaq Adv/Dec ... More
More Market News