Morning coffee just killed your creativity
While caffeine unquestionably improves focus, it blocks the ability to let the mind wander and form original ideas.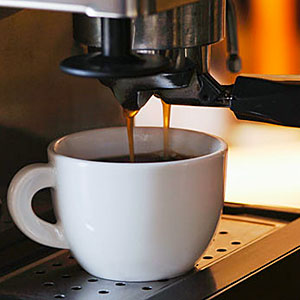 Um, so, like, caffeine is kinda bad for, you know, that thing where your head works really hard and then something happens.
We wish we had a better description of it, but our writer had two cups of medium roast before work this morning and his creativity is absolutely shot.
Instead, we'll leave it to Marina Konnikova, a New Yorker contributor and the author of The New York Times bestseller "Mastermind: How To Think Like Sherlock Holmes" to explain why the same coffee that supposedly helped Honore de Balzac reach his creative peak is frying the imaginations of modern drinkers:
"When we drink a caffeinated beverage, the caffeine quickly crosses the blood-brain barrier -- an interface of sorts between the brain and the body's circulatory system, designed to protect the central nervous system from chemicals in the blood that might harm it -- and proceeds to block the activity of a substance called adenosine. Normally, a central function of adenosine is to inhibit the release of various chemicals into the brain, lowering energy levels and promoting sleep, among other regulatory bodily functions. When it's blocked, we're less likely to fall asleep on our desks or feel our focus drifting."
Although a recent review of roughly 100 studies notes that caffeine enhances physical, cognitive and motor performance and boosts short-term memory, problem-solving, decision-making and concentration, it eliminates a key portion of the creative process. Simply put, caffeine gives a coffee drinker pinpoint focus, but it doesn't allow the mind to wander. And a recent study showed that losing focus helped inspire creative solutions.
As any coffee drinker knows all too well, caffeine also wreaks havoc on sleep, which is also key for creative thought. It impedes the ability to go into deep sleep, which diminishes emotional intelligence, constructive thinking and the ability to cope with stress, according to a 2009 study. All that blunts the ability to solve problems and draw connections between unassociated information.
So how you do you maintain that caffeine-driven focus without losing your creativity? Trick yourself.

The University of East London discovered in 2011 that if you give a habitual coffee drinker some decaf and tell him it's the real deal, he'll work not only more quickly but more creatively.
DATA PROVIDERS
Copyright © 2014 Microsoft. All rights reserved.
Fundamental company data and historical chart data provided by Morningstar Inc. Real-time index quotes and delayed quotes supplied by Morningstar Inc. Quotes delayed by up to 15 minutes, except where indicated otherwise. Fund summary, fund performance and dividend data provided by Morningstar Inc. Analyst recommendations provided by Zacks Investment Research. StockScouter data provided by Verus Analytics. IPO data provided by Hoover's Inc. Index membership data provided by Morningstar Inc.
MARKET UPDATE
[BRIEFING.COM] The stock market finished an upbeat week on a mixed note. The S&P 500 shed less than a point, ending the week higher by 1.3%, while the Dow Jones Industrial Average (+0.1%) cemented a 1.7% advance for the week. High-beta names underperformed, which weighed on the Nasdaq Composite (-0.3%) and the Russell 2000 (-1.3%).

Equity indices displayed strength in the early going with the S&P 500 tagging the 2,019 level during the opening 30 minutes of the action. However, ... More
More Market News