Mountain climber attack could end Pakistan tourism
The killings in what was considered a safe part of the country could be the 'fatal blow' to a once-thriving industry.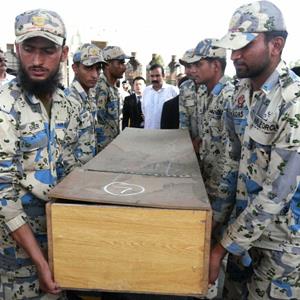 A deadly attack over the weekend on a group of foreign mountain climbers in Pakistan has had more than the expected geopolitical repercussions. It's also another blow to Pakistan's troubled economy and fading tourism sector.
At least nine foreigners, including an American, were killed Saturday at the base camp of Pakistan's Nanga Parbat -- the world's ninth-tallest mountain and part of the Himalayan range. A local faction of the Taliban claimed culpability and said the assault was in revenge for recent drone attacks in Pakistan.
The BBC reports that all expeditions on Nanga Parbat have been halted. And Naiknam Karim, with the Pakistan Association of Tour Operators, said the attacks are a "disaster" for the country's Gilgit-Baltistan region, which was previously considered safe and where tourism is the main source of income.
Karim told Agence France-Press that before 9/11, more than 20,000 foreigners visited the region annually to climb and trek, spending of thousands and in some cases tens of thousands of dollars. But those numbers have since fallen to about 5,000 a year.

"Pakistan was earning a huge amount from mountaineering teams," Sultan Khan, who manages expeditions for foreign mountaineers, told AFP, "and the financial losses will run into millions of dollars if teams stop coming to Pakistan."
Despite the country's dangerous reputation, Pakistan's tourism industry had been growing in recent years and brought in $350 million in 2011. Pakistan's towering mountains and alpine scenery continued to draw visitors and climbing expeditions.
But Manzoor Hussain, the president of the Alpine Club of Pakistan, told Reuters that Saturday's attack was a "fatal blow" to efforts to attract more climbers and tourists to the region.

"I haven't slept since yesterday. It's a very sad situation," Ghulam Muhammed told the wire service. Muhammed's company, Blue Sky Treks and Tours, worked with five of the climbers killed in Saturday's attack.
"I am very worried, now business is finished, today two or three have canceled, it is difficult now," he added. "In Gilgit-Baltistan, a lot of the economy is from tourism -- the money goes to transporters, hotels, markets, porters, guides and cooks."


Why is it that when the Pakistani's, Afghans, Africans, Taliban and most of the rest of the middle east countries population pop up in stories, they look like they still live in the sixth century, do you ever stop to think, they may not want to emerge out of their desperation into modern societies, maybe they don't want running water, toilets or even toilet paper or real shoes, or even a better life for their kids, unlike western cultures maybe they don't want to embrace other cultures love of modern conveniences, prosperity or love of adventure. Maybe, just maybe, they are just so intent on hating modern times, modern societies and our prosperity that just maybe we should leave them to their despair, quit trying to understand them or change them or accept them, maybe we should just stay in our part of the world and let them have theirs, OR maybe when our illustrious community organizer has finished here, he can go there, make a pilgrimage and enlighten them, he says we should be friendlier, kinder, more understanding, I think a role model of his stature would serve that noble cause, what higher calling could there be for the omnipotent one. Surely they would embrace and understand him, and then all these idiot mountain climbers that want to go waste a bunch of time and money just to freeze their a**es off climbing a stupid mountain would be welcome and they could come back home and share their adventures with us.
Are you sure you want to delete this comment?
DATA PROVIDERS
Copyright © 2014 Microsoft. All rights reserved.
Fundamental company data and historical chart data provided by Morningstar Inc. Real-time index quotes and delayed quotes supplied by Morningstar Inc. Quotes delayed by up to 15 minutes, except where indicated otherwise. Fund summary, fund performance and dividend data provided by Morningstar Inc. Analyst recommendations provided by Zacks Investment Research. StockScouter data provided by Verus Analytics. IPO data provided by Hoover's Inc. Index membership data provided by Morningstar Inc.
MARKET UPDATE
[BRIEFING.COM] The major averages ended the midweek session with slim gains after showing some intraday volatility in reaction to the release of the latest policy directive from the Federal Open Market Committee. The S&P 500 added 0.1%, while the relative strength among small caps sent the Russell 2000 higher by 0.3%.

Equities spent the first half of the session near their flat lines as participants stuck to the sidelines ahead of the FOMC statement, which conveyed no changes to the ... More
More Market News