Gunmaker's Newtown comments spark outrage
The CEO of Freedom Group, the maker of Bushmaster rifles, finally speaks about the Connecticut massacre and only adds to the controversy.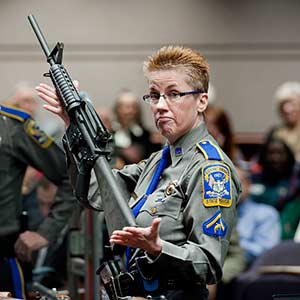 Freedom Group chief executive George Kollitides has kept a low profile since the Newtown, Conn., elementary school massacre, in which 20 young children and six teachers were killed by a gunman using one of his company's Bushmaster rifles (pictured). 

Six months after Adam Lanza opened fire on the school with one of Freedom's semiautomatics, Kollitides is commenting on the attack. But rather than calming any anti-gun rhetoric, he has whipped up a backlash over his take on the Sandy Hook Elementary School killings. 
"It's very easy to blame an inanimate object. Any kind of instrument in the wrong hands can be put to evil use. This comes down to intent -- criminal behavior, accountability and responsibility," Kollitides told the Washington Times.
In his view, he added, "only two things could have potentially stopped (Lanza): his mother locking up her guns and an armed guard. Even then, he could have driven his stolen car into a playground full of kids."
Kollitides' comments aren't going over well with many people, given the fierce debate over gun rights sparked by the Newtown massacre. His stance seems to echo the gun-rights argument that "guns don't kill people, people kill people," with the implication that taking away firearms won't work if people are determined to kill others.
Outrage spilled over on Twitter and in the comments sections of several news sites, with one person tweeting, "How about better background checks so the inanimate objects don't fall into the wrong hands?" Another wrote that Kollitides "shouldda stayed silent."
Despite the furor, Kollitides failed to address some pressing business issues surrounding Freedom, which is the biggest privately owned gun and ammunition maker. Just days after the Newtown massacre, owner Cerberus Capital put the gun giant up for sale. 
Still, demand for Freedom's products -- made under brand names including Remington, Marlin and AAC -- is booming. In the first quarter of 2013, sales in its firearms segment jumped by more than 50%. Other gunmakers have seen similar spikes in demand, with Smith & Wesson (SWHC) on Thursday saying it expects a 43% jump in sales for its fiscal year. 
But Kollitides didn't address Freedom's future. Cerberus owner Stephen A. Feinberg is reportedly near a deal to buy the company, according to Talking Points Memo. Investment firm Lazard (LAZ) has been taking bids for Freedom, the Washington Times notes. 
One point about Freedom's future that Kollitides was clear about: Bushmaster's name. He said the company won't change it, despite the controversy.
Freedom's goal, he said, is "to make sure we make a quality product, a safe product, it doesn't misfire, it doesn't fall apart."
DATA PROVIDERS
Copyright © 2014 Microsoft. All rights reserved.
Fundamental company data and historical chart data provided by Morningstar Inc. Real-time index quotes and delayed quotes supplied by Morningstar Inc. Quotes delayed by up to 15 minutes, except where indicated otherwise. Fund summary, fund performance and dividend data provided by Morningstar Inc. Analyst recommendations provided by Zacks Investment Research. StockScouter data provided by Verus Analytics. IPO data provided by Hoover's Inc. Index membership data provided by Morningstar Inc.
MARKET UPDATE
[BRIEFING.COM] The stock market began the new trading week on the defensive note with small-cap stocks pacing the retreat. The Russell 2000 (-1.4%) and Nasdaq Composite (-1.1%) displayed relative weakness, while the S&P 500 lost 0.8% with all ten sectors ending in the red.

Global equities began showing some cracks overnight after China's Finance Minister Lou Jiwei poured cold water on hopes for new stimulus measures. Specifically, Mr. Lou said the government has no plans to change ... More
More Market News