NYU's pricey perk: Loans for vacation homes
School president John Sexton and several top faculty members get money for beach getaways.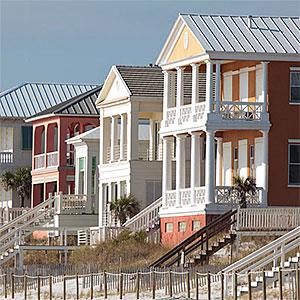 New York University isn't a cheap place to study: One year of undergraduate education costs about $44,000 per student. 

One factor behind the school's hefty tuition may be the generous deals it gives to its top administrators and star professors, but the latest revelation in its pay practices is truly jaw-dropping.
NYU has made a number of loans to executives and professors for expensive vacation homes in pricey locations such as Fire Island and East Hampton on New York's Long Island, The New York Times reports. 
Among the homes bought via NYU's largess is an elegant, modern beach house owned by the school's president, John Sexton. He purchased the property with a $600,000 loan from his employer, the newspaper noted. 
Providing loans for vacation homes is a twist on a longstanding tradition of some top universities, including Harvard, that offer low-interest loans to help tenured faculty and staff members buy primary residences. Many of those employees benefiting from such programs are top administrators, such as Lawrence Summers, who served as Harvard's president from 2001 to 2006. 
But shelling out money for a summer home isn't going over that well, even among academics. 
"I don't think that's prudent. I don't mind paying someone a robust salary, but I think you have to be able to pass a red-face test," Stephen Joel Trachtenberg, a former president of George Washington University, told the newspaper. He has supported higher pay for professors and university executives. "That's getting to be a little too sexy even for me, and I have a good sense of humor about these things."
At least five NYU medical or law school faculty members have received loans for homes on Fire Island or the Hamptons, both tony vacation spots favored by New Yorkers, since the late 1990s, The New York Times found. 
New York University defended the vacation-home loan plan. A spokesman said such programs help retain employees who could "easily pursue a financially rewarding professional career instead of choosing the path of university scholarship and teaching."
NYU president Sexton has already come under fire for his lavish pay package of almost $1.5 million, as well as a $2.5 million bonus that he'll receive in 2015. (As a result, he has been called Higher education's Allen Iverson.)

Sexton will receive guaranteed retirement benefits of $800,000 per year, and on top of that, NYU gives him an apartment near Washington Square, one of Manhattan's most expensive neighborhoods. 
The vacation home loans aren't going over well with Sen. Charles E. Grassley, R-Iowa, who has been critical of NYU's compensation policies. 
"Universities are tax-exempt to educate students, not help their executives purchase vacation homes," he said in a statement to the newspaper. "It's hard to see how the student with a lifetime of debt benefits from his university leaders' weekend homes in the Hamptons."
Follow Aimee Picchi on Twitter at @aimeepicchi. 

We have become a Nation that FEEDS the Rich while starving the Poor and Middle-Class. Yet those that are faced with this New Normal still fully support their Masters. If the events in Brazil and Turkey are the Canary in the coalmine, the elite better take notice and end their endless GREED. CNBC has become Greed Central with their Top Anchors promoting the Rich, dam the Poor mentality. That Show is guilty as any as promoting the Great Divide which has become the New America.

Are you sure you want to delete this comment?
DATA PROVIDERS
Copyright © 2014 Microsoft. All rights reserved.
Fundamental company data and historical chart data provided by Morningstar Inc. Real-time index quotes and delayed quotes supplied by Morningstar Inc. Quotes delayed by up to 15 minutes, except where indicated otherwise. Fund summary, fund performance and dividend data provided by Morningstar Inc. Analyst recommendations provided by Zacks Investment Research. StockScouter data provided by Verus Analytics. IPO data provided by Hoover's Inc. Index membership data provided by Morningstar Inc.
MARKET UPDATE
[BRIEFING.COM] S&P futures vs fair value: -8.00. Nasdaq futures vs fair value: -19.00. Nasdaq at... NYSE Adv/Dec 0/0... Nasdaq Adv/Dec 0/0.
More Market News