Russell Brand swings at 'Morning Joe' -- and scores
The British comic's interview turns into a much-deserved criticism of wrongheaded media tactics.
British comic Russell Brand hijacked MSNBC's "Morning Joe" on Tuesday, and the Internet exploded.
He managed to stomp out the pretentiousness of co-host Mika Brzezinski and panelists Katty Kay and Brian Shactman in short order by complaining -- rightfully so -- about how "rude" it was that they referred to him in the third person as if he wasn't there. The panel also tried to mock his cowboy boots, but Brand wouldn't have it.
Instead, he then lectured the panel about the media's tendency to focus on the superficial, like someone's appearance, and ignore what they have to say. Brand was right, of course.
Katy Perry's ex-husband was a welcome dose of honesty in the bastion of hot air that is cable news. Too often hosts are in love with the sound of their own voices and show little interest in what other people have to say, particularly when they don't agree with their guests. Brand managed to leave the normally unflappable Brzezinski speechless when he flirted with her, urging her to "lose" the wedding ring.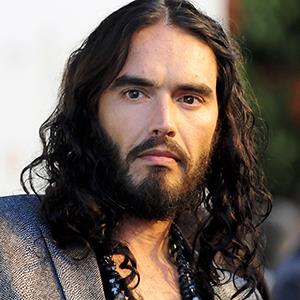 Judging from the media reaction, the public thinks the comic
is onto something
. David Pierce
of the Verge
said on Twitter: "Dear every network everywhere, please hire
Russell Brand
to be your news anchor." Stefano Hatfield of London Live TV: "Razorsharp Russell Brand politely destroys inane
#MSNBC
TV anchors who tried to belittle/patronise him."
Brand went on "Morning Joe" to promote his "Messiah Complex" tour, which begins later this year in Abu Dhabi. The promotional video on his website shows Brand mixing it up with people who appear to be homeless. "Messiah Complex" also "features" Jesus Christ, Che Guevara, Gandhi and Hitler. Brand clearly isn't for everyone.
Sadly, Brand's late-night talk show "Brand X" was recently canceled by F/X, though the
News Corp
. (
NWSA
) cable channel has picked up a pilot he created of a scripted show based on his life, according to
Hollywood Reporter
. If Brand can generate the buzz for this program that he did on "Morning Joe," it's sure to be a hit.
Jonathan Berr does not own shares of the listed stocks. Follow him on Twitter @jdberr.
DATA PROVIDERS
Copyright © 2014 Microsoft. All rights reserved.
Fundamental company data and historical chart data provided by Morningstar Inc. Real-time index quotes and delayed quotes supplied by Morningstar Inc. Quotes delayed by up to 15 minutes, except where indicated otherwise. Fund summary, fund performance and dividend data provided by Morningstar Inc. Analyst recommendations provided by Zacks Investment Research. StockScouter data provided by Verus Analytics. IPO data provided by Hoover's Inc. Index membership data provided by Morningstar Inc.
MARKET UPDATE
[BRIEFING.COM] The S&P 500 (-0.1%) continues hovering below its flat line, while the Nasdaq (+0.1%) has poked its head into positive territory.

The tech-heavy index has received a measure of support from biotechnology as evidenced by a 0.4% advance in the iShares Nasdaq Biotechnology ETF (IBB 273.52, +0.97%). As for top-weighted components, Apple (AAPL 102.29, +1.23) sports a solid gain of 1.2%, while the likes of Microsoft (MSFT 46.86, -0.20), Intel (INTC ... More
More Market News