The high cost of job dissatisfaction
A Gallup poll says 52% of full-time workers are disengaged, costing US companies from $450 billion to $550 billion every year.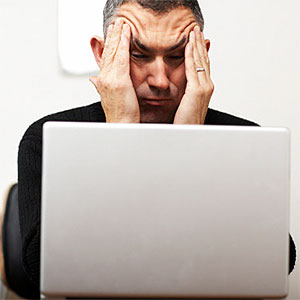 Well, America, you've finally done it: You've stopped looking to your job for fulfillment and started looking at it as the unpleasant means to an end that your parents always grumbled it was.
With the recession prompting more people to hold on to any job with a paycheck and making it tough to quit until just recently, Gallup found that 52% of all full-time workers in the U.S. are not involved in their work, not particularly enthusiastic about it and are committed only as much as they have to be. And 18% of those folks are "actively disengaged" and have checked out to the point that they're actually a hindrance to co-workers and management.
Then again, 30% of American workers are excited about their jobs, which matches the highest level of enthusiasm since Gallup started measuring it back in 2008.
So what are those people doing that more than half the workforce isn't? Being born female, taking management gigs, living in Louisiana and working in companies or on teams with 10 or fewer employees. Each of those elements contributed to higher engagement, as did working at growing companies rather than those that are stagnant or dying.
Gallup surveyed thousands of U.S. workers, managers and companies in its annual State of the American Workplace report and had a far bigger goal in mind than telling everyone just how miserable the American workforce is. According to Gallup's estimates, unhappy workers who call in sick regularly or devise plans to take as much time off as possible cost U.S. companies $450 billion to $550 billion every year.
That means it might get really ugly for U.S. employers if things don't pick up soon. At 26.2%, workers ages 25 to 34 already have an unemployment rate that's higher than in Canada, the U.K., France, Japan, Australia, Russia and Germany. And the Labor Department says it's also the only group in the U.S. that saw its average wages decrease over the same span.
Right now, only one job is available in the U.S. for every three people who apply. The domestic economy has regained just 5.7 million of the 8.7 million jobs shed during the Great Recession. Worse, roughly 65% of those jobs are of the low-wage variety, though nearly 60% of all jobs lost during the slump paid middle-income wages or better, according to the National Employment Law Project.

The most common job in America since the recession is in retail sales. Those workers number 4.3 million (greater than the population of Kentucky) and make only $25,000 a year, well below the more than $45,000 national median wage.
While college students are still far better off than their less educated peers, art school students and MBAs alike are being crushed by student debt. Deeply indebted doctorate recipients are seeking food stamps in increasing numbers. Roughly 284,000 college graduates are making minimum wage.

No wonder so many people are disillusioned about their jobs.

DATA PROVIDERS
Copyright © 2014 Microsoft. All rights reserved.
Fundamental company data and historical chart data provided by Morningstar Inc. Real-time index quotes and delayed quotes supplied by Morningstar Inc. Quotes delayed by up to 15 minutes, except where indicated otherwise. Fund summary, fund performance and dividend data provided by Morningstar Inc. Analyst recommendations provided by Zacks Investment Research. StockScouter data provided by Verus Analytics. IPO data provided by Hoover's Inc. Index membership data provided by Morningstar Inc.
MARKET UPDATE
[BRIEFING.COM] The stock market finished an upbeat week on a mixed note. The S&P 500 shed less than a point, ending the week higher by 1.3%, while the Dow Jones Industrial Average (+0.1%) cemented a 1.7% advance for the week. High-beta names underperformed, which weighed on the Nasdaq Composite (-0.3%) and the Russell 2000 (-1.3%).

Equity indices displayed strength in the early going with the S&P 500 tagging the 2,019 level during the opening 30 minutes of the action. However, ... More
More Market News