US boss held captive by Chinese workers cries foul
They want severance. He says they're not fired. The standoff highlights the vulnerable position foreign companies are in.
A drama playing out in a Beijing suburb where an American boss is being held hostage by his Chinese employees offers an insightful snapshot into growing labor issues inside the People's Republic.
Chip Starnes, the 42-year-old co-owner of Specialty Medical Supplies, has been blocked from leaving his company's Chinese facilities since Friday. His Florida company makes disposable medical supplies, such as the alcohol prep pads used to clean skin before injections.

Starnes says the dispute began after his arrival last week, when he laid off several dozen Chinese employees and paid them severance packages. The remaining 100 or so workers at the facility then called for the same payment.
"They are demanding full severance pay, but they still have a job," Starnes, stuck in his office, told NBC News. "That's the problem."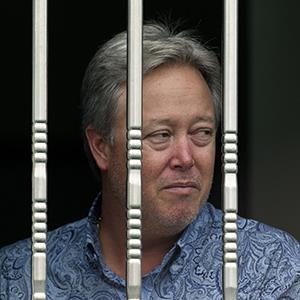 The layoffs were prompted by plans to move part of the company's operations to India. But a local union official told The Associated Press the workers believe the entire plant is closing down and that Starnes would "run away" without paying his employees -- not uncommon in China.
One plant employee told AP she hadn't been paid for two months and wanted to quit, but she also wanted her salary and compensation. Starnes denies he's closing his China operations or that his staff wasn't being paid.
"That's ridiculous," he told The New York Times. "They were all paid on Monday."

The U.S. Embassy in Beijing is monitoring the situation, and for the moment Chinese law enforcement appears to be taking a hands-off approach to the dispute. But Starnes says local officials are pressuring him to pay off the disgruntled workers.

"The union just wants to do anything that will calm the people," he said in a phone interview with the paper. "They are asking me to commit business suicide."

Starne's predicament underscores growing discontent among China's labor force, in which employers sometimes cheat workers out of their salaries and employees have little legal recourse. The nation's slowing economy, coupled with widespread demands for better salaries, is also creating new workplace tensions.
The standoff highlights the often-vulnerable position of foreign companies doing business in China.
"It's easy in China to agitate around a foreign employer," a business executive in Beijing, who asked not to be named, told The New York Times. "This society is accustomed to using tools of mass mobilization, and when a spark erupts in the wrong place, things can quickly get out of control."

DATA PROVIDERS
Copyright © 2014 Microsoft. All rights reserved.
Fundamental company data and historical chart data provided by Morningstar Inc. Real-time index quotes and delayed quotes supplied by Morningstar Inc. Quotes delayed by up to 15 minutes, except where indicated otherwise. Fund summary, fund performance and dividend data provided by Morningstar Inc. Analyst recommendations provided by Zacks Investment Research. StockScouter data provided by Verus Analytics. IPO data provided by Hoover's Inc. Index membership data provided by Morningstar Inc.
MARKET UPDATE
[BRIEFING.COM] Equity indices continue holding modest gains with participants awaiting the public debut of Alibaba.com (BABA), which will represent the biggest initial public offering to date. According to recent indications, the stock is expected to open in the $90-91 range after pricing at $68/share.

On a separate note, the Dollar Index (+0.4%) hovers near its best level of the session, which also represents the high water mark from June 2013. The greenback holds gains against ... More
More Market News