US companies join the rush to Africa
The continent is home to 5 of the fastest-growing countries, and the likes of GE, GM and P&G are making big investments there.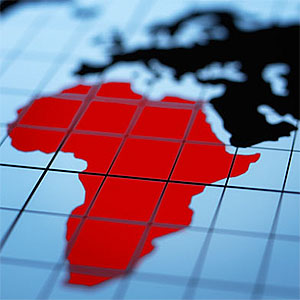 President Barack Obama likely will encourage more U.S. investment in Africa during his coming trip to Senegal, South Africa and Tanzania.
But lots of U.S. companies are already happily heading into Africa, which the
International Monetary Fund
expects to be the world's
second-fastest-growi​ng
economy this year, trailing only Asia's. According to
The Wall Street Journal
,
General Electric
(
GE)
,
General Motors
(
GM
) and
Procter & Gamble
(
PG
) are among the American companies expanding their foothold in the continent. 
GE is building a 400-megawatt power plant in Tanzania. Last year, GM began selling trucks in Kenya, Nigeria and Angola under license from Isuzu. And P&G recently invested $150 million in its factories in South Africa.
"U.S. officials for years have urged American corporations to pursue opportunities in Africa to keep pace with the Chinese, Indian and Brazilian companies already here," according to The Wall Street Journal.
Foreign investors have good reason to be optimistic about Africa's future. The IMF expects the continent's GDP to grow by 5.6% this year, compared with 3.6% worldwide. Five of the world's fastest-growing economies will be in sub-Saharan Africa by 2018, according to the IMF. As a result, African countries are increasingly able to tap into the sovereign bond market.
"To make the most of the renewed global investor interest, we recommend countries maintain prudent fiscal policies that safeguard long-term sustainability; consider bond issues against a range of financing instruments under an appropriate medium-term debt management strategy," the IMF said.
Of course, poverty remains a serious problem. As the
World Bank
notes, the average yearly income in West Africa is $309, and it's $470 in sub-Saharan Africa. Corruption is another ongoing problem, as is the poor state of infrastructure in some countries.
Africa is a long way from being the next China, but its potential for growth is too large for U.S. companies to ignore.
Jonathan Berr doesn't own shares of the listed stocks. Follow him on Twitter @jdberr.

The biggest problem about selling consumer goods in Africa is and will be for a long time the Chinese competition. What people do? Take your product with your brand name,make a fake copy in China and bring it to compete with you, Somehow you are competing with yourself and some one is ripping the benefits of your notoriety.

Are you sure you want to delete this comment?
DATA PROVIDERS
Copyright © 2014 Microsoft. All rights reserved.
Fundamental company data and historical chart data provided by Morningstar Inc. Real-time index quotes and delayed quotes supplied by Morningstar Inc. Quotes delayed by up to 15 minutes, except where indicated otherwise. Fund summary, fund performance and dividend data provided by Morningstar Inc. Analyst recommendations provided by Zacks Investment Research. StockScouter data provided by Verus Analytics. IPO data provided by Hoover's Inc. Index membership data provided by Morningstar Inc.
MARKET UPDATE
[BRIEFING.COM] Not much change in the major averages as they continue hovering near their lowest levels of the day. The S&P 500 (-0.8%) notched its session low around 12:00 ET and has maintained a seven-point range since then. Meanwhile, the price-weighted Dow Jones Industrial Average (-0.5%) continues trading a little ahead of the benchmark index.

Six Dow components remain in the green, but the leading performer, DuPont (DD 71.75, +0.50), is the only stock showing an increase ... More
More Market News