4 out of 5 Americans feel the sting of insecurity
Poverty, welfare and joblessness are striking every corner of the country, both whites and minorities.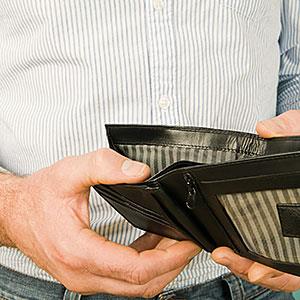 While many Americans still view their country as the land of opportunity, it's increasingly a place where citizens are more likely to have brushes with poverty than with wealth. 

About four out of five Americans will experience economic uncertainty during their lifetimes, encountering near poverty and joblessness or receiving government aid, The Associated Press reports.
The findings, based on survey data exclusive to AP, come as President Barack Obama says one of his goals is to rebuild opportunities for the middle class.
Poverty and economic turmoil are spreading among whites, the news service found, although racial and ethnic minorities are still more likely to live in poverty. More than 76% of white adults will be financially insecure by the time they turn 60, according to an economic measure that will be published next year by the Oxford University Press, AP noted. 
That may be one reason so many Americans are pessimistic about the economy despite reports that the country is recovering from the recession sparked by the 2008 financial meltdown. Indeed, more than half of Americans think that that country is still in a recession, according to a poll published Wednesday. Only about one-third believe it's over.
At the same time the economy has supposedly recovered, food stamp use has surged. About one in seven Americans now receives government aid to buy groceries. The $75 billion food stamp program is under fire from congressional Republicans, who are mulling a work requirement for recipients. 
Struggling whites are more pessimistic about the future than minorities, who are more hopeful after Obama's re-election, William Julius Wilson, a Harvard professor who studies poverty and race, told AP. 
"There is the real possibility that white alienation will increase if steps are not taken to highlight and address inequality on a broad front," Wilson said. 
About 19 million white people live in poverty, or about 44% of all Americans living below the poverty line, according to the U.S. Census. In small rural towns, more than 60% of the poor are white, AP reported. 
While the economy is slowly rebounding, new job creation has occurred mainly in low-paying industries. Half of the jobs created so far during this recovery are low-wage positions, such as entry-level jobs at Wal-Mart (WMT) or McDonald's (MCD). America also now has a record 2.7 million temp workers, many of whom work for minimum wage and get no benefits from their employers. 
That is spreading insecurity across America, prompting Washington University professor Mark Rank to say: "Poverty is no longer an issue of 'them.' It's an issue of 'us.'"
Follow Aimee Picchi on Twitter at @aimeepicchi.
DATA PROVIDERS
Copyright © 2014 Microsoft. All rights reserved.
Fundamental company data and historical chart data provided by Morningstar Inc. Real-time index quotes and delayed quotes supplied by Morningstar Inc. Quotes delayed by up to 15 minutes, except where indicated otherwise. Fund summary, fund performance and dividend data provided by Morningstar Inc. Analyst recommendations provided by Zacks Investment Research. StockScouter data provided by Verus Analytics. IPO data provided by Hoover's Inc. Index membership data provided by Morningstar Inc.
MARKET UPDATE
[BRIEFING.COM] The stock market began the new week on a cautious note. The S&P 500 lost 0.3%, but managed to erase more than half of its opening decline. Thanks to the rebound, the benchmark index reclaimed its 50-day moving average (1976.78) after slipping below that level in the morning.

Equities slumped at the open amid a couple global developments that dampened the overall risk appetite. Continued student protests in Hong Kong and a potential response from China weighed on the ... More
More Market News