5 counties with the shortest life spans
Location has plenty to do with how long you might live. Here's where you don't want to call home.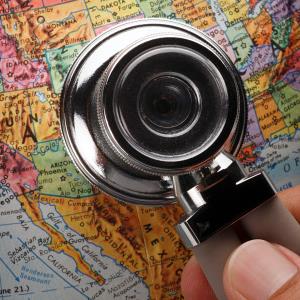 If your ZIP code falls within some areas of Mississippi, you might just have the same life expectancy as someone born in Bangladesh. 

While it's true Americans generally are living longer, there's a huge disparity in expected life span based on which county you live in, according to a new study. 
The gap is striking, given that the U.S. spends more per capita on health care than all other countries, yet many areas of America suffer from poor health, according to researchers at the University of Washington. The report, published in Population Health Metrics, breaks down life expectancy by U.S. counties. 
"The widening disparities between counties . . . should be viewed as a call for action," the paper's authors note. 
So where are the worst areas for life expectancy? The South, the Mississippi basin, West Virginia, Kentucky and some counties with large Native American populations, the study found. 
For men, the worst county to call home is McDowell, W. Va., where the average life expectancy is just 63.9 years, well below the U.S. average of 76.3. About one-third of the county's 21,000 residents live in poverty, according to the U.S. Census. The area has been hit hard by the loss of coal mining jobs, and most of its citizens receive some type of government support. 
For women, the county with the lowest life expectancy is Perry, Ky., which has a lifespan of 72.7 years, compared with the U.S. average of 80.9. About one-quarter of Perry's 28,000 residents live in poverty. McDowell, W. Va., was the runner-up for worst life span for women, at 72.9 years.

The results "will not come as welcome news to many in Perry County, which earlier this year was ranked second to last in the state in terms of health," the county's Hazard Herald noted.
And where are the counties with the longest life spans? For women, it's tony Marin County, Calif., where the median household income is almost $90,000 and where women can expect to live to 85. 
For men, the best location is Fairfax County, Va., where the median household income is $108,000. Men can expect to reach the ripe old age of 81.7. Top employers in Fairfax include Booz Allen Hamilton (BAH) and Capital One (COF).
Here are the five worst counties for life expectancy for women and men:
Women                         Life expectancy
1. Perry, Ky.                     72.65
2. McDowell, W. Va.         72.9
3. Tunica, Miss.                73.36
4. Quitman, Miss.             73.36
5. Petersburg, Va.            73.69
Men
1. McDowell, W. Va.          63.9
2. Bolivar, Miss.                65.03
3. Perry, Ky.                      66.52
4. Floyd, Ky.                      66.59
5. Tunica, Miss.                 66.7
Follow Aimee Picchi on Twitter at @aimeepicchi.
DATA PROVIDERS
Copyright © 2013 Microsoft. All rights reserved.
Fundamental company data and historical chart data provided by Morningstar Inc. Real-time index quotes and delayed quotes supplied by Morningstar Inc. Quotes delayed by up to 15 minutes, except where indicated otherwise. Fund summary, fund performance and dividend data provided by Morningstar Inc. Analyst recommendations provided by Zacks Investment Research. StockScouter data provided by Verus Analytics. IPO data provided by Hoover's Inc. Index membership data provided by Morningstar Inc.
RECENT POSTS
Coming soon: The $100 million car?
Sales of collectible automobiles hit an all-time record this year, leading some to speculate that soaring prices could lead to a huge deal.
MARKET UPDATE
[BRIEFING.COM] Equity indices settled on their lows following a steady, session-long slide. Similar to yesterday, small-caps paced the retreat as the Russell 2000 fell 1.6%, extending its December loss to 3.6%. The S&P 500 settled lower by 1.1%, widening its month-to-date decline to 1.3%.

There was no specific news catalyst behind today's slide, which had the markings of broad-based profit-taking. Seven of ten sectors settled with losses of 1.0% or more while only two groups ... More
More Market News