6 ways money can buy happiness
The key to contentment is less about how much you have and more about how you use it.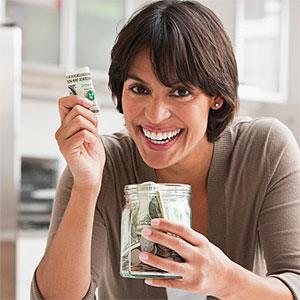 It turns out the phrase "Money doesn't buy happiness" doesn't quite capture the entire relationship between people, money and joy. 

Money actually can buy happiness -- as long as we spend it according to certain principles, such as shelling out for experiences rather than things, according to a new book from Harvard Business School professor Michael Norton and University of British Columbia professor Elizabeth Dunn. 
Their book, published by CBS' (CBS) Simon & Schuster and called "Happy Money: The Science of Smarter Spending," is "packed with tips to help wage slaves as well as lottery winners get the most 'happiness bang for your buck,'" the Economist noted.
Their book comes on the heels of research that shows earning a middle-class income of $75,000 per year helps boost happiness, but anything over that doesn't appreciably help. (But annual income below $75,000 does decrease a person's feeling of contentment.)
So, how can we best use what we've got? Here are six tips Norton suggested in an interview with Scientific American:
Buy experiences, not products. People tend to spend their money on stuff, like gadgets, books and lattes, Norton noted. That won't make you unhappy, but don't plan on it making you happier, either. "Consider the difference between buying a TV and buying a vacation. TV is great, sure, but the experience of watching TV pales in comparison to the experience of going to a special meal once a week with a partner or friend," Norton said. 
Prepay for your vacation. Anticipation is often more pleasurable than the actual trip. To help keep that feeling going, pay for the trip up front, so that you can truly enjoy the vacation without worrying about the cost during the trip. "And of course, paying up front also increases the likelihood that we will spend the time before the vacation daydreaming about it," he noted. 
Consider maximizing your time. Before you buy that big house in the suburbs, consider what you're giving up for the big barbecues and lawn. If you are adding hours onto your commute, you might have just unknowingly dinged your happiness level. "Thinking about how every purchase you make is going to affect your time allows us to spend money in ways that buy us happier time," Norton said.
Copy Sarah Silverman. No, don't start a stand-up career. Norton called her one of his heroes because she understands how to save up fart jokes -- which she loves -- to avoid getting sick and tired of them. Whether you love fart jokes, chocolate or milkshakes, the idea works the same way. Said Norton: "By limiting our access to certain products, we enhance our consumption greatly once we encounter those products again."
Be generous. Giving provides a benefit not only to the recipient, but to the giver. "In experiments we've conducted in countries ranging from the United States to South Africa, from Canada to Uganda, we consistently find that spending money on other people -- whether buying gifts for friends or donating to charity -- provides people with much more happiness than spending that money on themselves," he pointed out.

Ask how else you could spend your money. Think about the opportunity costs, Norton said. He added: "We get stuck in thinking that we need to have a house, a car, a flat-screen television to be happy, and so we spend nearly all of our money on these possessions. I try to ask myself before I make any purchase: What else could I be doing with this money? Am I really using this in the best way to maximize my happiness?"
Follow Aimee Picchi on Twitter at @aimeepicchi. 
DATA PROVIDERS
Copyright © 2014 Microsoft. All rights reserved.
Fundamental company data and historical chart data provided by Morningstar Inc. Real-time index quotes and delayed quotes supplied by Morningstar Inc. Quotes delayed by up to 15 minutes, except where indicated otherwise. Fund summary, fund performance and dividend data provided by Morningstar Inc. Analyst recommendations provided by Zacks Investment Research. StockScouter data provided by Verus Analytics. IPO data provided by Hoover's Inc. Index membership data provided by Morningstar Inc.
MARKET UPDATE
[BRIEFING.COM] The stock market finished an upbeat week on a mixed note. The S&P 500 shed less than a point, ending the week higher by 1.3%, while the Dow Jones Industrial Average (+0.1%) cemented a 1.7% advance for the week. High-beta names underperformed, which weighed on the Nasdaq Composite (-0.3%) and the Russell 2000 (-1.3%).

Equity indices displayed strength in the early going with the S&P 500 tagging the 2,019 level during the opening 30 minutes of the action. However, ... More
More Market News