A long trip: Lava lamps turn 50
The constantly moving lights, long associated with hippie psychedelia, are now popular with mainstream buyers as children's night lights.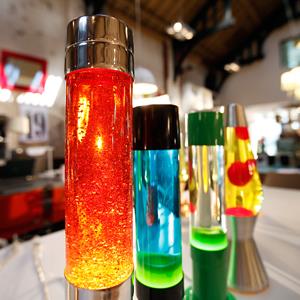 There aren't many home furnishing trends that have withstood time. Beanbag chairs, avocado-colored kitchen appliances, shag carpeting, mauve bathroom fixtures -- you don't see too many of those around anymore intentionally, or perhaps for someone trying to be ironic and hip.
But this week marks the 50th anniversary of a product few people thought would last for any length of time after its introduction in 1963: the lava lamp. A relic of the '60s psychedelic side, lava lamps have not only endured but are currently thriving, thank you, as an international, multimillion-dollar business.
The unique lamps were created by a British inventor and former World War II pilot, Edward Craven-Walker, who reportedly thought up the idea after seeing a homemade, liquid-filled egg timer at a pub.
In September of 1963, Craven-Walker started a company to research and develop his invention. But his widow, Christine Baehr, told BBC News they had a rough time, at first, trying to find investors.
"Because it was so completely new we had to convince people it was worth going with, particularly when it came to selling," she said. "Some people thought it was absolutely dreadful."

But Baehr said that, after the couple took their product around the British countryside in a van, word of the wildly original illumination spread. Pretty soon lava lamps could be seen in science fiction movies and television shows like "Dr. Who," and became extremely trendy. By the mid-1960s, according to an MIT report, lava lamps "had exceeded 7 million units worldwide."
Baehr told The Associated Press that she knew the lava lamp had "made it" as a product when she heard that Beatles drummer Ringo Starr had purchased one.

During their first burst of popularity, lava lamps also came under criticism for their links in popular culture to mind-altering drugs. But as Craven-Walker is reported to have said, "If you buy my lamp, you won't need drugs."
By the 1980s, the constantly moving lamps were considered passe, but they made a comeback a decade later with college students and fans of British 1960s fashion. But the late 1990s, according to MIT, Craven-Walker's company alone was selling more than 800,000 of the lamps annually.
And despite the downturns in Britain's economy, the company, called Mathmos, is still going strong. Although it's diversified into a variety of illumination products, about half their current turnover is still made up of a wide spectrum of lava lamps -- including baby night light lava lamps.

And while Mathmos is no longer the only company making lava lamps -- there are dozens of versions on the market, starting at around $15 -- the company still takes its legacy very seriously.
"We're not aiming to be the cheapest lava lamps in the world," Mathmos managing director Cressida Granger told the BBC, "we are aiming to be the best."
More on moneyNOW
Are you sure you want to delete this comment?
DATA PROVIDERS
Copyright © 2014 Microsoft. All rights reserved.
Fundamental company data and historical chart data provided by Morningstar Inc. Real-time index quotes and delayed quotes supplied by Morningstar Inc. Quotes delayed by up to 15 minutes, except where indicated otherwise. Fund summary, fund performance and dividend data provided by Morningstar Inc. Analyst recommendations provided by Zacks Investment Research. StockScouter data provided by Verus Analytics. IPO data provided by Hoover's Inc. Index membership data provided by Morningstar Inc.
MARKET UPDATE
[BRIEFING.COM] S&P futures vs fair value: -5.80. Nasdaq futures vs fair value: -12.80. U.S. equity futures trade modestly lower amid cautious action overseas. The S&P 500 futures hover six points below fair value after climbing off their overnight lows reached during the Asian session. The night has been very quiet on the economic front with several central bank and government officials playing down expectations of additional stimulus. On that note, China's Finance Minister Lou Jiwei ... More
More Market News