Abercrombie loses yet another discrimination lawsuit
A federal judge rules the mall retailer wrongly fired a Muslim employee for wearing a hijab, for the second time in 3 years.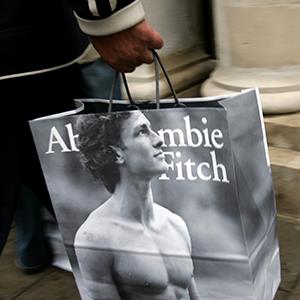 If there's anything mall clothing store chain 
Abercrombie & Fitch
 (
ANF
) hates more than
wheelchair ramps
,
shades of black
, women's sizes
greater than 10
and
unpopular kids
, it's a religious garment that violates the store's "look policy." All that hate is eating up the chain's cash reserves.
For the second time in three years, Abercrombie has lost a court battle involving a case in which it fired a hijab-wearing Muslim worker for not conforming to its ideal vision for employee aesthetics. In the latest case, a federal judge in San Francisco ruled Monday that Abecrombie violated federal law when it fired Hani Khan from a Hollister store in San Mateo, Calif., in 2010 after she refused to take off her hijab.
The Equal Employment Opportunity Commission sued Abercrombie on behalf of Khan in 2011, noting that the company had no problem with the garment when she wore it at a job interview and seemed just fine letting her wear it for the first four months she was employed there. The court will decide what the company owes Khan in September.
The loss should come as little surprise to Abercrombie & Fitch, whose lawyer was lambasted by Judge Yavonne Gonzalez Rogers in June for not presenting any documented evidence that Khan cost the company money by wearing her hijab to work. That same attorney, Mark Kneuve, also took the loss in 2011 when another hijab-wearing Abercrombie employee successfully sued the company for wrongful dismissal and collected $20,000 for her trouble.
In fairness to Abercrombie, it's absolutely terrible at picking its battles and fighting off discrimination claims after those battles are fought. In August, a federal judge in Denver ruled that its Hollister chain discriminated agaist customers in wheelchairs by making its front-porch-themed storefronts accessible only by stairs. The judge ruled the chain has until Jan. 1, 2017, to rebuild the entrances so they're wheelchair accessible, which requires upgrading storefronts at a rate of 77 per year, according to the Colorado Cross-Disability Coalition.
But all this exclusion is just status quo at Abercrombie, thanks largely to the idiosyncratic meddling of chief executive Michael Jeffries. The CEO once famously dictated that his clientele comprises solely "the cool kids." He also requires the staff of his private jet to wear only boxer briefs and flip-flops and to play Phil Collins' "Take Me Home" on all return flights.
This was all fairly standard in the early 2000s, when wearing an apparel company's logo across your chest or posterior like a human billboard was fashionable. Today, when teens are having a tough time finding mall jobs and have little disposable income to throw at stores that disdain them, Abercrombie is suffering. Profits dropped 33% last quarter from the same time a year ago. Overall sales dropped 8%, with Hollister sales alone falling 13%.
Exactly how discriminating against employees and customers helps bolster those sagging numbers is anybody's guess. If Abercrombie's culture keeps churning out courtroom results like this, that discriminating "look policy" might have to be revised to accommodate sheets of plywood and "out of business" signs.
DATA PROVIDERS
Copyright © 2014 Microsoft. All rights reserved.
Fundamental company data and historical chart data provided by Morningstar Inc. Real-time index quotes and delayed quotes supplied by Morningstar Inc. Quotes delayed by up to 15 minutes, except where indicated otherwise. Fund summary, fund performance and dividend data provided by Morningstar Inc. Analyst recommendations provided by Zacks Investment Research. StockScouter data provided by Verus Analytics. IPO data provided by Hoover's Inc. Index membership data provided by Morningstar Inc.
MARKET UPDATE
[BRIEFING.COM] The stock market finished the Tuesday session on the defensive after spending the entire day in a steady retreat. The S&P 500 (-0.6%) posted its third consecutive decline, while the small-cap Russell 2000 (-0.9%) slipped behind the broader market during afternoon action.

Equity indices were pressured from the start following some overnight developments that weighed on sentiment. The market tried to overcome the early weakness, but could not stage a sustained rebound, ... More
More Market News