American roads, transit and schools get a D-plus
A report card from civil engineers says we're scarcely investing in essential infrastructure that's more than half a century old.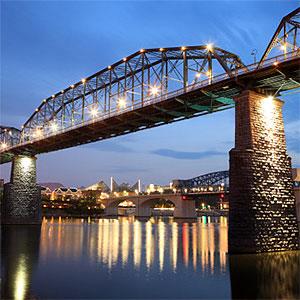 Watch where you step, America: We're on pretty shaky ground.
The American Society of Civil Engineers put out its annual infrastructure report card this week and the nation's scores resemble those of a high school kid who took three months off to go backpacking. We just wouldn't recommend taking that road trip anywhere in the United States, however, as its bridges may collapse underneath you and its roadways are too clogged to get you very far.
The only thing we seem to be doing well is disposing of solid waste, which earned us a B-minus. Our inability to maintain airports, bridges, dams, drinking water supplies, hazardous waste, waterways, parks, ports, schools, roads or mass transit earned us a solid D-plus. In worse news, it'll take roughly $3.6 trillion to get all of that up to snuff.
The report card's absolute reaming of American domestic spending is so thorough that our little hovel at MoneyNOW can scarcely contain it. We'll give you some of the lowlights instead.
Bridges: One out of every nine bridges you drive over is structurally deficient -- basically a decent hit from a tractor-trailer could bring it down. Those that aren't are an average of 42 years old. Fixing the problem by 2028 would cost $20.5 billion a year; right now we're spending $12.8 billion.
Roads: Despite spending $91 billion on streets and highways each year, 42% are congested. That burns through $101 billion in wasted time and fuel.

Schools: When the Baby Boomers share the fond memories of the schools they went to, nearly half of the buildings they're talking about were later used to educate their children and grandchildren as well. Public school enrollment is expected to increase through 2019, yet state and local school construction has been slashed in half since the recession to approximately $10 billion in 2012.
Public transit: One-third of Americans don't drive cars. That would be just fine, if 45% of American households didn't lack any access to transit. Meanwhile, areas with access to public transit have increased ridership 9.1%, but old and crumbling transit systems cost the U.S. economy $90 billion in 2010.
Inland waterways: What are those? Lawmakers don't seem to know, either, which is why much of the system barges use to carry goods across the country hasn't been updated since the Eisenhower administration. More than half of the locks are over 50 years old, service interruptions gum up the works 52 times a day and repair projects take decades to complete.
The basic takeaway is this: America was super awesome at building things it needed in the 1940s and 1950s, but has been loathe to change a light bulb or fix a floorboard on the place since. Good luck on that crawling commute down grandpa's highway -- just hope the bridge holds.
DATA PROVIDERS
Copyright © 2014 Microsoft. All rights reserved.
Fundamental company data and historical chart data provided by Morningstar Inc. Real-time index quotes and delayed quotes supplied by Morningstar Inc. Quotes delayed by up to 15 minutes, except where indicated otherwise. Fund summary, fund performance and dividend data provided by Morningstar Inc. Analyst recommendations provided by Zacks Investment Research. StockScouter data provided by Verus Analytics. IPO data provided by Hoover's Inc. Index membership data provided by Morningstar Inc.
MARKET UPDATE
[BRIEFING.COM] The stock market finished the Tuesday session on the defensive after spending the entire day in a steady retreat. The S&P 500 (-0.6%) posted its third consecutive decline, while the small-cap Russell 2000 (-0.9%) slipped behind the broader market during afternoon action.

Equity indices were pressured from the start following some overnight developments that weighed on sentiment. The market tried to overcome the early weakness, but could not stage a sustained rebound, ... More
More Market News