An affordable Big Mac and a livable wage can coexist
The iconic burger would cost just 68 cents more if McDonald's doubled salaries for workers.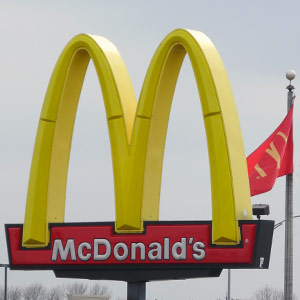 Updated Aug. 1, 2013.
The Huffington Post on Wednesday corrected its story's earlier financial analysis. Because the researcher didn't include the costs of franchise businesses, some significant payroll and employee benefits had been excluded in the original analysis. The price of a Big Mac would increase by $1.28, based on a doubling of pay and including franchise costs, the Huffington Post concluded. 
One reason corporations say they can't afford to pay above the federally mandated minimum wage is their need to keep prices low and competitive. 

With its Dollar Menu, McDonald's (MCD) definitely aims for the budget-conscious. At the same time, its workers are among those protesting on behalf of a livable wage.
But what would happen to the cost of Big Macs if McDonald's actually paid workers $15 an hour? Not much, according to a study from a University of Kansas researcher provided to The Huffington Post. 
A Big Mac would cost just 68 cents more, while every item on the Dollar Menu would require an additional 17 cents, the study found. That includes a doubling of the salary of all McDonald's employees, from workers earning the base wage of $7.25 per hour to chief executive Donald Thompson, who was paid $8.75 million last year. 
Currently, only 17 cents of every dollar McDonald's earns goes to paying wages and benefits for its 500,000 U.S. employees, according to University of Kansas research assistant Arnobio Morelix. 
Of course, some consumers already think Big Macs are too pricey. The iconic burger, which costs about $4.20 on average in the U.S., has been losing ground to the chain's lower-cost options.
For diners on a budget, it may be a relief to learn that it's unlikely McDonald's -- or any other fast-food chain -- will pay workers a livable wage anytime soon. Many restaurant companies are balking at providing health insurance to full-time workers under Obamacare, prompting them and some fast-food chains to cut workers' hours to part time.
But advocates for a livable wage point to the dark side of those rock-bottom prices. Because people earning minimum wage often struggle to make ends meet, a single Wal-Mart (WMT) Supercenter store may require taxpayers to shell out as much as $1.7 million per year in government benefits, a recent study found.
While that McDonald's Dollar Menu item may feel good to your pocketbook, it may be sucking billions from the U.S. economy. After all, many minimum wage workers receive food stamps, an aid program that has swelled to $75 billion annually and now helps one out of every seven Americans put food on the table. 
Looking at it that way, it may be a bargain to pay 68 cents more for a Big Mac. 
Follow Aimee Picchi on Twitter at @aimeepicchi.
DATA PROVIDERS
Copyright © 2014 Microsoft. All rights reserved.
Fundamental company data and historical chart data provided by Morningstar Inc. Real-time index quotes and delayed quotes supplied by Morningstar Inc. Quotes delayed by up to 15 minutes, except where indicated otherwise. Fund summary, fund performance and dividend data provided by Morningstar Inc. Analyst recommendations provided by Zacks Investment Research. StockScouter data provided by Verus Analytics. IPO data provided by Hoover's Inc. Index membership data provided by Morningstar Inc.
MARKET UPDATE
[BRIEFING.COM] The stock market finished an upbeat week on a mixed note. The S&P 500 shed less than a point, ending the week higher by 1.3%, while the Dow Jones Industrial Average (+0.1%) cemented a 1.7% advance for the week. High-beta names underperformed, which weighed on the Nasdaq Composite (-0.3%) and the Russell 2000 (-1.3%).

Equity indices displayed strength in the early going with the S&P 500 tagging the 2,019 level during the opening 30 minutes of the action. However, ... More
More Market News