Apple unveils 2 new iPhones
The company ushers in an era of color with the brightly hued iPhone 5c. The metallic iPhone 5s will also have fingerprint recognition. Reaction, however, is surprisingly muted.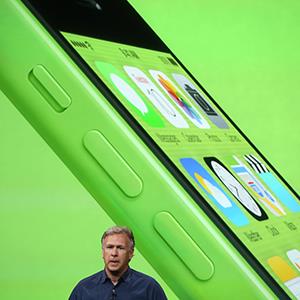 Apple
(
AAPL
) introduced a brightly colored line of lower-cost iPhones Tuesday along with a more traditional device that comes in silver and gold. The announcements mark a stark departure from the company's past approach of sleek, clean devices in white and black.
Apple also unveiled fingerprint recognition for its top-of-the-line phone.
The lower cost phone, called the iPhone 5c, comes in a striking array of colors -- including green, blue, pink and yellow. With a two-year carrier contract, the new phone will cost $99 for the 16GB version and $199 for the 32GB version.
Apple also redesigned some of the apps on the phone, making them more colorful and bright. Along with the bold hues of the devices themselves, the result is a vibrant mix of colors in the hardware and software.
The company also debuted the iPhone 5s, which executive Phil Schiller said is "the most forward-thinking phone we've ever created,"
according to
Engadget's live blog of the event. The phone is priced at $199 for a 16GB version, $299 for 32GB and $399 for 64GB (along with a two-year carrier contract).
The phone comes with fingerprint recognition that Apple is calling "Touch ID," and it's built right into the home button. The company said that users can make iTunes purchases simply by using fingerprint authentication. The fingerprint is a great replacement for the password, and the phone can read multiple prints, executives said.
In a nod to security concerns in light of recent National Security Agency revelations, Apple said fingerprints are encrypted and will only be stored on the iPhone. They will not be sent to Apple's servers or its iCloud platform.
The iPhone 5s will run on Apple's new A7 chip, which is a 64-bit chip that is expected to provide incredibly fast performance, according to Engadget. The company says the new phone will be 40 times as fast as the original iPhone, in fact.
The phone's battery life is estimated at 10 hours talk time, or 40 hours of music playback. It will take better pictures, the company said, partly because of a new flash and because the photo sensor area will be 15% larger.
Both new iPhones will be in stores on Sept. 20 in the U.S. and eight other countries, the company said, and the 5c will be available for pre-order on Sept. 13. This is the first time China will get an iPhone on its initial launch date, Engadget notes.
Apple isn't getting rid of the iPhone 4S, either. An 8GB version of the 4S will continue to be available for free with a carrier contract.
Apple shareholders kept a wary eye on the announcements, with the stock price hovering just under Monday's $506.17 closing price throughout the presentation. As the event ended, the stock price dropped to 1% below Monday's close, a more optimistic response than shareholders traditionally give to Apple product announcements.
Later in the day, however, the stock price fell to nearly 3% below Monday's close. That may have been as word got out that the iPhone 5c would cost $549 if it was not subsidized by a carrier,
according to
Business Insider. Also, Apple didn't mention key Chinese carrier
China Mobile
(
CHL
) as one of its partners.
Reaction to the announcements was surprisingly muted, perhaps because nearly all of the news had previously been leaked and analyzed on technology sites. "Apple did what it does well -- innovate on hardware and integrating it with their software, but I didn't see anything that gives me confidence in Apple's ability to exist in world where services are equally important,"
wrote
Om Malik on the GigaOm site.
Gizmodo
built an informative chart
showing how the iPhone 5s stacks up against some of its top competitors.
DATA PROVIDERS
Copyright © 2014 Microsoft. All rights reserved.
Fundamental company data and historical chart data provided by Morningstar Inc. Real-time index quotes and delayed quotes supplied by Morningstar Inc. Quotes delayed by up to 15 minutes, except where indicated otherwise. Fund summary, fund performance and dividend data provided by Morningstar Inc. Analyst recommendations provided by Zacks Investment Research. StockScouter data provided by Verus Analytics. IPO data provided by Hoover's Inc. Index membership data provided by Morningstar Inc.
MARKET UPDATE
[BRIEFING.COM] The stock market began the new week on a cautious note. The S&P 500 lost 0.3%, but managed to erase more than half of its opening decline. Thanks to the rebound, the benchmark index reclaimed its 50-day moving average (1976.78) after slipping below that level in the morning.

Equities slumped at the open amid a couple global developments that dampened the overall risk appetite. Continued student protests in Hong Kong and a potential response from China weighed on the ... More
More Market News