Are Americans ready for Al Jazeera America?
The Qatar-funded news network promises less opinion, less yelling, fewer celebrity sightings -- and far fewer commercials.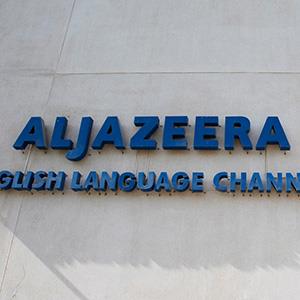 Is Al Jazeera, the controversial news network funded by the government of Qatar, ready for prime time in the U.S.? We may have the answer as early as Tuesday, when Al Jazeera America goes on the air and online, bringing programming tailored to a U.S. audience.
The launch of Al Jazeera America is meant to be a direct challenge to news programming from organizations like Time Warner's (TWX) CNN, News Corp.'s (NWS) Fox News and MSNBC, a part of Comcast (CMCSA).
But even now questions remain about just where in the U.S. Al Jazeera will be available -- and whether Americans, who have been steadily weaned off "hard news" for years, will accept the network's format.
Launched in the mid-1990s, Al Jazeera quickly found an audience in the Arab world. It came under fire in the U.S. and elsewhere after the 9/11 terror attacks in 2001, when it would air videotaped comments from Osama bin Laden and other supporters of jihad against America and the West.
But Al Jazeera's English-language network has also been praised globally in recent years for its coverage of international events, especially its reporting during the so-called Arab Spring that began in 2011. For its American venture, the company has hired many news veterans from CNN, CBS, the BBC and elsewhere.
"There will be less opinion, less yelling, and fewer celebrity sightings," interim Al Jazeera CEO Ehab El Shihabi said on a conference call with reporteers Thursday, as quoted by Adweek. "We are not infotainment." El Shihabi also noted Al Jazeera America would run only six minutes of commercials per hour, compared with the 15 to 17 minutes per hour usually aired on other networks.
Al Jazeera America now has a staff of more than 800 people and is prepared to be viewed in up to 48 million U.S. households. However, the actual number of TV sets that will receive the network is still up in the air.
The Los Angeles Times says that those 48 million homes represent less than half of the country's 103 million pay-TV subscribers and that Al Jazeera got those households when it bought Al Gore's Current TV last year. "With the purchase," the LA Times noted, "Al Jazeera inherited Current TV's existing distribution deals."
Many observers still have doubts about whether Americans will be willing to get their news from Al Jazeera.
"For many Americans, the perception is these are the folks who brought you Osama bin Laden," Allen Adamson, a managing partner with marketing firm Landor Associates, told the LA Times. "Even though they were providing a news function, there was a case of don't confuse me with the facts."

However, network president Kate O'Brian says there's an audience that's hungry for the type of news Al Jazeera America is prepared to bring. "The American viewer is looking for a particular set of things that they just can't find in the marketplace," she told The Hollywood Reporter on Thursday. "And that's unbiased coverage, in-depth, quality coverage and telling stories that they don't really hear in any of the news . . . that's out there right now."

DATA PROVIDERS
Copyright © 2014 Microsoft. All rights reserved.
Fundamental company data and historical chart data provided by Morningstar Inc. Real-time index quotes and delayed quotes supplied by Morningstar Inc. Quotes delayed by up to 15 minutes, except where indicated otherwise. Fund summary, fund performance and dividend data provided by Morningstar Inc. Analyst recommendations provided by Zacks Investment Research. StockScouter data provided by Verus Analytics. IPO data provided by Hoover's Inc. Index membership data provided by Morningstar Inc.
MARKET UPDATE
[BRIEFING.COM] The stock market finished the Tuesday session on the defensive after spending the entire day in a steady retreat. The S&P 500 (-0.6%) posted its third consecutive decline, while the small-cap Russell 2000 (-0.9%) slipped behind the broader market during afternoon action.

Equity indices were pressured from the start following some overnight developments that weighed on sentiment. The market tried to overcome the early weakness, but could not stage a sustained rebound, ... More
More Market News