Bar mitzvah -- or Broadway show?
A video of an over-the-top celebration has quickly gone viral, drawing new attention to these parties' sometimes lavish side.
Right on the heels, pardon the pun, of the moneyNOW story on
Quinceañeras
, the extravagant parties thrown to celebrate the coming-of-age of 15-year-old latinas, comes a video that has quickly gone viral. In it, 13-year-old Sam Horowitz dances his heart out at his bar mitzvah last year in Dallas.
The very elaborate and choreographed spectacle included chorus girls, intricate lighting and Sam's entrance from large white chandelier that descended to the stage in front of 400 guests gathered at a hotel.
While the event's cost hasn't been revealed, Sam's mother told
CBS 11 News
her son worked right up to the big party raising money for underprivileged kids in Israel as part of the bar mitzvah ritual.
Bar mitzvahs, or bat mitzvahs for girls, are an important coming-of-age ritual in the Jewish faith. But for those with the money to spend, the after-party side of the religious event can become a very lavish affair.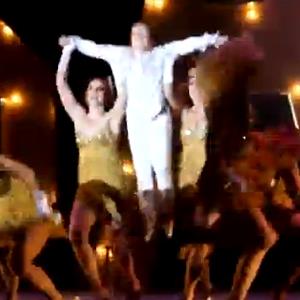 Emitz.com
, the
all-things-bar-mitzv​ah
website, says with some planning and creativity, parents can spend as little as $2,500 for their child's party. But according to industry estimates the site quoted, the average bar mitzvah costs between $15,000 to $30,000. And, of course, some people have been known to spend hundreds of thousands of dollars.
"These costly celebrations boast game rooms for the kids that rival carnival midways, emcees, Broadway dancers, the occasional drag queen, slickly produced video tributes to the birthday boy or girl, even Las Vegas headliners,"
New York Magazine
wrote about these so-called "bash mitzvahs," several years ago. "Natalie Cole did a bar mitzvah on the aircraft carrier Intrepid
. ...
Her fee: $150,000 for 30 minutes."
And while many families cut back on bar mitzvah celebrations and spending during the depths of the recession, the off-the-chain versions are apparently making a comeback. It's gotten to the point that, according to NY Magazine, a senior rabbi at a city synagogue told his congregation the social side of bar mitzvahs had gotten out of hand.
"I often wonder what we are teaching our children," he wrote in the synagogue newsletter, "when materialistic concerns seem to overwhelm the spiritual at the precise moment when we very much wish to teach otherwise."
More on moneyNOW

I'm sure this thread will become full of anti-Semitic posts that imply that this is somehow a Jewish thing, and blaming rich Jews for all the evils in the world.  It isn't.  Parents constantly one-upping each other when it comes to kids' parties is an American thing.  In nearly every other country in the world, a bar/bat mitzvah consists of a temple service followed by a brief reception in the temple's social hall with lox, bagels and Manischewitz - i.e. the religious ceremony is the main event.  Only in America do you have garish receptions at a 5 star hotel with chorus girls, hip hop dancers, Dom Perignon for 500 people and the kid taking in $50,000 in one evening.  And you see it with weddings, baptisms, birthday parties, quinceaneras, sweet 16s, graduation parties, too - not just bar/bat mitzvahs.

If parents want to outdo the friends and have the funds, I see nothing wrong with it although a little over the top.  However, what will the young person expect next?  Unlike a wedding, it will be a permanent memory and there won't be a divorce down the line. It might have been more appropriate to have teenagers perform instead of adults.  Mazel-tov to the young man and his family.
Are you sure you want to delete this comment?
DATA PROVIDERS
Copyright © 2014 Microsoft. All rights reserved.
Fundamental company data and historical chart data provided by Morningstar Inc. Real-time index quotes and delayed quotes supplied by Morningstar Inc. Quotes delayed by up to 15 minutes, except where indicated otherwise. Fund summary, fund performance and dividend data provided by Morningstar Inc. Analyst recommendations provided by Zacks Investment Research. StockScouter data provided by Verus Analytics. IPO data provided by Hoover's Inc. Index membership data provided by Morningstar Inc.
MARKET UPDATE
[BRIEFING.COM] The stock market finished the Thursday session on a higher note with the S&P 500 climbing 0.5%. The benchmark index registered an early high within the first 90 minutes and inched to a new session best during the final hour of the action.

Equities rallied out of the gate with the financial sector (+1.1%) providing noteworthy support for the second day in a row. The growth-oriented sector extended its September gain to 1.9% versus a more modest uptick of 0.4% for the ... More
More Market News