Blame McDonald's for higher chicken prices
All consumers are paying more because of the fast-food giant's stockpiling in preparation for its Mighty Wings menu item.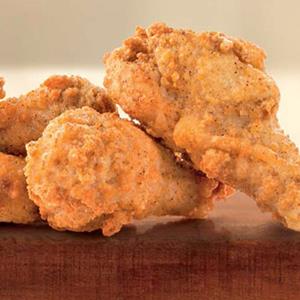 While McDonald's (MCD) fans might be celebrating the return of the fast-food giant's Mighty Wings, they should take a moment to consider the consequences on their next supermarket trip. 

Chicken's rising cost is largely due to McDonald's stockpiling wings over the past year to bring back the menu item, Wedbush analyst Nick Setyan told Bloomberg Television.
Wing prices surged to $2.04 per pound in February, based on Georgia dock prices, although they've since settled around $1.45 per pound. While that's down from the peak, it's still higher than 2011's prices, when chicken wings could be bought wholesale for as little as 77 cents a pound. 
Unfortunately for football fans, the highest prices coincided with the Super Bowl, causing some feathers to be ruffled. The squeeze even allegedly prompted two storage workers to steal $65,000 worth of frozen chicken wings.
McDonald's might have become its own worst enemy in the great chicken-wing roundup, however. Wedbush's Setyan said he doesn't believe the fast-food chain will add Mighty Wings as a permanent menu after witnessing how much its mammoth purchases can move the market. 
"They underestimated their own impact on wing costs," he notes. 
The restaurant giant declined to comment, according to Bloomberg Businessweek. 
Consumers may see continued easing on prices, given that McDonald's is likely done with snapping up chicken wings after building its stockpile earlier this year. But that provides another, somewhat less savory takeaway. 
As Setyan noted: It means consumers are "eating 4-month old chicken wings."
Follow Aimee Picchi on Twitter at @aimeepicchi.
DATA PROVIDERS
Copyright © 2014 Microsoft. All rights reserved.
Fundamental company data and historical chart data provided by Morningstar Inc. Real-time index quotes and delayed quotes supplied by Morningstar Inc. Quotes delayed by up to 15 minutes, except where indicated otherwise. Fund summary, fund performance and dividend data provided by Morningstar Inc. Analyst recommendations provided by Zacks Investment Research. StockScouter data provided by Verus Analytics. IPO data provided by Hoover's Inc. Index membership data provided by Morningstar Inc.
MARKET UPDATE
[BRIEFING.COM] The S&P 500 (-0.1%) continues hovering below its flat line, while the Nasdaq (+0.1%) has poked its head into positive territory.

The tech-heavy index has received a measure of support from biotechnology as evidenced by a 0.4% advance in the iShares Nasdaq Biotechnology ETF (IBB 273.52, +0.97%). As for top-weighted components, Apple (AAPL 102.29, +1.23) sports a solid gain of 1.2%, while the likes of Microsoft (MSFT 46.86, -0.20), Intel (INTC ... More
More Market News