BMW's new i3 steps on Tesla's toes
The $41,350 all-electric hatchback has a range of 80 to 100 miles, compared with the 300-mile range of its rival's Model S.
Tesla Motors (TSLA) has fresh company in the all-electric space.
Its new competitor is BMW, which unveiled the all-electric i3 hatchback Monday. It's a lightweight vehicle with a carbon-fiber body, blue accents and 19-inch forged-aluminum wheels.
The car has a starting price of $41,350 and a range of 80 to 100 miles. It's also available with a range extender, which doubles the car's working range, for $45,200.
Compare that with the Tesla Model S, which has a starting price of $62,400 and claims a range of 300 miles on one charge.
While a new competitor may not thrill Tesla founder Elon Musk, the i3 could spell growing confidence in the electric-car sector, Niranjan Thiyagarajan, a consultant at Frost & Sullivan, told Bloomberg.
"It's really key to us that a big manufacturer like BMW is investing big money and getting into the sector," Thiyagarajan said. "That means the prices will actually go down, because you're talking of volumes potentially."
BMW spent $2.7 billion designing the i3. It plans to introduce i8 and i5 models in the coming years, Thiyagarajan said.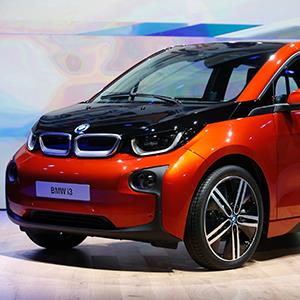 "They're investing a lot of money, and they're looking at it in a big way," he said in the report.
BMW's electric car accelerates more slowly than the Model S. The i3 can go from zero to 60 mph in seven seconds, while the Model S delivers that speed in 5.4 seconds.
The i3 will be sold worldwide and comes to the U.S. next spring.
Because of its limited range, the i3 is being marketed as a city car. This makes sense in Europe, Thiyagarajan said, but could be a turnoff to American buyers.
"That's something they would have to work around," he said in the report.
BMW is not the first well-known manufacturer to try electric. The i3's less expensive competitors include the Nissan Leaf, Mitsubishi i-MiEV, and the Chevrolet Volt from General Motors (GM). Those are all on the market now.
Tesla is different from BMW's traditional competitors, Thiyagarajan said. Its founder, Musk, is responsible for startups like SpaceX and Solar City (SCTY). He sits in Silicon Valley -- not a traditional manufacturing location -- and reaches customers without traditional dealerships.
There are likely several engineers at BMW trying to think like Tesla, Thiyagarajan said.
"When you talk of connected cars, connected services, quick data, more diagnostics, BMW are really good at what they do," he said. "But they would have to really look toward Tesla to show them the way, because Tesla's already there."
DATA PROVIDERS
Copyright © 2014 Microsoft. All rights reserved.
Fundamental company data and historical chart data provided by Morningstar Inc. Real-time index quotes and delayed quotes supplied by Morningstar Inc. Quotes delayed by up to 15 minutes, except where indicated otherwise. Fund summary, fund performance and dividend data provided by Morningstar Inc. Analyst recommendations provided by Zacks Investment Research. StockScouter data provided by Verus Analytics. IPO data provided by Hoover's Inc. Index membership data provided by Morningstar Inc.
MARKET UPDATE
[BRIEFING.COM]
Dec gold chopped around near the unchanged level for most of today's pit trade as investors awaited the FOMC policy statement released at 14:00 ET. The yellow metal touched a session high of $1240.10 per ounce in early morning action but later dipped to a session low of $1234.50 per ounce and settled 60 cents below the break-even line at $1235.60 per ounce.
Dec silver erased slight early morning losses as it lifted from its session low of $18.64 per ounce. It ... More
More Market News