Boeing's 777 crash shows how much safer flying is
The tragic San Francisco accident took a remarkably small human toll -- and that's not a fluke.
The
Boeing
(
BA
) 777 jetliner that crashed this weekend in San Francisco has what one expert describes as a remarkable safety record. Wall Street also appears unworried about the tragedy's impact on the aerospace giant, as its shares rose about 30 cents in afternoon trading Monday.
Indeed, investigators from the National Transportation Safety Board have determined that pilots from Asiana Airlines were flying too slowly as they prepared to land and didn't have enough time to correct their error. Over the next few months, investigators are going to focus on what went so wrong and how it can be avoided in the future. However, mechanical problems are apparently being ruled out,
according to media reports
.
Although two people were killed (one of whom may have been run over by an emergency vehicle after the crash) and 182 were injured, it's remarkable that 123 passengers escaped physically unscathed. Psychological trauma, of course, is another issue.
Overall, however, as
The Associated Press
noted, planes are built better today, with stronger seats that are less likely to move in a crash. Better aircraft electronics also mean planes rarely crash into the sides of mountains or into one another, accidents that tend to be the deadliest ones. Improved crew and flight attendant training is also helping save lives.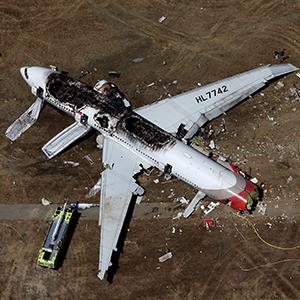 An even bigger tragedy was averted in San Francisco because of the design work Boeing has done on the 777. Most of the world's largest airlines use this jetliner for long-haul routes such as those between the U.S. and Europe and Asia. They're big sellers. At the recent Paris Air Show,
Qatar Airways
announced plans to buy nine 777s, which have a list price of about $2.6 billion (which airlines rarely pay in practice). That will give Qatar 51 of the 777s in its fleet.
"It has a remarkable level of reliability," aviation analyst Richard Aboulafia told the
Los Angeles Times
. "With its track record, it's as good as it gets when it comes to aircraft design."
Indeed, the previous 777 accident was a British Airways flight in 2008 that crash-landed at London's Heathrow Airport when it lost power after an ice buildup reduced the amount of fuel flowing into the engine. All 152 people aboard that aircraft survived, and Boeing addressed the issue that led to the accident. 
All told, commercial aviation is roughly 40 times safer than driving a car. According to NTSB data analyzed by AP, 39% of people involved in plane crashes were killed between 1982 and 2009, an improvement from the 54% who died between 1962 and 1981.
Jonathan Berr does not own shares of the listed stocks. Follow him on Twitter @jdberr.

When there is an airline accident or a pilot crashes a plane, every time, the authorities have to sort it out and find out the whole story to their best ability. Then, if they find that somebody did something that could have been otherwise and should have been otherwise, they have to make adjustments in the regs that will as surely as possible prevent any further similarly caused problems. To the degree that they acquire stronger ability in this area, we will have safer travel by flight. When is somebody going to design a perfectly safe and fast means of sea travel? Tragedies are a total bummer.
Are you sure you want to delete this comment?
DATA PROVIDERS
Copyright © 2014 Microsoft. All rights reserved.
Fundamental company data and historical chart data provided by Morningstar Inc. Real-time index quotes and delayed quotes supplied by Morningstar Inc. Quotes delayed by up to 15 minutes, except where indicated otherwise. Fund summary, fund performance and dividend data provided by Morningstar Inc. Analyst recommendations provided by Zacks Investment Research. StockScouter data provided by Verus Analytics. IPO data provided by Hoover's Inc. Index membership data provided by Morningstar Inc.
MARKET UPDATE
[BRIEFING.COM] The major averages have not wasted any time in rebounding from their opening lows. The S&P 500, which started with an eight-point loss, has already recovered all but two points help from influential sectors like energy (+0.4%), financials (+0.1%), and technology (+0.1%).

On the flip side, consumer discretionary (-0.1%), industrials (-0.3%), and health care (-0.4%) remain weak.

The performance of the six sectors is likely to influence the direction of the ... More
More Market News