Budweiser maker wants global beer domination
Anheuser-Busch InBev is trying to establish the King of Beers in China. Too bad it's already faltering in the US and Europe.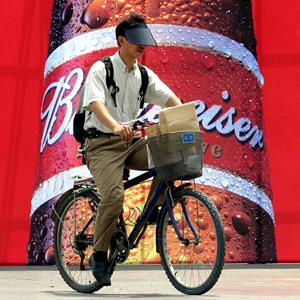 Anheuser-Busch InBev
(
BUD
) is pushing Budweiser in China, Russia and Brazil in an effort to make it a global beer brand.
Considering Budweiser isn't faring so well in the local markets it already inhabits, the "King of Beers" might want to study up on the local customs before continuing its global pub crawl.
According to The Wall Street Journal, the big brewer has spent $1.4 billion in the last two years alone refurbishing breweries and beefing up distribution in China, with nine more breweries planned there in coming years. But by pushing ahead with Budweiser instead of a Chinese brand like Harbin, which is also part of its portfolio, Anheuser-Busch InBev may be floating its hopes for world domination on a sinking ship.
In 2011, MolsonCoors' (TAP) flagship product Coors Light replaced Bud as the No. 2 beer in the United States, breaking the grip A-B held on the top two since 1993. While Coors Light sales grew 9% in the five years prior, Bud sales tanked 29%.

Budweiser has lost more than 60% of its sales since its 50 million-barrel peak in 1988, when it accounted for more than 25% of all beer sold in the U.S. For some perspective, Budweiser once held market share close to the 27% now held by both Miller and Coors brands combined.

A-B InBev has tried putting Budweiser in crimped bowtie cans, offering it in various flavors and meddling with its alcohol content, but big-beer competitors, imports and surging small brewers are stifling sales.
In Europe, the situation is even worse. The Budejovicky Budvar brewery in Ceske Budejovice, Czech Republic, wants to keep its Budweiser name associated with its town, its brewery and its darker, more flavorful lager and has won 88 of 124 lawsuits against Anheuser-Busch over the past 11 years. Though A-B InBev has the rights to the Budweiser name in roughly 80 countries, Budvar still has exclusive rights to Budweiser in 68 countries, mostly in Europe, including Russia, France and beer-loving Germany. In those countries, A-B InBev has to put "Bud" on the label instead of Budweiser.

As Ian Shackleton, a London-based analyst with Nomura, told the Journal, Budweiser "is not seen as a real beer by beer aficionados" in Europe.
That hasn't stopped A-B InBev from attempting to expand its flagship light lager's reach. It recently launched a $20.1 billion takeover of Mexico's Grupo Modelo to open up the Latin American market. By pushing Budweiser into China, the brewer is hoping to open a market that consumes a fourth of all beer and is expected to deliver more than 40% of the industry's growth this decade, according to market researcher Plato Logic.
But trying to make one beer fit all markets may be a huge mistake. A-B's biggest competitor, global No. 2 SABMiller (SAB), invests heavily in hundreds of local brands and has only one beer that boasts a 5% share of the world's market: Snow, China's most-popular beer, sold only in China.
"We remain convinced beer is fundamentally a local business,'' Alan Clark, SABMiller's chief executive, told the Journal. "There's an emotional resonance we find consumers have with beer brands which frankly is different. We just see it continuing."

I was a Budweiser man all through the 50's,60's & even the 70's. Once it was sold & no longer an American beer I stopped drinking it. I was born & raised in ST. Louis & used to go to Bush gardens as a youngster. I switched to brands still owned & operated by American companies. Seems like the company has gone downhill ever since.


Usually I'll stick to one of the fine craft beers produced in this country or will drink imported German or Belgians.

But I used to like Budweiser. It had a great flavor when it was really cold. They have definitely changed up the recipe since the 70's and early 80's so it tastes like
****
now. I can't drink it at all. PBR is my go to beer when I want refreshment from a m
****
duced American beer.
Are you sure you want to delete this comment?
DATA PROVIDERS
Copyright © 2014 Microsoft. All rights reserved.
Fundamental company data and historical chart data provided by Morningstar Inc. Real-time index quotes and delayed quotes supplied by Morningstar Inc. Quotes delayed by up to 15 minutes, except where indicated otherwise. Fund summary, fund performance and dividend data provided by Morningstar Inc. Analyst recommendations provided by Zacks Investment Research. StockScouter data provided by Verus Analytics. IPO data provided by Hoover's Inc. Index membership data provided by Morningstar Inc.
MARKET UPDATE
[BRIEFING.COM] Equity indices remain near their flat lines as heavily-weighted sectors continue trading in mixed fashion.

At this juncture, the industrial sector (-0.6%) is the weakest performer among cyclical groups with defense contractors pressuring the space. The PHLX Defense Index is lower by 1.1% with just about every component trading lower. Including today's decline, the Defense Index is now down 2.4% for the week and off 0.7% so far in September. On the upside, General ... More
More Market News